In a series of articles published earlier this month, the Chicago Reader and WBEZ have partnered to dig into why heroin usage has surged in Chicago, how the dangerous drug gets here in the first place and who is responsible for the city becoming the international heroin hub it is today.
In a Wednesday panel on HuffPost Live, Reader reporter Mick Dumke, Bloomberg reporter John Lippert and Chicago Recovery Alliance director Dan Bigg spoke on the Windy City's heroin "open-air" heroin markets on the city's West Side and its connection to the powerful Sinaloa Mexican drug cartel and its kingpin, "Public Enemy Number 1" El Chapo Guzman.
"You can imagine the effect this has on a community," Dumke explained Wednesday (embedded above). "It sends a message to outsiders that the community has sort of been taken over to a certain degree. Kids see this when they're going to and from school and I heard the stories over and over again from guys who said even though they knew they might -- with some work and with some diligence -- have other kind of choices in a legitimate, mainstream economy, this was just something so available to them all the time it was an opportunity they just felt that they couldn't step away from."
Watch the full HuffPost Livesegment below: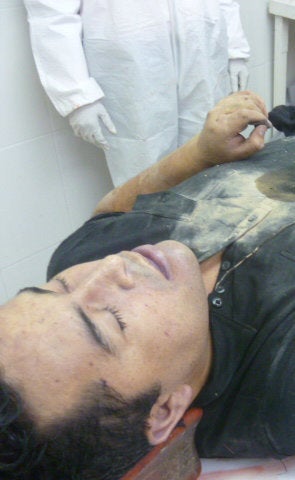 Worst Atrocities In Mexico's Drug War
Popular in the Community