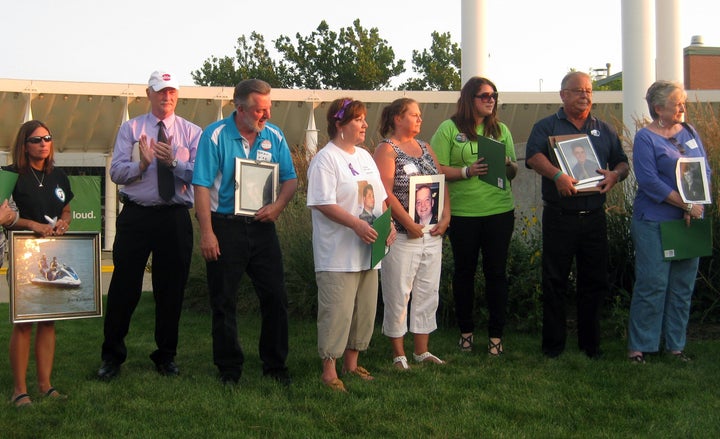 Dozens of parents, siblings, mentors and friends assembled on a small hill in Schaumburg, Ill. Thursday night, clutching photos of loved ones they've lost to heroin overdoses as recently as last month.
They gathered to light candles, share memories, accept awards for their courage in speaking out, and to vow that at next year's observation of International Overdose Awareness Day, there would not be any new faces in that crowd.
But according to a report released that same day by the Illinois Consortium on Drug Policy (ICDP) that tracked overdoses and related deaths in the Chicago area between 2008 and 2010, their ranks will have grown significantly by this time next year.
The ICDP's analysis of emergency-room mentions for heroin overdoses in the Chicago metropolitan area found a 27 percent increase in admissions of patients under 20 years old between 2008 and 2010. A 12 percent increase in admitted patients aged 21 to 29 was noted over the same period.
Mirroring hospital admissions, overdose deaths are also on the rise in the Chicago area, and the collar counties that surround the city are being hit especially hard. Over six years, the number of overdose deaths has doubled in Lake and Will Counties, according to the report. For the second consecutive year, heroin addiction closely follows alcoholism as the second-most common reason Illinois residents are being admitted to substance abuse treatment programs.
"Heroin use has continued to increase among young, white users living outside of the city of Chicago," said Stephanie Schmitz, co-author of the new report, in a release announcing the groups' findings. "It is a pattern that emerged in 2000 and it has become a trend that continues to grow."
On Thursday, at Roosevelt University's iconic rotunda, mourners lit candles in silence and gave out "courage awards" to advocates who have spoken out on behalf of the loved ones they lost, in the face of sometimes-paralyzing stigma.
"Anyone who travels the road of grief after losing someone they love to overdose knows the burden of stigma, anger, remorse, as well as the darkest imaginable sorrow and depression," Marilee Murphy Odendahl, an activist affiliated with Grief Recovery After a Substance Passing (GRASP) said in a statement read by Schmitz at Thursday's vigil.
"People often say that anger is a negative emotion--I disagree," the statement continued. "It seems to me that the most logical response to losing someone you love to overdose is anger. Anger is the natural response. Death by overdose is preventable. To watch statistics rise every year should make you angry. Tonight I would challenge you to channel your anger as a catalyst for your involvement in the solution."
For some, that work began after the sun set and speeches concluded: families and friends of people still in the throes of addiction were invited inside the college for a session on the administration of Naloxone, a drug that neutralizes opiates in the bloodstream and can reverse an overdose in minutes.
Others face a different battle, as advocates work to promote legislation that offers more support for addicts and their families. One man challenging Illinois state lawmakers is John Roberts, a 33-year veteran of the Chicago police force who founded the Heroin Epidemic Relief Organization (HERO) after his son Billy died of an overdose.
But he also acknowledged that stigmas surrounding drug use continue to cloud politicians' judgement, as in the case of a recently-proposed amendment from Illinois state Rep. Jim Durkin (R) that would require users seeking medical help to enter drug treatment within two weeks or face prosecution.
"[We need to] see the problem as a health crisis -- one that is growing and spreading so quickly that in this nation, in this wonderful nation, we may lose 40,000 people to a drug overdose this year," said Roberts, before comparing the prevalence and spread of heroin use in Illinois to H1N1, nicknamed "Swine Flu."
"We all heard about that epidemic," Roberts said. "Why haven't we heard about this epidemic?"
REAL LIFE. REAL NEWS. REAL VOICES.
Help us tell more of the stories that matter from voices that too often remain unheard.
BEFORE YOU GO
PHOTO GALLERY
Overdose Awareness Day Vigil