For the past month, the same eight Chicago protesters have spent their days in front of Walter H. Dyett High School, a once-bustling but now vacant institution located on the city's south side. They often spend their mornings strategizing, thinking of ways to make sure Dyett once again transforms into community hub. They spend long, langorous afternoons chatting with supporters and members of the media. They never spend their evenings around a dinner table.
These protesters have forgone food, consuming only liquids, for the past 34 days. They don't just want Dyett reopened -- they want it reopened on their terms. And they are ready to continue to starve themselves -- and risk their lives -- in order to make sure that happens.
The group has been on a hunger strike since Aug. 17, three years after it was first announced that Dyett High School was slated for closure due to low enrollment rates and poor academic performance. In June, the school closed its doors for good, although the Chicago Board of Education said it would weigh plans to reconstitute the Bronzeville neighborhood institution. After continual delays and inconsistencies, community members involved in the Coalition to Revitalize Dyett High School were skeptical the board would ever make a decision. They decided to take drastic action.
In the month since, protestors have seen results -- but not exactly the ones they want. Earlier this month, the city announced that it would reopen Dyett, but as an arts-focused school. The group wants -- and previously proposed -- for Dyett to be reopened as a green technology school -- a plan that they heavily researched and think will best serve community needs. The board rejected their proposal, so the hunger strike continues.
The larger issue, the protesters say, is how the district and city government ignore the input of local parents and students, especially when that input comes from racial minorities. In 2013, the city's mayor, Rahm Emanuel, closed 49 schools -- a move that was met with widespread resistance and disproportionately impacted minority communities.
"What school district in their right mind would demonize and run away from parents that are activated to improve their schools?" protester Jitu Brown previously told The Huffington Post.
"They just ignore us because they were hell-bent on closing this school and several other schools in this neighborhood, as if there's no hope for black kids in neighborhood schools, and that's just not true," he said.
Earlier this month, Chicago Public Schools CEO Forrest Claypool said the district worked with community partners when deciding the future of Dyett.
"We arrived at a solution that meets multiple needs: Creating an open enrollment neighborhood high school, producing an enrollment stream that can weather population changes, filling the critical demand for an arts high school on the south side and working with education leaders to create a technology hub," he said in a statement.
The group of eight demonstrators includes mothers, fathers, grandmothers, teachers and community organizers. There were originally 12 protestors, but several had to drop out over serious health concerns, and since that time, others have joined the group.
Below are testimonials from eight of the original protesters about why they are still on strike, and how going without food has impacted their bodies and minds.
Jitu Brown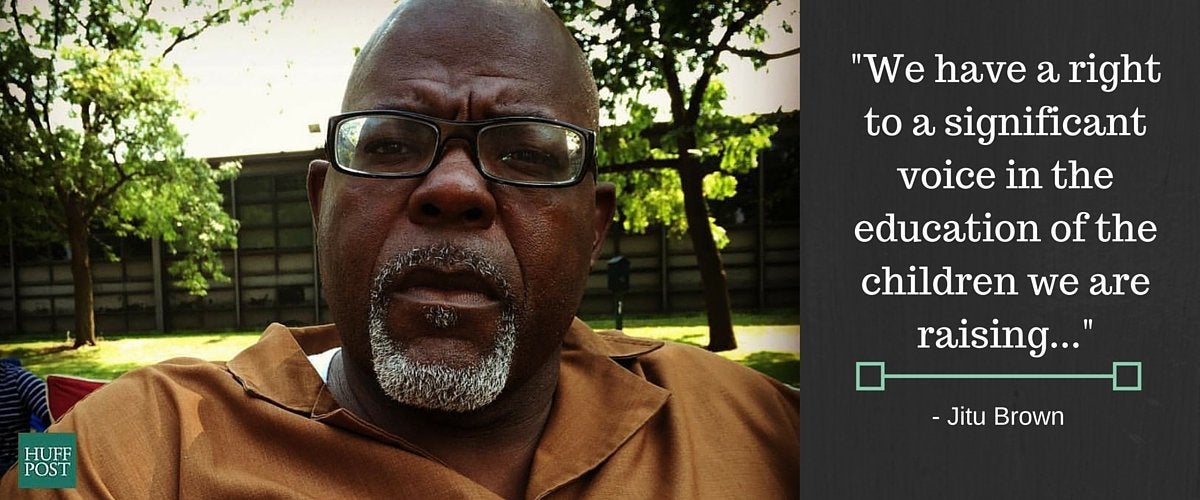 "I'm on this hunger strike because we were rendered voiceless. We met with every bureaucrat, attended every sham hearing and smiled when we should have roared. We have a right to a significant voice in the education of the children we are raising, in the decisions about how our tax dollars are spent. Bronzeville has spoken. Time for the decision-makers to listen."
Anna Jones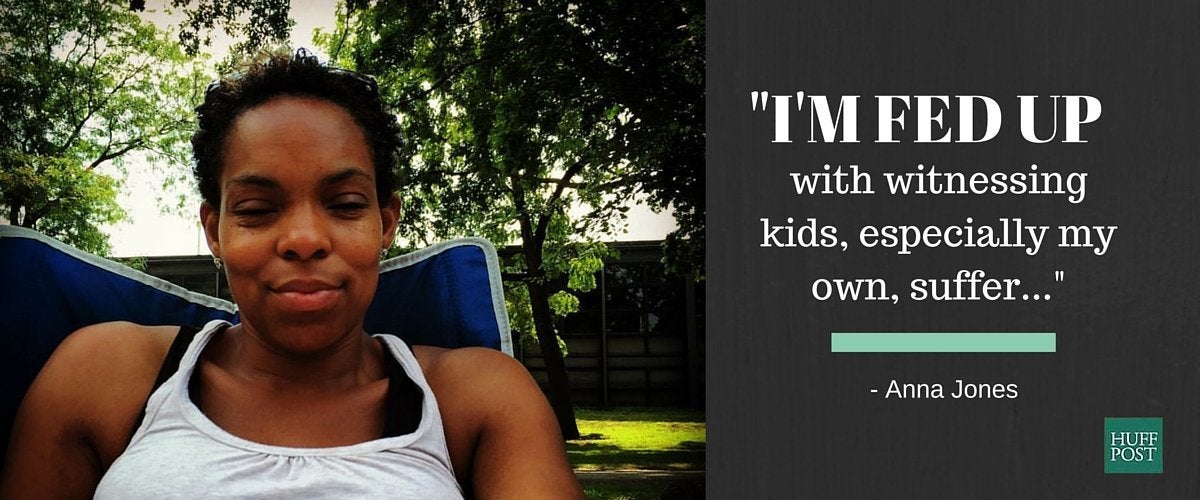 "I'm fed up with witnessing kids, especially my own, suffer due to corporate interests opposed to the needs of children."
Irene Robinson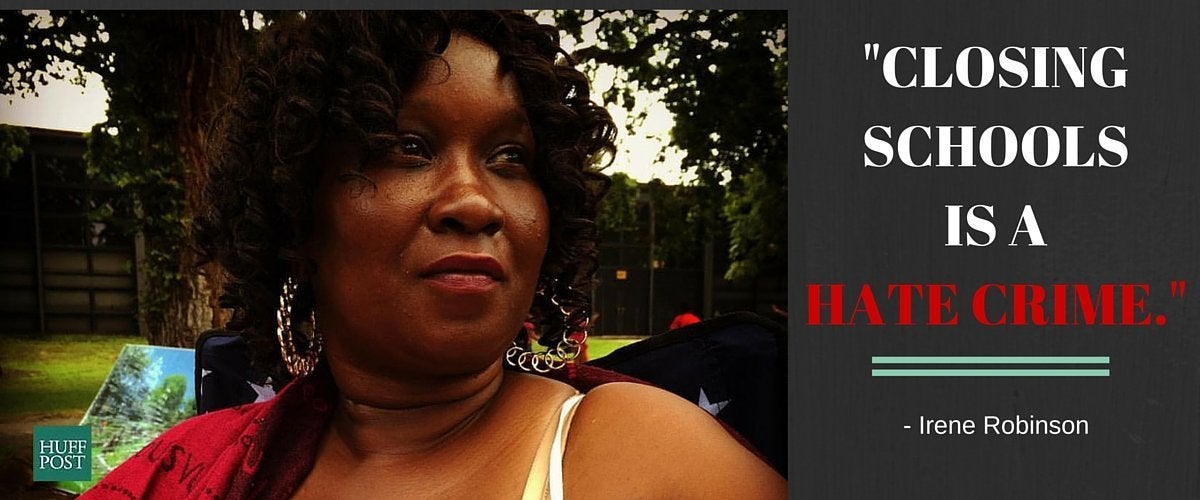 "Tell me why our children have to die every day because of the violence inflicted on them by a government that doesn't care about them. Closing schools is a hate crime. We who believe in freedom cannot rest. I break down and cry every night, not because I'm hungry, but because of the pain our children are enduring.
They are going to have to take me out in a hospital stretcher with tubes up my nose before I will give up this fight."
April Stogner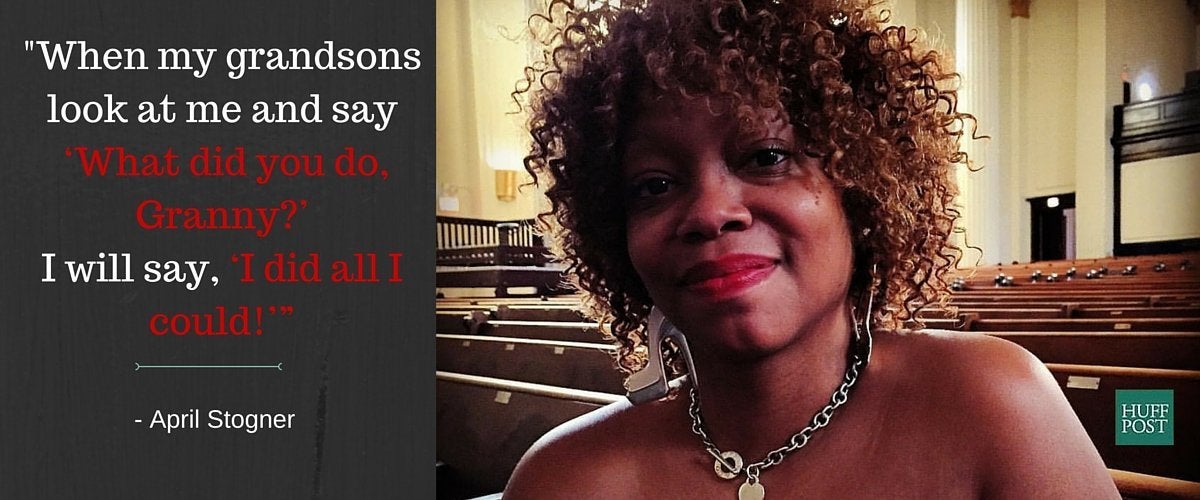 "I'm in this fight because first and foremost I'm a parent and now a grandparent who has seen firsthand the inequality when it comes to our children. They have to have someone who will stand up for them and do what's right, as well as someone to show them how to fight when you are constantly faced with injustice. God chose me for the good fight and I had to answer that calling. When my grandsons look at me and say 'What did you do, Granny?' I will say, 'I did all I could!'"
Rev. Robert Jones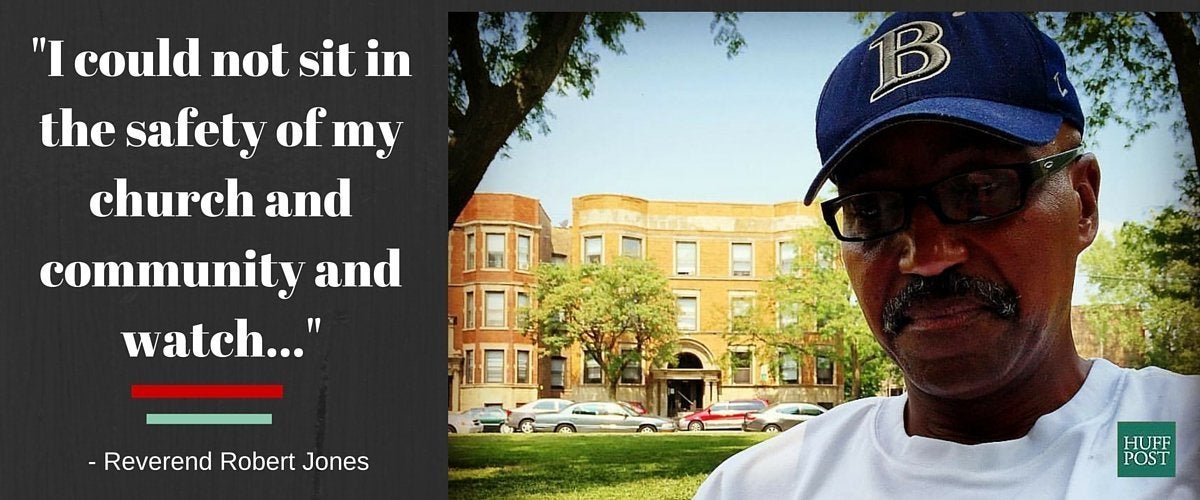 "I could not sit I the safety of my church and community and watch families and children in Bronzeville face another denial."
Marc Kaplan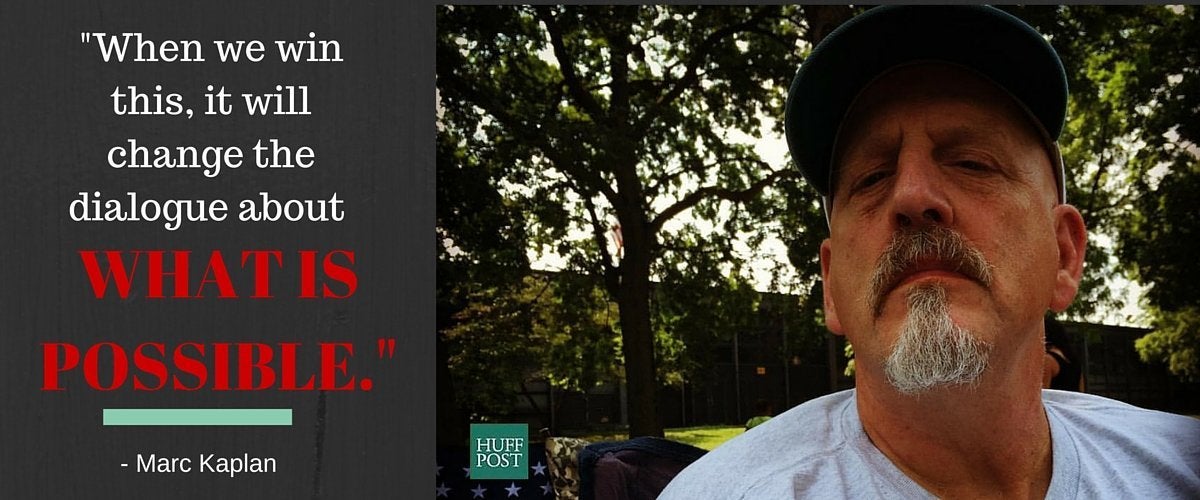 "This is a defining struggle for this century. When we win this, it will change the dialogue about what is possible. With a vision, an organized community and strong leadership, we can win the institutions we need so our young people and communities can survive and thrive."
Dr. Monique Redeaux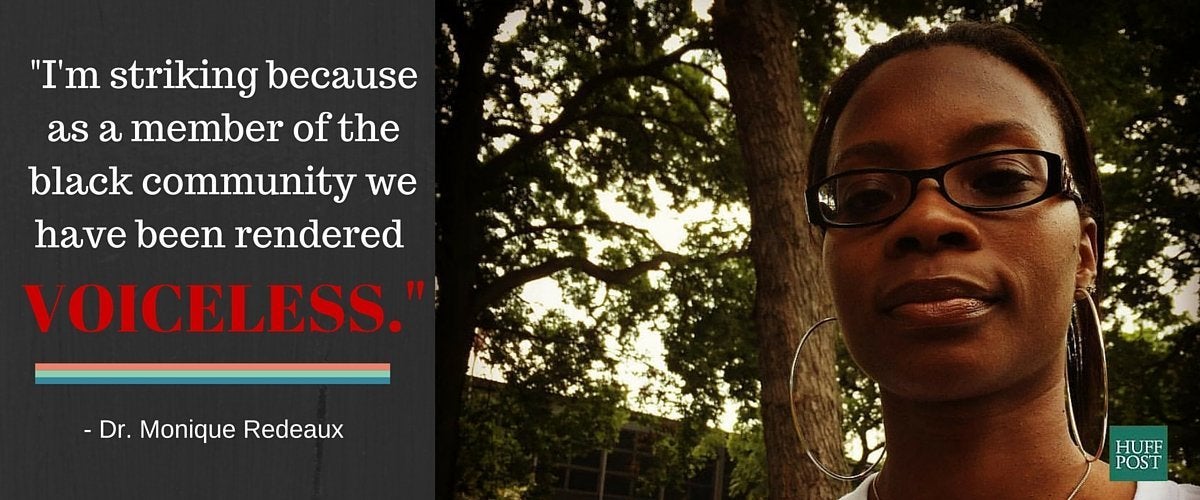 "I'm striking because as a member of the black community we have been rendered voiceless. As a black teacher and parent, I am tired of having wealthy corporate capitalists claim that they are more invested in the education of our children than the parents, teachers and communities who work and labor with these students every day.
My health is shaky. I went to the doctor on Tuesday and she is concerned because I've now lost 10 percent of my body weight. I've also had kidney issues in the past so that is a definite concern. I am physically exhausted most days but I can't show it because I'm a mom and teacher and my kids need me. I need them just as much. During the day, being active with them is what keeps me going."
Prudence Browne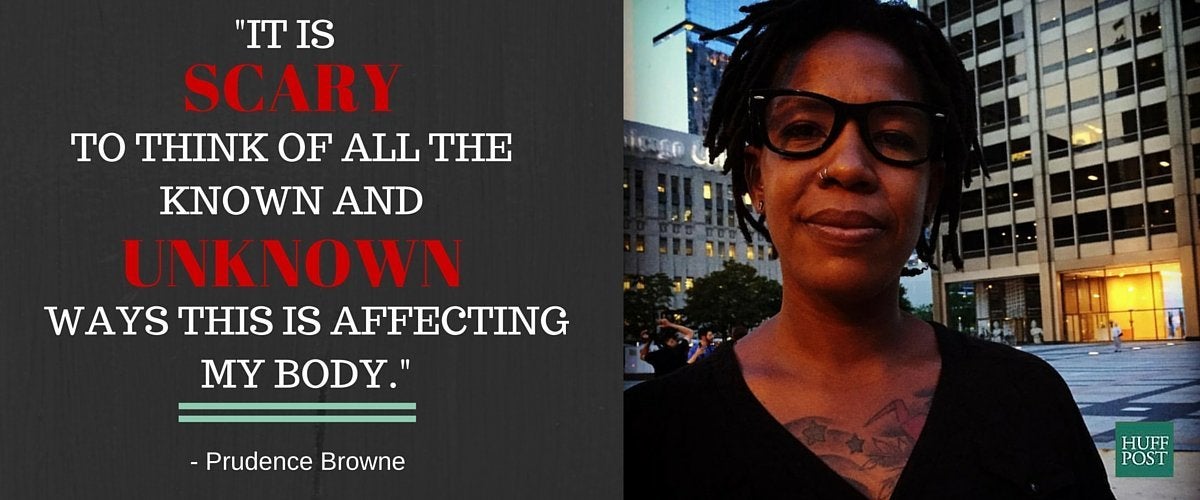 "Physically I am much weaker than I was before the strike, without a doubt. It is scary to think of all of the known and unknown ways this is affecting my body. Doctors and nurses are warning us about the increased debilitation and potential permanent damage that can come about.
Mentally I am not as sharp as I need to be, but I still have to work, study and be there for my family. I didn't realize that our elected officials -- the Mayor and the Alderman, with the power to stop this hunger strike -- would show such utter disdain for lives, for black lives, by prolonging the strike and risking our health. This is the greatest heartbreak of all."
Quotes have been edited and condensed for clarity.
Popular in the Community