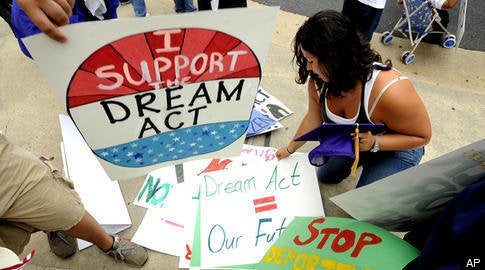 The DREAM Act, short for the Development, Relief and Education for Alien Minors Act, was proposed by Sen. Dick Durbin in 2001, according to Progress Illinois. The legislation would provide a path for citizenship to people who were illegally brought into the country as children if they go to college or join the U.S. military. In 2007, a Republican filibuster blocked the act--and many hope Republicans don't block it this time around.
"We look at it as the first step toward comprehensive immigration reform," Arianna Salgado, 17, told the Chicago Tribune.
. . . Salgado has always known she illegally moved to the United States with her family more than a decade ago. But it didn't hit her until she realized she couldn't do many things her friends could, like get a driver's license or take a class trip to France and have no problem getting back into the country.
Salgado told the paper she plans on going to college whether or not the DREAM Act passes, but it will be much more difficult for her to afford it if the act does not pass.
Salgado has mobilized other undocumented students in her community by making phone calls to U.S. Senators, and more than 100 students plan on gathering Monday to make sure Republican representatives also hear their call to action.
". . . we are trying to fight for our rights and our dreams," 21-year-old Vicente Del Real told the Tribune. He too was brought into the country illegally as a teen. "I don't think there's anything illegal about wanting to get educated."

Calling all HuffPost superfans!
Sign up for membership to become a founding member and help shape HuffPost's next chapter