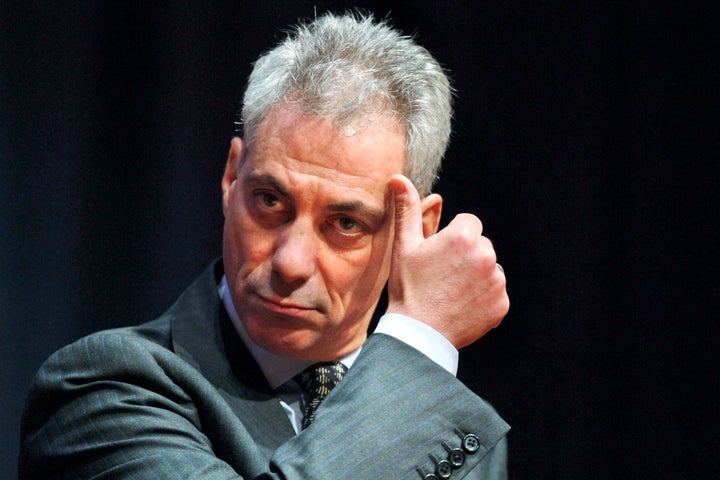 Chicago's City Council approved Mayor Rahm Emanuel's Chicago Infrastructure Trust ordinance in a 41-7 vote Tuesday, a measure that has been the subject of considerable skepticism in recent weeks, according to the Chicago Tribune.
Five of the most vocal council opponents to the plan on Monday threw their support behind an alternative infrastructure funding option. Ald. Scott Waguespack (32nd) on Monday introduced an ordinance that would, unlike the mayor's plan, give the City Council final approval over all projects involving city money, including those planned for city sister agencies, such as the Chicago Transit Authority, NBC Chicago reports. Waguespack's ordinance outlines additional allowances for more oversight of the trust.
Late last month, Emanuel introduced his $7 billion "New Chicago" infrastructure plan, which aims to rebuild, repair or expand the city's parks, streets, railways, O'Hare airport, public schools, water systems and other parts of what the mayor calls "Chicago's core." The plan is expected to create roughly 30,000 jobs in Chicago over the next three years, the mayor announced, while noting that many of the projects have already been paid for "through reforms, efficiencies, cuts in central offices [and] direct user fees."
Through the Chicago Infrastructure Trust, the cash-strapped city will turn to private investment companies to help fit the massive bill for additional improvements, which the mayor says the city would not be able to afford without raising city taxes.
The plan also calls for the trust to be run by a board that consists entirely of private financiers, and just one Chicago alderman.
"I have agreed that we're gonna take some time to answer more questions. We have these ideas that we've put into the executive order. And I think that will allow us to address concerns and move this city forward because I cannot allow the past to sabotage the future," Emanuel said, as reported by the Sun-Times. "We're literally wasting taxpayer money when we could be putting people to work."
"I'm confident that it will prove to be an essential positive for our city. It would be dishonest for me to vote no today; a no vote would be all about political expediency," Moreno wrote. "Putting my head in the sand, while our great city crumbles around us is not something I'm willing to do."
The mayor will preside over the 10 a.m. special council meeting when the council considers the plan. The ordinance needs 26 "yes" votes in order to be approved.
WATCH a previous report on the Chicago Infrastructure Trust:
Popular in the Community