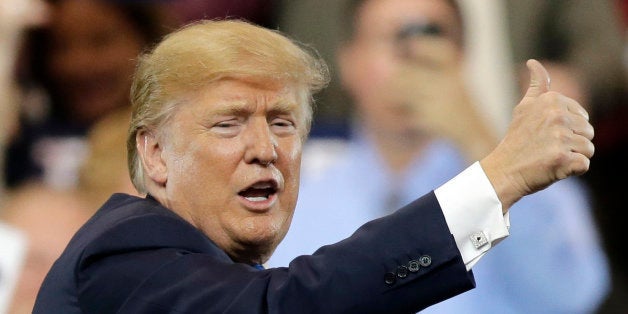 Since Donald Trump announced his presidential campaign on June 16 of last year, America has been slowly heading towards civil unrest. That unrest erupted on Friday night when mass protestors in Chicago shut down a Trump rally.
Due to security concerns and escalating confrontations between Trump supporters and protestors at the rally's location, the University of Illinois, Trump's campaign canceled the rally and released this statement:
"Mr. Trump just arrived in Chicago and after meeting with law enforcement has determined that for the safety of all of the tens of thousands of people that have gathered in and around the arena, tonight's rally will be postponed to another date," the Republican's campaign said in a statement. "Thank you very much for your attendance and please go in peace."
Hours before he made his way to Chicago, Trump spoke at an event in St. Louis, where protesters temporarily halted his speech there. Trump's solution? Take away that part of the first amendment where we have a right to peaceful assembly.
"There used to be consequences [for protesting]. There are none anymore. These people are so bad for our country. You have no idea folks, you have no idea," Trump said at the event.
The rising conflicts became physical, and long before Friday's protests. In fact, only a day earlier, a protestor at a rally in NC, identified as Rakeem Jones, was punched by John McGraw, a Trump supporter.
Trump is to blame just as much as McGraw, especially when he has, on more than one occasion, specifically told his supporters to get violent. When asked about the incident between McGraw and Jones, Trump said, "He was swinging, he was hitting people, and the audience hit back, that's what we need more of." However, multiple eye-witnesses, reports, and videos eradicate Trump's claim that the protester became violent first.
Last November, Trump responded to another incident with a protestor with this statement -
"Maybe he should have been roughed up because it was absolutely disgusting what he was doing."
Last month, when Trump was informed that a member of the audience might throw tomatoes at him, he told an audience at Cedar Rapids that he would pay any violent supporter's legal fees.
"If you see somebody getting ready to throw a tomato, knock the crap out of them...just knock the hell out of them. I promise you, I will pay for the legal fees."
What Trump has failed to comprehend is that words have consequences, especially words geared towards a specific audience. As a nation and a race, we didn't come this far just to have a reality star/businessman who's failed more times than he's succeeded, resurrect unnecessary hate and oppression. We don't live in a world that can stay quiet to offensive rhetoric. There is a threshold, and Trump has passed it. Chicago is only the beginning.
If this is the way to keep Trump rallies from happening, it's probably not the last time we'll see protesters take to the streets. We are getting closer to the elections, and Americans are more heated than ever. Women, Muslims, African Americans, Latinos, and other groups who have been targets for Trump will refuse to stand by and watch as Americans elect a violent and cruel dictator in the making. In fact, as soon as news of the protests and situation unfolded, people all over social media began comparing these protests to the Arab Spring.
Trump wouldn't take any responsibility for the unrest, and seems to be confused as to how his campaign strategies and words could be considered hateful. It seems odd that he wouldn't consider everything he's said or implied about Latinos, Muslims, refugees, the disabled, women, veterans, African-Americans, the media, and the poor, as violent and hateful. You can't incite hate and promote dangerous activity and then be upset when citizens defend themselves legally.
While speaking to MSNBC after his statement was released, Trump asked, "Whatever happened to freedom of speech?"
The reality is, protesting is a first amendment right, but inciting hate and violence isn't, it's illegal.
Calling all HuffPost superfans!
Sign up for membership to become a founding member and help shape HuffPost's next chapter