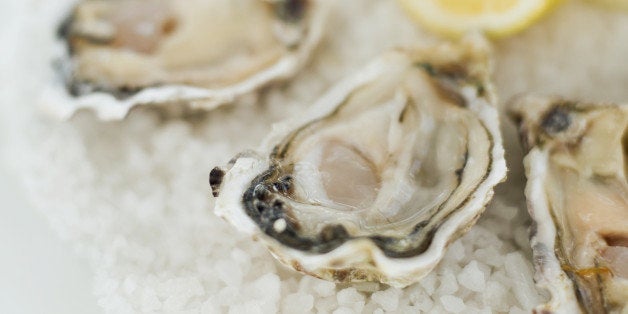 Regardless of the city's proximity to an ocean, oyster bars have popped up all over Chicago over the past few months. Most of them appear to be quite similar, all appropriately serving the freshest seafood in a trendy, yet sophisticated environment. And although we already have seafood mainstays (I'm talking to you, GT Fish & Oyster), having more oyster options is never a bad thing when you're in the Midwest.
So how are you supposed to choose your faux-coastal experience? We break down three separate experiences in three separate neighborhoods at a few of the spots that have recently opened: Pearl Tavern in the Loop, Kinmont in River North, and Bow & Stern Oyster Bar in West Town.
Pearl Tavern
180 North Upper Wacker Drive
(312) 629-1030
There's definitely something to be said for an upscale, sit-down restaurant on Wacker Drive. They're hard to come by, so when Pearl Tavern opened, it was jam-packed almost immediately every day at lunch and come 5 p.m. The oysters here are West Coast and East Coast, vary daily, and are served by the half or full dozen with classic condiments. Other notable menu items include the lobster mac n' cheese (because, obviously) and the fish tacos.
Kinmont
419 West Superior Street
(312) 915-0011
This is definitely the most romantic of the three spots. It's dark, rustic, and a bit off the beaten path -- even for River North. Oysters come from both East and West Coasts and vary daily. If you're looking for a classic oyster, this one is for you: A half or full dozen is served with cocktail sauce, champagne mignonette, lemon wedges, and the most delicious, house-made hot sauce you'll taste all year. Even better than the oysters, though, are the buttery, Alaskan king crab legs, served on the half shell with a mustard aioli.
Bow & Stern Oyster Bar
1371 West Chicago Avenue
(312) 988-0644
This one is a self-proclaimed oyster bar, so our hopes were high from the get-go. At any given time, there are eight to 12 varieties of oysters available, served alongside a spicy, smokey cocktail sauce and a wasabi-ginger mignonette. They're plump, juicy and delicious -- and they're only $1 on Tuesdays and Thursdays from 5 to 7 p.m. Our only disappointment? If you're looking forward to their lobster roll, it's almost always sold out.