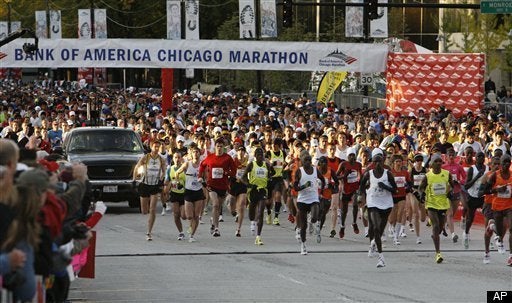 The Bank of America Chicago Marathon is usually held on Columbus Day Weekend, in large part to try and avoid scheduling conflicts. It's planned for that same weekend in 2011, but this year it's running into trouble from an unexpected source: the Jewish lunar calendar.
That calendar causes Jewish holidays to land on different days every year. And this year, Jews will be fasting for 24 hours on the day before the marathon is scheduled to run.
Yom Kippur, the holiest day on the Jewish calendar, is the Day of Atonement for Jews, on which they repent their sins and refrain from eating or drinking. The fast lasts from sunset to sunset, and in 2011 it falls on October 7-8. The marathon is scheduled for October 9.
The days before a race are usually a time for runners to load up on carbohydrates and fluids in preparation for the exhaustion of a 26.2-mile race. Observant Jews wouldn't be able to eat or drink anything until the night before the run.
According to the Chicago Tribune report on the conflict, the medical community is split on the impact of fasting on race runners:
Dr. Sara Brown, a sports physician in Lincoln Park, said fasting runners should sit out the marathon, adding that long runs after fasting can be dangerous.

"That's what I would recommend to anybody that would be observing the holiday," Brown said. "I wouldn't recommend running 26 miles the next day."

However, Chicago marathon Race Director Dr. George Chiampas said some runners who fast can run the next day and that a 24-hour fast would not harm the body enough to be dangerous if a runner has the proper nutrients.

Michael Kotzin, executive vice president of the Jewish United Fund, was understanding. He said the marathon organizers are "doing everything they can to accommodate" the needs of Jewish runners, according to a report by the Jewish Telegraphic Agency.
ABC-7 reports on some of those accommodations: organizers will extend the hours of the traditional pre-race pasta dinner, and will work with synagogues to help arrange runners' paperwork the day before, while runners may be attending services.
One option not on the table: rescheduling the race, the date of which has been coordinated with everyone from the city to hotels to the NFL.
Popular in the Community