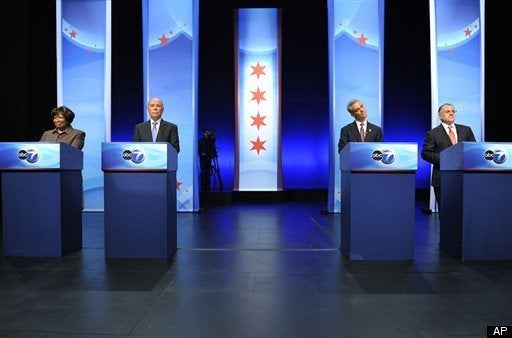 The final mayoral debate was on the air tonight, and with only four days left until the mayoral election, it was time for everyone to take their last free televised shots. Meanwhile, an alderman promotes his candidacy in a unique venue, and some rare facts about the mayoral candidates dug up on this edition of The Countdown.
Stay tuned to HuffPost Chicago from now until February 22 for "The Countdown," a daily roundup of election news, gossip and other fun tidbits. You can also sign up to receive "The Countdown" via email daily by checking the "Chicago Brief" box here.
The final televised debate was co-hosted by ABC and Univision, moderated by Ron Magers and hosted by ABC's Charles Thomas and Univision Chicago reporter Paula Gomez. The four "major" mayoral candidates were in attendance. (Patricia Watkins and William Walls were, as usual, not included.)
Opening statements began with Miguel del Valle, the city clerk, who looked uncomfortable on camera in his first minute, stammering and looking at the audience rather than the camera. He repeated the word "neighborhoods" five or six times in his brief statement. The watchword for Rahm Emanuel was "challenges," which he explained he would fight to overcome. Chico delivers about leadership, and Braun gets personal, the only one to invoke the children of the city. She also mentions "villages of homeless people living under the bridge at Sawyer and Belmont," but the compassionate remark is dulled by her tone, which sounds as if she's reading a college essay.
The first question was a softball over the plate to Gery Chico, on a proposal to tax services in the city. Chico's been calling this the "Rahm Tax," and has hammered Emanuel over the proposal for weeks. He continued doing so tonight, saying that the tax would hit working families and that Rahm's promise to put $200 in families' pockets was disingenuous.
Emanuel responded that his tax would only cover luxury items, including "$85 mango facials for dogs." Carol Moseley Braun said very clearly, "No. New. Taxes." Del Valle didn't like the question, though, saying that it was "ludicrous" to talk about hypothetical taxes and not existing tax burdens.
In a follow-up, Chico was quoted as calling Rahm a "pathological evader of the truth." Was his answer tonight a continuation of that? "Absolutely," Chico said. Del Valle got even more heated, saying candidates should be talking about "property taxes that are choking families in Chicago."
Another lively moment came during a question about the head tax. Most of the candidates were unequivocally in favor of its abolition, but again, del Valle challenged why the forum was talking about it. "We collect more from red light tickets than from the head tax," he said. "Let's put this into perspective. The people who are really getting hit hard are the ones in the neighborhoods."
The audience burst into applause, and was immediately chastised by moderator Magers for it. They would laugh and cheer for del Valle again later (for saying that the mayor's close-knit inner circle was "why gentlemen like Gery Chico got appointed to everything"), at which point Magers threatened to throw the whole crowd out of the building.
Otherwise, the policy differences were nuanced at best on issues like guns (against 'em), deportations (against 'em), and schools (for 'em). Immigration was one moment in which Rahm Emanuel's record in the White House was questioned by all opponents: Chico mentioned his failure to support federal immigration reform, Braun said he was "directly involved in killing the DREAM Act," and del Valle said Rahm had "referred to it as the 'third rail' of politics," advising allies not to touch it.
Charles Thomas asked Emanuel a direct question about his past: what did you do during your years between leaving the Clinton administration and running for Congress? Rahm mentioned his time as an investor, at the Chicago Housing Authority and at Northwestern. Chico followed by mentioning his scandal-plagued years at Freddie Mac, and del Valle took a shot at them both, saying they'd made millions by taking "full advantage of their contacts in federal government or city government." Braun mentioned some of Emanuel's votes in Congress, where she said he voted "against the Congressional Black Caucus 128 times, voted against sending water to starving people in Africa."
That topic belied the underlying tension of the night: everyone but Rahm needed to bring him down, to send the thing into a runoff, while each also had to try to angle himself or herself into second place to be in that runoff with him.
Overall, Chico and Emanuel appeared to be striving for that quality that would elsewhere be described as "presidential," invoking well-worn stories and a sort of casual, controlled attitude. Braun looked at nearly her best -- her prepared remarks came off a bit canned, but off-the-cuff, she sounded intelligent and likable. Del Valle portrayed himself as the fiery defender of the working man, rarely smiling and seeming visibly angry at some moments. Is that what Chicago wants? Equipoise or outrage? We'll know Tuesday.
10 THINGS YOU DIDN'T KNOW
NBC had a great feature today of little-known facts about the mayoral candidates. Some were less interesting than others, but there were some gems in there. Among our favorites were an explanation of that stump of a middle finger on Rahm that we still can't get used to:
Rahm Emanuel lost part of his left middle finger after cutting it on a meat-slicing machine at Arby's. When he went for a prom night swim in Lake Michigan, it became infected, requiring amputation.

And this noble story of a young Miguel del Valle:
At Tuley High School, Miguel del Valle led a walkout against a history teacher who pinched girls' bottoms and called them "Chiquita bananas."

They even had facts on the "minor" candidates, although they were digging a bit, explaining, for instance, that William "Dock" Walls was given the nickname by his sister.
Anyway, check out the full list of facts at NBC.
As we wrote last week, Alderman Rey Colon is fighting a tough race for re-election in the 35th Ward. He's promoting his candidacy in a unique and awesome way tonight: spinning wax at a party in Logan Square.
The party, a Johalla Projects event, is at Streetside tonight from 9 p.m. to 1 a.m. No word on what kind of music he'll be playing, but hey, if you get this email and don't have anything to do tonight, may as well head over there. How often do you see an alderman at the turntable?
If you have any juicy gossip about the Chicago elections, or a story you think we should see, send us an email at chicago@huffingtonpost.com.
Popular in the Community