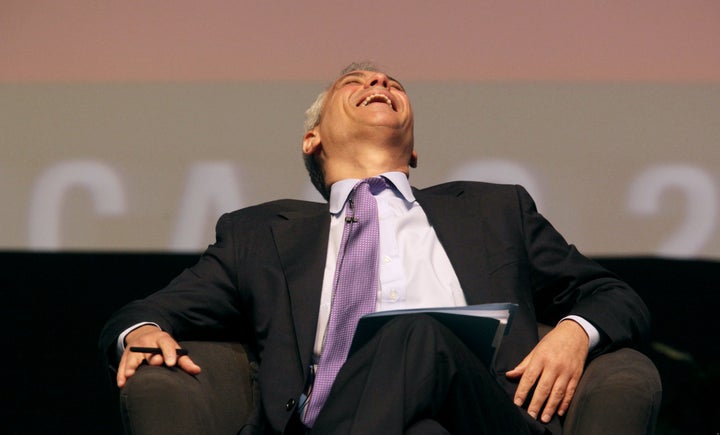 Since Mayor Daley announced that he would not be running for a seventh term last week, the Chicago news cycle has been dominated by mayor's race coverage. We too have a hard time shaking the mayoral madness--but we know some people are into the race more than others.
In an effort to keep mayor's race fanatics (ourselves included) satisfied and avoid having 14 stories on the subject on the page at once, we decided to start a mayor's race roundup.
If you have any juicy gossip about the race, or a story you think we should see, send us an email at chicago@huffingtonpost.com. Look for the roundup daily (until the madness dies down.)
Citing a "credible source," the Windy Citizen's Anna Tarkov reported on Wednesday that Acting Chairman of the Illinois Commerce Commission Manny Flores is planning a run for mayor. Flores, a former Chicago alderman, confirmed his plans with the Chicago News Cooperative Thursday. "I am collecting signatures," he told the CNC. He will make a "special announcement" Saturday. We wonder what that announcement will be!
Keeping Score Of The Candidates
Months ago, when Rahm Emanuel made his mayoral dreams known, we created a slideshow of possible Daley replacements. Following last week's announcement, we have done a lot of tweaking. Keeping up with the "confirmed", "mulling" and "speculated but now out" candidates has become quite the task. Thankfully, savvy folks like Dan Sinker are around to help us keep score. Sinker, an entrepreneurial journalist and journalism professor at Columbia College Chicago, sent us this handy Chicago Mayoral Election Scorecard. Check it out.
Jesse Jackson Jr. met with Rahm Emanuel Wednesday night (read more about that here) and they talked about the Chicago mayor's race. Does that mean they discussed running against each other? We aren't so sure. Jackson Jr.'s wife, Alderman Sandi Jackson, also said she might run. His brother, Jonathan Jackson, said he wants in too. Then there is Sen. James Meeks, who is not a Jackson family member, but an extremely close friend. "I am godfather to his children," Meeks told the Southtown Star's Kristen McQueary--implying that he would not run against Jackson Jr. or his wife. Meeks has already collected 3,000 signatures to get on the citywide ballot--in less than a week. Will he be the "consensus candidate" for the African American community that Bobby Rush has been talking about?
Related
Popular in the Community