After it became clear that Chicago Mayor Rahm Emanuel had enough votes to declare victory over his challenger, Cook County Commissioner Jesus "Chuy" Garcia, in the city's runoff election April 7, both candidates took to the podium to address their supporters and wrap up each of their campaigns.
Check out part of Emanuel's speech:
And to all the voters, I want to thank you for putting me through my paces. I will be a better mayor because of that. I will carry your voices, your concerns into the office of the mayor's office. I hear you on the importance of neighborhood high schools and better choices. I hear you on the importance of raising the minimum wage so that no family who works ever raises a child in poverty ever again. Not in the city of Chicago. If you work, a child should be raised in a home that if you work, never know that work leads to poverty. Work leads to the middle class and the American dream. I also want to be clear that I hear you about the importance of finding jobs for our ex-offenders who made a different choice in life and they too want to come home. And I hear you about the importance of building a new Chicago where everybody gets a chance to participate in building this great city. From our roads, our waterways, our airports, our schools, our community colleges, our parks and our playgrounds. Everybody has a chance to participate in that great exercise called building a new Chicago.
And here is part of Garcia's speech:
Today, tens of thousands of people from all over this great city came together. People from the North Side, from the South Side, from the Southeast Side and the Northwest Side and the Southwest Side. People of every color, of every creed, people who speak every language on the face of this Earth. People, good, hard-working people came together and spoke with one clear voice to say you want to be heard and you want a government that works for you. You want a city that works for everyone, and I mean everyone. Not just for downtown or for the neighborhoods, but for both. We've got some big problems in Chicago, and no matter who is mayor, we've got to work together to solve them.
Even with a victory, Emanuel still has a lot of work to do to get the city on track with the budget, pensions, education and jobs. Cartoonist Scott Stantis shared his view of Emanuel at April 7's victory rally -- happy to win but still under the image of a few looming problems: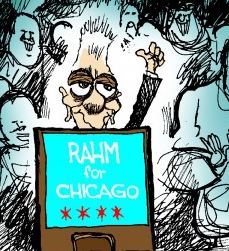 (Check out the full cartoon to see what could be haunting Emanuel's second term at Reboot Illinois.)

Calling all HuffPost superfans!
Sign up for membership to become a founding member and help shape HuffPost's next chapter