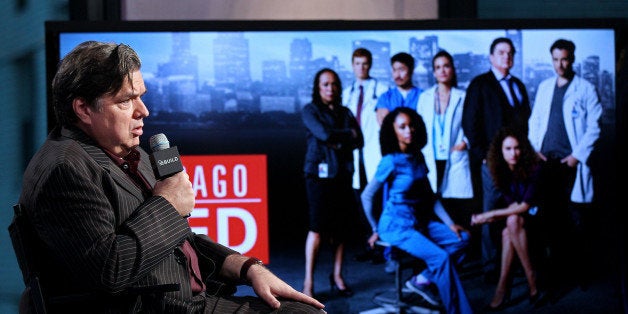 NBC's highly anticipated new series Chicago Med has arrived, adding another layer to the windy city franchise created by Emmy Award winning writer and producer Dick Wolf. Keeping the intensity, gripping drama and surprising plot twists that define Chicago Fire and Chicago PD, Chicago Med goes inside the thrilling, fast-paced environment of Chicago's busiest hospital. With a well-rounded medical team consisting of first-time trainees, experienced newcomers, longtime vets, and a firm leader running the department -- the ensemble cast dives into the trauma of a city riddled with pain, banding together in hopes to save lives and heal the city in the process.
Episodes are inspired by real headlines, with a dedicated team of researchers working closely with staff writers to adapt timely and topical stories into primetime entertainment. "Dick Wolf is vigilant, just like I'm vigilant, about the quality of writing, and the writing on these shows is top notch," said Matt Olmstead, Executive Producer of all three series. "It starts there, and then it moves into having a great cast and a great city, which luckily we've found here in Chicago."
Prior to joining Chicago Med, Olmstead was familiar with the value of city both thematically and visually, as he was an Executive Producer on FOX's standout series Prison Break, which also filmed in Chicago. Despite the proven success of both Chicago Fire and Chicago PD, Olmstead expressed that it took diligence and a clear plan to land their newest installment on the network. "We initially embedded a Med episode into Fire and PD to platform for a Med series, but the network wasn't ready for it," he stated. "It takes some aggressiveness to get three shows on the air, because the network doesn't knock on your door, you have to go and knock on their door, maybe repeatedly, and ask them if they're going to do it."
Sharon Goodwin, played by S. Epatha Merkerson, works as the head of the Emergency Department. Prior to taking the reigns in Cook County, she spent years as a registered nurse, highly qualified and dedicated to her craft. "She's very protective of her authority and takes pride in leading the hospital, because she believes in the staff that she's hired," Merkerson says about her character. "It will be interesting to see what happens when she makes a mistake -- so far she hasn't been tested."
"The real heroes are the doctors, the firefighters, and the police officers who really risk their lives to save lives -- if we can portray them in an authentic way that makes them proud -- then we've done our job."
Yaya DaCosta also stars as Nurse April Sexton, a Chicago native born to Brazilian parents, who is actively in pursuit of her longtime dream of becoming a doctor. First introduced last season in an episode of Chicago Fire, DaCosta's character is a focused, reliable and hungry member of the unit that her colleagues can trust when the stakes are high. "She's that nurse the doctors can go to and know that whatever they ask, it's going to get done efficiently, and effectively," says DaCosta. "She's sweet, compassionate and functions as the liaison between all of the doctors, because she's really good at her job."
This series marks DaCosta's first series regular role on a major network television show. Prior to joining the cast of Chicago Med, DaCosta appeared in an episode of Law & Order: SVU, which her performance stuck with Wolf and the casting director, making her a desired prospect when developing the April Sexton character. Working with a dynamic group of emerging and decorated actors, under the mentorship of Merkerson and vision of Dick Wolf, DaCosta believes the she show is in great hands and is excited for what audiences will soon see. "It's a genuine ensemble cast," says DaCosa. "The beautiful thing about those is that everyone gets a turn - April will definitely have her moments."
With an astonishing career that expands over two decades, Dick Wolf has seen tremendous success introducing multifaceted crossovers that showcase ensemble casts. Producing over 1,400 episodes of network television to date, he's become a master of crime drama and arguably stands as the most accomplished show creator and producer of his time. As the Creator and Executive Producer of the Law & Order franchise, a groundbreaking series that aired for roughly 20 years, Wolf utilized an ensemble cast of 6 people throughout its history, only having a total of 26 guests on the show in its 20 seasons.
Staying true to form, Law & Order received the most consecutive Emmy Award nominations of any primetime drama series in television history. "I've known how important these shows were to television since I started making them," Wolf stated. "We created crossovers with Homicide and Law & Order, and both times we did them, they were the highest rated episodes for both shows." Speaking to what allows his formula to remain effective, Wolf declared, "it takes concentration and a commitment to keeping a vision in tact going forward."
After spearheading an impressive run New York City, his latest franchise breaks away from the empire state. Chicago Med is expected to offer a fresh, relevant and unseen perspective of the city that gives greater depth to Chicago's common perception. "The attitude of the people in each of the Chicago shows represents the heartbeat of the country, and the heart of America," Wolf states. "Our characters are saying things that if it were in New York wouldn't be said -- that's what's special about it -- all-American values, current topics and valid social currency."
With both Chicago Fire and Chicago PD being picked up for another season, the momentum continues to build, as the magic of crossovers past feels more evident than ever. Sensing the trend, Wolf is already thinking steps ahead, focusing on the evolution of his newest show, while remaining ready for what could possibly follow. "If Chicago Med is a success, there will be a fourth show," he confirmed. "The real heroes are the doctors, the firefighters, and the police officers who really risk their lives to save lives- if we can portray them in an authentic way that makes them proud - then we've done our job."