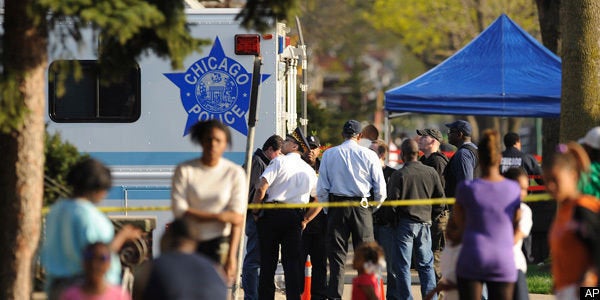 As Chicagoans headed to the beach to celebrate the unseasonably warm Memorial Day, violence erupted throughout the city. Six people were killed and at least 21 people wounded by gunfire Monday afternoon into early Tuesday morning.
The first fatality was reported just before 8 p.m. Monday when 26-year-old Lavarro Taylor's girlfriend was allegedly attacked by a group of women in the 7600 block of South Eberhart Avenue, the Chicago Tribune reports. When Taylor intervened, a group of men reportedly approached him and shot him multiple times. He was pronounced dead at Stroger Hospital.
About 11:15 p.m. Monday, a 16-year-old girl was fatally shot on the South Side. CBS 2 Chicago reports that the girl was in a vehicle with a 26-year-old man when "an unknown male drove up beside them in another vehicle and pulled out a gun before firing several shots." Karla Allen was pronounced dead on the scene and the man was hospitalized in serious condition.
Police were questioning a "person of interest" in the Monday night murder of 27-year-old Jason R. Mann, who was shot in the Eastwood Gardens apartment complex in the 6500 block of South Lowe Avenue, according to CBS.
The Tribune reports that less than 10 minutes later, also on the South Side, another person was killed and two others wounded in a shooting. Brandon Shannon, 25, was dead on the scene and a 19-year-old man and 20-year-old woman were hospitalized with gunshot wounds.
About 1:30 a.m. Stephen Hill, 20, was fatally shot in the 300 block of East 60th Street; and after 4 a.m. Tuesday, a 44-year-old man was fatally shot in 1300 block of West 87th Street.
Others wounded in gunfire include a 13-year-old shot in front of his home in the 9400 block of South Indiana Avenue; a 15-year-old shot in Lawndale; and two teens, ages 14 and 16, shot in a Morgan Park drive-by, according to NBC Chicago. The Tribune lists the other incidents here.
Popular in the Community