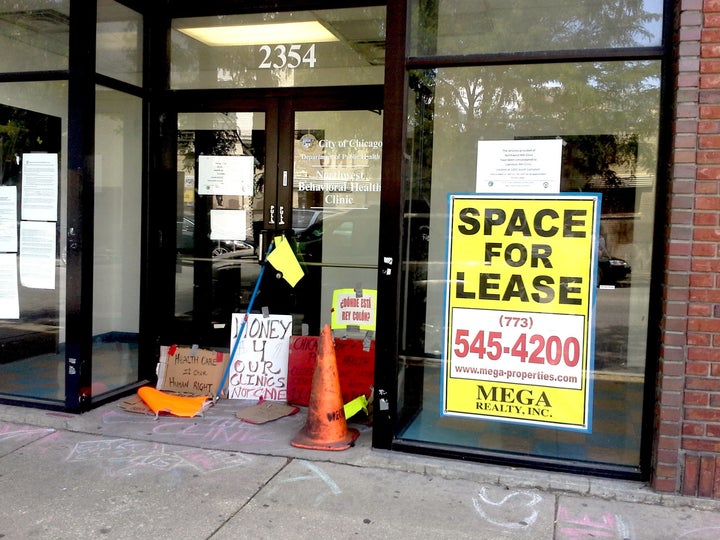 As advocates pled not guilty Monday to charges that they had trespassed during a sit-in demonstration at a Chicago mental health clinic, they sought to put the city "on trial" instead -- for consolidating its 12 mental health clinics to six, leading to several deaths and more than a dozen emergency psychiatric hospitalizations, the protesters allege.
Efrat Stein, Chicago Department of Public Health spokeswoman, said in a prepared statement that while the department "support[s] the ability of everyone to exercise their first Amendment rights and voice their opinions," protesters' claims that the city's halving of its mental health clinics has increased hospitalizations of patients are "unfounded."
Activists planned to call their own witnesses to testify against the closures and their impact during the trial over trespassing at the Woodlawn Mental Health Center, which they have occupied 24/7 since April 13.
Cook County Sheriff Tom Dart, who has described his Cook County Jail as the state's "largest mental health provider," was among those whom activists hoped would testify at the trial, which was ultimately continued until July 10.
While Dart said he will not be participating in the trial, he said he's "very sympathetic" to the activists' cause.
"This is not higher math," Dart said. "If you reduce programs and remove funding, it isn't as if fairy dust will be spread throughout the clouds and these peoples' mental health issues will go away. They will still have them, and it's a question of where they will go from there. The majority are coming to the criminal justice system."
That rally June 12, led by a coalition of groups called Mental Health Movement, doubled as a memorial for Helen Morley, a fellow protester and former patient of a city-run clinic who recently passed away. Protesters say they believe the stress of the closures was a contributing factor to her death. The groups attribute two other deaths and at least 15 psychiatric hospitalizations to the closures.
Debra Delgado was one of six protesters arrested when they refused to leave the Department of Public Health building June 12. A long-time patient of the now-closed Northwest Mental Health Clinic in the city's Logan Square neighborhood, Delgado was accustomed to taking a 10-minute walk to talk to her therapist. Once the Logan Square facility closed, she was transferred to another clinic on the city's Far North Side, a trip which now takes her over an hour. She said the therapy sessions are shorter and that the lengthy trip there makes her anxiety flare up.
After spending the night of June 12 in jail, Delgado went straight to the protest site outside the Logan Square clinic when she was released the following afternoon. Though she said she was "not proud" of being arrested, she vowed to press on.
"They were talking to us and treating us like we were murderers or drug addicts in there. I cried the whole time I was there because I was so angry," Delgado said. "All I wanted to tell was to tell him [Choucair] that you're killing our communities and he didn't want to listen. I'm here because I want to live. A lot of these patients want to live, too."
Stein, the CDPH spokeswoman, says that the consolidations will actually increase access to the city's mental health services. As for the city's 2,900 existing patients, the city is "dedicated to making sure there is no gap in service." Over half of the patients transferring to city-run clinics have already attended their first appointment, according to Stein.
"The fact remains, each and every City client has a personalized transition plan, is being monitored closely, and all those who depend on the City for service will continue to have access to quality care," Stein said.
Matt Ginsberg-Jaeckle, a member of the activist group opposing the cuts, described the city's defense of the closures as "ludicrous." He said that while many patients have, indeed, successfully made it to their first post-consolidation appointments, many face delays -- up to three months -- in setting up follow-up sessions.
"It's infuriating that the city dares to make these claims when we're the ones living with the consequences," Ginsberg-Jaeckle told HuffPost. "The city is moving in the exact opposite direction of what needs to be done here."
Meanwhile, the protesters hope to remain in the public eye. Their full-time occupation at the Woodlawn clinic continues. This Wednesday, June 27, they plan to attend the City Council meeting while donning t-shirts bearing their fellow protester Morley's face and the words she repeated often: "If you close my clinic, I will die."
Watch Morley speak at a December rally at City Hall:
Related
Popular in the Community