Every year at this time, thousands of walkers and runners in the Chicago area assemble for the Ricky Byrdsong Memorial Race Against Hate, honoring the legacy of the former Northwestern University Men's Basketball Coach, murdered in 1999.
Byrdsong was shot and killed while walking with two of his three children at his Chicago area residence by white supremacist Benjamin Nathaniel Smith. Like this week's Santa Monica killer, Smith carjacked a vehicle to launch a multi-location shooting rampage that terrorized surrounding communities.
Smith was a member of the World Church of the Creator, a hate group whose leader, Matthew Hale, is serving a 40-year prison term for soliciting an undercover FBI informant to kill Chicago federal judge Joan Lefkow.
Also shot and killed in the spree, which occurred two months after the Columbine massacre, was Won-Joon Yoon, a 26-year-old Korean doctoral student in computer science at Indiana University who was on his way to church. Smith targeted African-American, Jewish and Asian people in his spree and also wounded nine Orthodox Jews and an African-American minister. After his three-day, two-state shooting rampage, Smith killed himself as police approached.
According to Illinois police, the state issued Smith a gun owner's ID card two weeks before the shootings because a background check did not reveal an order of protection filed by an ex-girlfriend. Let's enforce existing laws! The problem was confusion over middle initial problems, said officials. Smith also disseminated hate literature at Indiana University where he studied -- anybody? -- criminal justice, and officials say he was known for peeping into women's windows and drug use.
Smith's order of protection did appear when a gun dealer ran a background check on him, so he instead obtained his weapons from Donald R. Fiessinger, of Pekin, Ill. Fiessinger was already under investigation for funneling "dozens of guns" into the illegal market, said Bureau of Alcohol, Tobacco, Firearms and Explosives officials. He was charged with selling guns to Smith without a license.
"This unfortunately hits home the point that we have to start regulating the secondary market as well," including gun shows, unlicensed gun dealers and sales over the Internet, said Lisa Morel Las, who was director of the Illinois Council Against Handgun Violence at the time. It is a refrain the families of the Smith's 12 victims -- and thousands of others -- have head in the ensuing 14 years.
Six years later, another suspect in a high-profile Chicago gun murder case killed himself when police closed in. In an eerie coincidence, Bart A. Ross, an electrician from Poland, also targeted Chicago federal judge Joan Lefkow, though he was not linked to the World Church of the Creator, Matthew Hale or Benjamin Nathaniel Smith. In a suicide note, Ross confessed to killing the husband and mother of Judge Lefkow after breaking into their residence. Ross, despite issuing a series of gun threats to his enemies in the medical and legal professions, passed a background check and bought at least one of his weapons legally in the Chicago suburb of Bensenville, said police. Suburban Chicago gun shops, like Chuck's, linked to 1,300 crime guns since 2008, are blamed for many of the criminal guns flooding the Chicago market.
Finally, Chicago just commemorated 25 years since another legal gun owner issued death threats, killed people and then killed herself. Laurie Dann was investigated by authorities in three states for repeated threats to kill people and even stabbed her ex-husband with an ice pick. Yet Dann had no trouble purchasing Smith & Wesson .357 Magnum, telling the salesman that she needed it for self-defense. Thank you, NRA. Let's enforce existing laws.
The 30-year-old former babysitter shot six students at an elementary school in an affluent Chicago suburb, one of whom died, and another man. The police knew she was armed and "unsuccessfully tried to persuade Dann and her family that she should give up the gun," according to news reports.
Twenty-five years after Dann's rampage and eight years after Ross', violent criminals still sail through background checks, including those who threaten to kill. Fourteen years after Byrdsong's murder, illegal gun dealers flourish thanks to gratuitous laws the
NRA has pushed through to protect them, largely behind the public's back.
Clearly "voter power" will not pry lawmakers out of the NRA's cold dead hands but "consumer power" can and will. Ninety percent of the nation wants universal background checks and the fight is moving into the marketplace.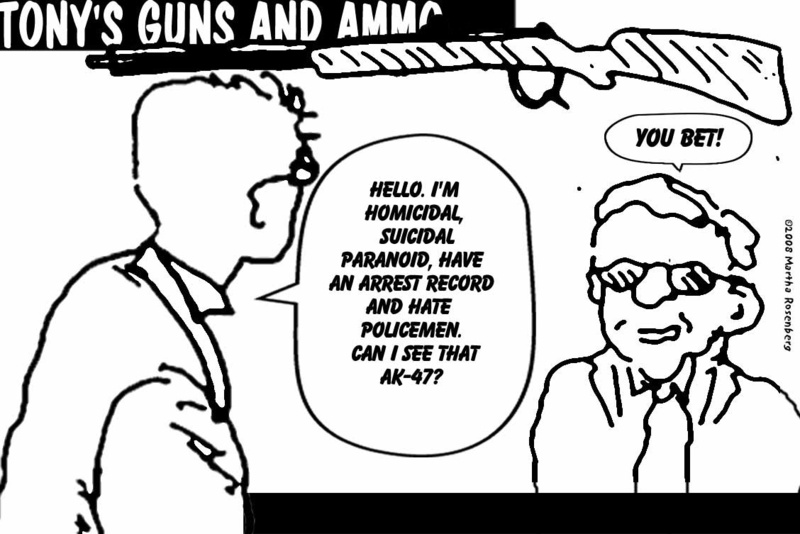 Related
Popular in the Community