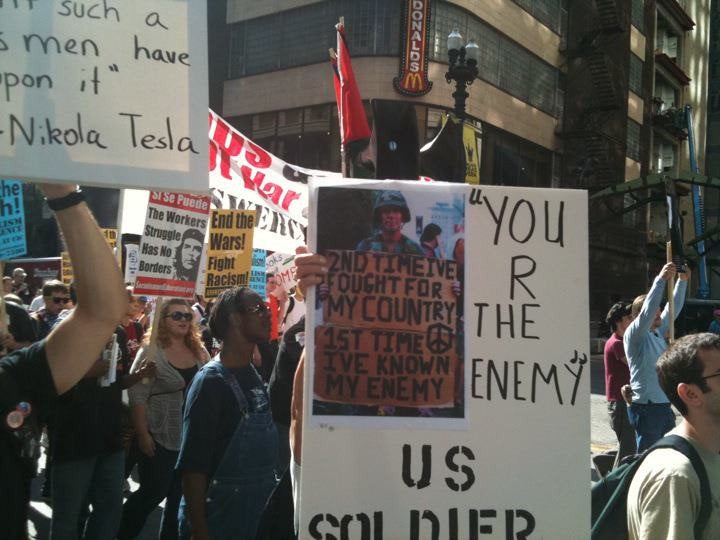 Activists preparing to demonstrate against Chicago's concurrent hosting of the G8 and NATO summits at the city's McCormick Place in May applied for demonstration permits Tuesday morning, the first day they were legally allowed.
The activists did not anticipate a rosy reception, per a statement from the Chicago Coalition Against War & Racism. The group is dismayed that Chicago Police Department Superintendent Garry McCarthy has threatened mass arrests of G8/NATO protesters. Further, they point out that Mayor Rahm Emanuel has pushed not only for harsher fines for protesters deemed to be in violation of city codes, but also an expansion of requirements the coalition called "ridiculously burdensome."
In addition to the already publicized details of the proposal, Emanuel's ordinance would require organizers to provide a parade marshal of their own for every 100 demonstration participants and limit their usage of a bullhorn to between the hours of 10 a.m. and 8 p.m. The duration of legal demonstrations would be reduced by 15 minutes to just two hours, according to the Tribune.
Andy Thayer, a leader of the activist coalition, told CBS Chicago that he was alarmed by the proposal, which presents significant obstacles to the coalition's planned May 19 rally at Daley Plaza, followed by a march to the McCormick Place.
Emanuel previously countered that he recognized that protesters "have the right -- which I believe firmly in -- of expressing themselves, and their First Amendment right needs to be protected" but added that the city also has the right, and obligation, "to enforce the law and to protect the law." Both of those things can and will be accomplished concurrently, the mayor urged.
Long-time Chicago activist Don Rose said Tuesday the new rules could actually encourage the sort of 1968 Democratic National Convention-esque confrontation the mayor's office would probably like to avoid. Activists may sue the city if the proposal is approved, NBC Chicago reports.
"The more pugnacious the city gets, the more provocative it becomes," Rose said, according to NBC.
The City Council is slated to consider Emanuel's new regulations governing demonstrations during their next meeting on Jan. 18.
Related
Popular in the Community