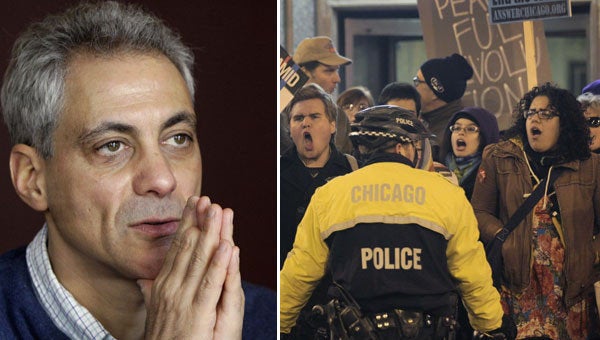 World Business Chicago announced on Friday that they had raised $36.5 million dollars for NATO-related costs, including $14 million for parties and social functions for the global political-military alliance. Mayor Emanuel stated that "the key thing is the (local) taxpayers will not have to put up any money for the event." Lori Healey, head of the Chicago NATO Host Committee, lauded the corporations for their "generosity."
Without a broader context, the administration's statements sound reasonable. How great that Chicago's corporate leaders have pitched in, so that Chicago taxpayers don't have to, right? Wrong. The reality is, Chicago taxpayers have already subsidized the summit, by beneficently subsidizing NATO's corporate donors.
Let's look at how generous Chicago taxpayers have been to these corporations. United Airlines, for example, took over $31 million in Tax Increment Financing (TIF) from Chicago taxpayers to rehab their Wacker Drive skyscraper they are now trying to vacate. Boeing Airlines received $24 million in property tax breaks and city grants from Chicago. Chicago Mercantile Exchange (CME) got a $9.8 million property tax break.
Then there are the state subsidies. Leading the pack, CME won $77 million refund on their state income taxes, despite making nearly $2 billion in profits in 2011. Boeing received an additional $17 million in state economic subsidies, and $13 million in state grants.
So forgive us, but we are not impressed with corporations donating money towards champagne and caviar for the world's leading military powers while they are in town for the weekend. As Chicago neighborhoods reel from escalating killings of African-American and Latino children because of the lack of jobs and investment in low-income neighborhoods, as foreclosed properties that afore-mentioned banks are supposed to be maintaining continue to be dens for drug-use and sexual assault, as schools in working class neighborhoods continue to be short-changed and on the chopping block, raising tens of millions of dollars for social activities and security for the NATO summit does not merit praise. Not when the corporate donors took our tax dollars in the first place.
Instead of raising funds for corporate junkets, World Business Chicago should put their vigor into raising $100 million for neighborhood jobs -- summer jobs for youth, jobs for parent patrols to keep our kids safe, and jobs to clean up abandoned housing in our communities. A world-class city takes care of its neighborhoods.
Chicago taxpayers are indeed on the hook. The city just doesn't want us to know it.
Amisha Patel is the executive director of Grassroots Collaborative, a community-labor coalition working for economic and racial justice in Chicago and statewide. Grassroots Collaborative's 11 member organizations represent over 150,000 Illinois parents, workers, unemployed residents, seniors and youth.

Popular in the Community