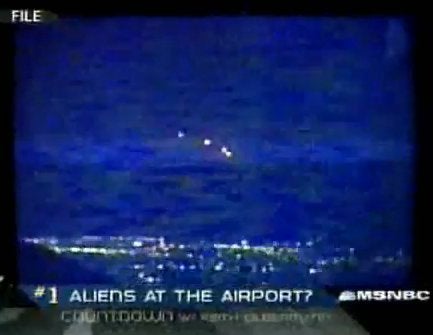 In November of 2006, United Airlines employees at O'Hare Airport in Chicago reported seeing a "flying saucerlike object" hovering over Concourse C of the United terminal. While most UFO sightings are dismissed as delusions by crazy people, a Chicago Tribune reporter followed up on the story--and said seasoned pilots, airline management and mechanics all came forward, shaken by what they saw.
"I stood outside in the gate area not knowing what to think, just trying to figure out what it was," a United manager told Tribune reporter Jon Hilkevitch. The manager ran outside his office in Concourse B after hearing the report about the sighting on an internal airline radio frequency. "I knew no one would make a false call like that. But if somebody was bouncing a weather balloon or something else over O'Hare, we had to stop it because it was in very close proximity to our flight operations."
The story was picked up by most major news networks, and forced some people to seriously reconsider the possibility of UFOs, though the Federal Aviation Administration dismissed the sightings as a "weather phenomenon."
Kean appeared on the "Colbert Report" with Stephen Colbert Monday to discuss her book--and Colbert brought up the infamous 2006 O'Hare sighting. Kean explained that though the story was big at the time, it blew over. She also said there should be more investigation into these sightings.
"This thing was hovering over Chicago O'Hare Airport at rush hour," Kean said. "Lots of people saw it. . . the U.S. government never said a word."
WATCH Kean on the "Colbert Report" here:
WATCH Tribune reporter Jon Hilkevitch discuss the story in 2007 here:
Popular in the Community