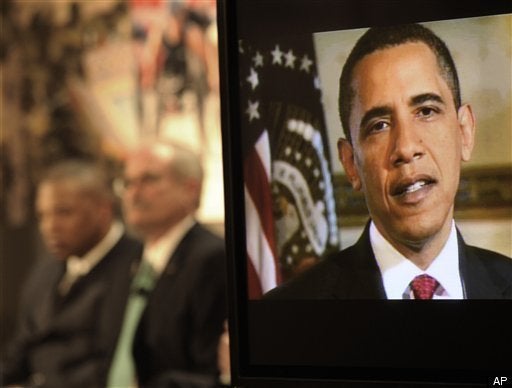 As President Barack Obama gets set to travel to Copenhagen Thursday night to make the case that Chicago should host the 2016 Olympics, good government groups are torn over how to handle the presidential sales pitch.
After all, the moneyed interests behind Chicago's bid -- who bundled nearly $2 million for Obama's 2008 presidential campaign -- are hard to ignore and they raise the specter of influence-peddling that reformists are dedicated to fighting.
Chicago 2016 committee and board members bundled at least $1.95 million for the campaign, according to a review of campaign finance records by the Huffington Post. Two members of the 13-member board of directors for the Chicago bid are close Obama allies. One of those two, the president's golfing buddy and close confidant, Marty Nesbitt, inherited the board position after Valerie Jarrett, left to become a senior Obama adviser.
The campaign donations and close friendships have raised eyebrows among good government advocates. Would Obama have gone to Copenhagen if, say, the potential host city was St. Louis and committee members hadn't opened up their check books for the president's run at the White House?
"I think it would be a lot less likely he would make that trip," said David Arkush, the director of Public Citizen's Congress Watch Division. "Supporting an effort for a major city in the U.S. to get the Olympics is a no-brainer... But the bottom line is, when you've got a group of that many people sitting on the board who have supported your campaign, it would be basically impossible to avoid that affecting your thinking. At some point, political judgments have to be made about how the president spends his time."
And yet, even Arkush admits that evidence of influence-peddling isn't so cut and dried. For starters, the Chicago 2016 board members aren't the only ones who would benefit from a winning bid. The economic ripple effects would extend well beyond the Windy City. According to Time magazine: "Estimates for the economic stimulus of the Games vary widely, from $4.4 billion in an independent study by Anderson Economic Group to $22.5 billion." As the White House has stressed throughout the week, the president could be considered derelict in his duties if he didn't push for this job-growth bonanza.
But even if the Copenhagen jaunt is a case of mutual - not conflicting - interests between Obama and his bundlers, good government groups are skeptical. Sheila Krumholz, executive director of the Center for Responsive Politics, remained suspicious, admitting that the trip was "emblematic of donors and candidate's shared goals."
"If these Chicago businesspeople stand to benefit financially from an Olympic bid and if his intercession helps them win it, it stands to reason that President Obama will be better placed to tap that goodwill (not to mention increased fortunes) in 2012," she said.
"Mostly I think it's a "chicken or an egg" thing," she added. "Undoubtedly, these donors have access to push for presidential action that others don't. No doubt in my mind. That doesn't necessarily mean that's what's at play here."
The White House did not return several requests for comment from the Huffington Post. But in briefings throughout the week, spokesman Robert Gibbs has stressed that there was nothing untoward about the president's hometown sales pitch. Noting that none of the bundlers are traveling with Obama to Copenhagen, Gibbs also reminded reporters that Chicago's efforts to win the games started well before the president took office.
"I don't think that there's any doubt that the president is enormously proud of Chicago and would be enormously proud of the city hosting the bid," said Press Secretary Robert Gibbs. "If it had been Los Angeles, I think the notion that the president would have done less because it was a different U.S. city just doesn't hold water."
Pressed to respond to Republican criticism that Obama was taking his eye off of domestic politics in order to do a favor for his Chicago friends, Gibbs' rejoinders have been even more biting. "Who is he rooting for?" the press secretary replied, when asked about RNC Chairman Michael Steele's critique of the Copenhagen trip. "Is he hoping to hop a plane to Brazil and catch the Olympics in Rio? Maybe it's Madrid?"
Playing the 'love-of-country' card is, as the White House surely knows, effective politics. And, indeed, Republicans have gained little traction in their efforts to extract political blood over the Olympic pitch trip. It also explains why Obama isn't likely to take much of a hit from the good-government community.
"You know, it's the Olympics," said David Donnelly, director of its Campaign Money Watch project for Public Campaign. "Everybody loves the Olympics and wants them here. I'm going to step out of character and take off my reform hat and not worry about why Obama is pitching his hometown as the site of the Olympics. If you were the most powerful man in the world and you could do this, wouldn't you (regardless of the host committee)?"
Martin H. Nesbitt
The Parking Spot
Bundler for Barack Obama, raised at least $ 50,000 2008
John W. Rogers Jr.
Ariel Capital Management Inc.
Bundler for Barack Obama, raised at least $500,001
Michael Alter
Alter Group
Bundler for Barack Obama, raised at least $ 50,000
Robert Blackwell
Blackwell Consulting Services
Bundler for Barack Obama, raised at least $100,000
Peter Bynoe
DLA Piper
Bundler for Barack Obama, raised at least $100,000
Frank Clark
Commonwealth Edison
Bundler for Barack Obama, raised at least $200,001
Robert Clifford
Clifford Law Offices
Bundler for Barack Obama, raised at least $ 50,000
Tom Cole
Sidley Austin LLP
Bundler for Barack Obama, raised at least $ 50,000
Kenneth C. Griffin
Citadel Investment Group
Bundler for Barack Obama, raised at least $ 50,000
Mellody Hobson
Ariel Capital Management Inc.
Bundler for Barack Obama, raised at least $100,000
Penny Pritzker
Hyatt/Pritzker Realty
Bundler for Barack Obama, raised at least $200,001
James Reynolds
Loop Capital Markets
Bundler for Barack Obama, raised at least $200,001
Michael Sacks
Grosvenor Capital Mgmt
Bundler for Barack Obama, raised at least $100,000
Louis B. Susman
Citigroup Corporate and Investment Banking
Bundler for Barack Obama, raised at least $200,001
Support HuffPost
The Stakes Have Never Been Higher
Popular in the Community