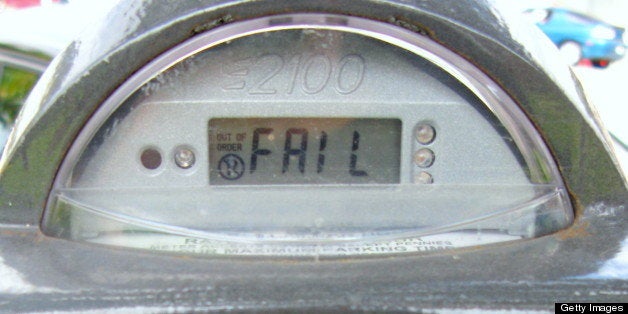 In the city's ongoing efforts to put more lipstick on the pig that is Chicago's parking meter deal, Mayor Rahm Emanuel announced Monday City Hall had reached a settlement with the private company leasing Chicago's meters.
Free Sunday parking everywhere but downtown and a pay-by-cellphone option were among the biggest deals the city struck with parking lessee Chicago Parking Meters LLC. Additionally, the city said the settlement means an estimated $1 billion in savings on additional charges over the life of the 75-year contract.
(See the good and bad of the re-worked parking meter deal below.)
Emanuel made no effort to hide his hatred of the infamous Daley administration parking meter deal during Monday's announcement, slamming the 2008 deal as a "straitjacket on the city" according to DNAinfo Chicago and sassily saying at the announcement, "When I was elected Mayor, I said this was a bad deal."
Admitting the best he could do was make lemonade from the lemon of the deal handed down from former Mayor Richard Daley, Emanuel had plenty of tough talk Monday.
Not everyone bought in to Emanuel's spin of the deal, with Ald. Scott Waguespack (32nd) voicing skepticism over the deal's true benefit to drivers and the mayor's own mixed messaging.
"It's essentially going to be a wash or we're going to be paying more," said Waguespack."Restaurant patrons, bar patrons, they'll all be paying more. That would probably make them (CPM) a lot more (money)."
Waguespack also asked why the city didn't join a lawsuit questioning the legality of the agreement filed by a group of Chicago citizens.
"If [Emanuel] believes the True-Up costs [street closure costs] are wrong, why not go to court and fight the whole thing?"
Key outcomes of the new parking meter deal

Sunday Parking

The Good: Free parking returns for one day a week. "You shouldn't have to pay to go to church," Emanuel said according to DNAinfo. "Whether you go to church or not, everyone deserves a break from feeding parking meters in our neighborhoods on Sunday."
The Bad: Free parking won't go into effect until late summer; drivers still have to pay for Sunday parking if they're in the "Central Business District" north of Roosevelt, east of Halsted and south of North Avenue (essentially the Loop, River North, Streeterville, West Loop and Old Town).

Pay-By-Cell Option

The Good: No more annoying round trips between your car and a pay box half a block away.
The Bad: Feature won't take effect until summer of 2014; .35-cent "convenience charge" on all payments; useless to drivers who don't have smartphones with payment app.

Parking Hour Extensions

The Good: Nothing — It was a necessary evil to get free Sunday parking.
The Bad: River North area meters will see three more hours of metered time tacked on, with meters running until midnight instead of ending at 9 p.m. Elsewhere, meters will run an hour longer, until 10 p.m. in most neighborhoods.
Popular in the Community