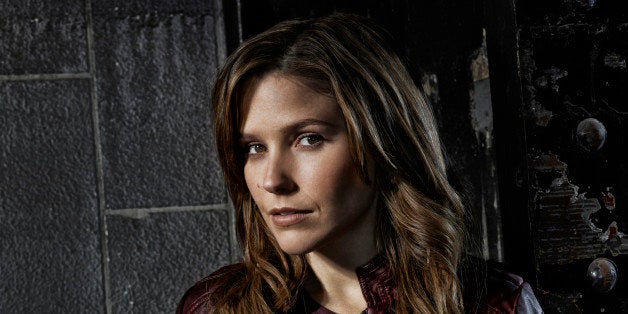 Have you ever wondered how much training goes into making those fast-paced, high action cop shows you see on television? The answer: a lot! Sophia Bush can fully attest to the amount of training she endured to fully capture the abilities of her character Detective Erin Lindsay on the new hit NBC Show Chicago PD.

"We trained a lot," Bush told me. "We worked with intelligence officers in Chicago. We trained with the swat team and I spent a lot of time with female undercover officers to hear about the job from their perspective as well. We trained in pretty much every arena, high-speed chases and precision driving, weapons training and tactical training and then a lot of that also comes into play when we're clearing buildings, learning to breech doors. There's a lot to it."
NBC described her character as a "tough, no-nonsense detective". Of course, it's not easy. Bush, 31, explained to me what her biggest challenge was when preparing for her role of Detective Lindsay.
"For me, I think it's been learning to let go of the pressure that I put on myself to do everything just so because we all spent so much time as I mentioned with all of these officers and we want to do right by them. We know the stories of their partners who've been killed in the line of duty. We know the stories of the kids that they couldn't save but tried and the crime scenes that they've shown up at that still haunt them at night. Knowing how much they sacrifice, we want to make them proud. We want to do our job on a level that makes them nod at the TV screens when they watch our show and that is a great responsibility.... I know for myself and I think for a lot of us, it was very intimidating in the beginning of shooting. Kind of getting any other side of that for me has been a challenge but it's been a wonderful adventure."
But don't feel bad for all of the hours of hard work she puts in, Bush loves being a part of the team.
"Truthfully I'm just ecstatic every day to be at work," she said. "It's such a wild ride. This isn't your dad's average procedural. We're making a TV show for a major network that can support cinema-quality action sequences, but we're making it with a grit of a cable show. Like I said, it's a really surreal experience. It's something that I'm so grateful for ... If you've ever loved any of the different shows, (if) you've ever loved good suspense then this is the show for you."
Fans of One Tree Hill may still recognize her as Brooke Davis, the popular cheerleader who turned her small fashion line into a huge high end couture line called Clothes Over Bro's (yes, that's the right spelling). Bush portrayed the character of Brooke Davis for nearly 10 years. I had the opportunity to ask her how that role compared to her new role on Chicago PD.
"It's a completely different experience, but that's also my job as an actor," she explained. "I think that I was incredibly fortunate to work on my last show for so long and to play such a wonderful character, but it's apples and oranges. That's why I really made such a concerted effort to work through the majority of the hiatus breaks that we took during the filming of One Tree Hill because my job to play different people and my job is to be a chameleon."
She is most certainly a chameleon. Audiences get to witness Sophia transform into a completely different type of character on her new show.
"What's really gratifying now is the number of people who have written to me on various social channels and talked about how much they love the show and how they are so excited by who Erin is, but also to be playing someone so different and to have it not be a strange experience for them after watching that show for so long and thinking it might be strange. It's very gratifying because that's my job. It just happened to be my last job for so long that people started I think to forget that I do other things ... I don't think I've ever had a better job than this one."
Apart from her new gig on NBC, Bush recently stopped by the set of Discovery Channel's MythBusters to play Princess Leia in a Star Wars-themed episode. She called it an absolute dream come true to get to be on the show. She was approached by the MythBusters team after her appearance on The Late Late Show with Craig Ferguson where they ended up talking about her love for the show nearly the entire interview. Her particular myth to bust was from the scene where Luke and Leia are running from the Storm Troopers.
"They get stopped at a big chasm and he's got to use his grappling hook which was attached to his belt and hook it across the way on to this tiny pole and then hold the both of them and somehow hit the platform on the opposite side not drop her, not break the rope and all the things. I mean I guess it's not a rope. It was some futuristic piece of material, but we tested that myth," Bush said. "It's actually quite complicated to use one rope to swing two people across a great distance."
You can catch Sophia and the rest of the Chicago PD team on Wednesday's at 10/9 central on NBC. Follow Sophia on Twittter @SophiaBush and follow Chicago PD on Twitter @NBCChicagoPD.
REAL LIFE. REAL NEWS. REAL VOICES.
Help us tell more of the stories that matter from voices that too often remain unheard.