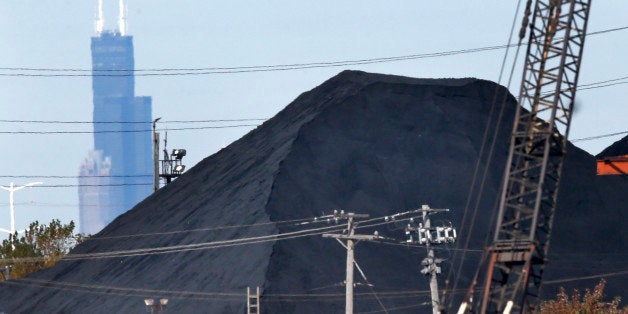 It's not easy to take on a wealthy, multi-national corporation and win. Especially for residents of Chicago's struggling southeast side.
But that's exactly what's happening on the banks of the Calumet River, where the steel plants that used to give residents of a mostly Hispanic neighborhood access to a middle-class lifestyle were replaced, nearly two years ago, with black dust called petroleum coke ("petcoke") piled five or six stories tall.
The piles of petcoke -- a byproduct of the oil refining process -- belong to KCBX Terminals, owned by the conservative billionaire Koch Brothers. The piles have been roiling area residents ever since the black dust of mostly carbon and sulfur began blowing into the backyards, playgrounds and neighborhood parks. It blackens skies and leaves behind a sticky residue, raising concerns about aggravated asthma and other health issues.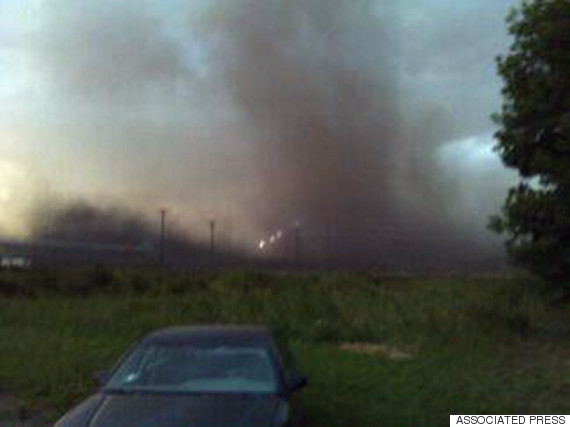 This Aug. 30, 2013 cell phone image provided by Anthony Martinez, shows a dust cloud rising from piles of petroleum coke during a storm near residences on the southeast side of Chicago. (AP Photo/Courtesy of Anthony Martinez)
A small but energetic coalition of residents have stepped up to fight the blight, holding protests and marches, educating their neighbors about the issue and pressuring elected officials. They've made incredible progress in a relatively short time.
Last week, as the Chicago Tribune reported, BP, one of KCBX's largest customers, abruptly announced it would discontinue sending its petcoke to the site beginning this summer. In addition, the city of Chicago announced it had denied KCBX's request for a deadline extension to enclose its petcoke piles via multi-million dollar structure. Shortly thereafter, KCBX announced it would "consolidate" its two petcoke storage and handling sites into one, removing the piles but continuing to operate as a site where petcoke would be transferred between trains and barges.
Still, area residents believe their battle against some of the most influential players in one of the nation's most powerful industries, is very much ongoing -- and they are digging in for more.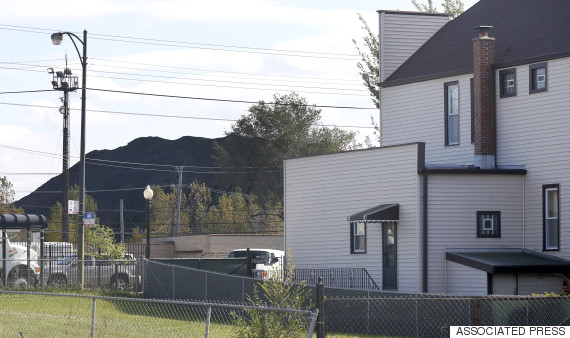 In this Oct. 25, 2013 photo, a large mound of petroleum coke, or petcoke, is seen in the background near a residential neighborhood on Chicago's southeast side. (AP Photo/Charles Rex Arbogast)
Tom Shepherd, president of the Southeast Environmental Task Force, one of the organizations on the front lines of the petcoke battle in Chicago, said his group is "waiting for the next shoe to drop."
"It remains to be seen whether it will be a foolproof operation over there [at the consolidated south terminal]," Shepherd said. "We're in a wait-and-see pattern right now."
Shepherd and others have been have been working to get petcoke out of the neighborhood ever since the piles started to appear in the summer of 2013.
It is Shepherd who spearheaded a bus tour for individuals interested in getting a closer look at the petcoke facilities and the communities surrounding them. His organization, as well as the Southeast Side Coalition to Ban Petcoke and the Natural Resources Defense Council (NRDC), have also led demonstrations calling for petcoke to be banned from their community. In addition, they've gone door to door in the neighborhood, talking to the community about the facilities and collecting information about how the petcoke has impacted residents' day-to-day lives.
The groups' efforts have also attracted the attention of political leaders, including U.S. Sen. Dick Durbin, former Gov. Pat Quinn and Mayor Rahm Emanuel — all of whom have made appearances in the neighborhood to address the issue. Legislation has also followed at the federal, state and city level. However, only the city's efforts — Emanuel reportedly told KCBX to "clean up or shut down" — have gained traction to date.
Petcoke also became the leading campaign issue in the ward's aldermanic election Tuesday. Alderman John Pope, the neighborhood's City Council representative and an Emanuel loyalist, faced criticism from a crowded field of challengers that he was too slow to address the issue. (Pope will be heading to a runoff election against Susan Sadlowski Garza on April 7.) In a non-binding referendum, 85 percent of voters in the ward voted to support banning petcoke from the district altogether.
But Olga Bautista, an activist with the Southeast Side Coalition to Ban Petcoke, believes there is good reason for the neighborhood to remain skeptical despite the recent progress.
Of particular concern is the possibility that transferring petcoke at the KCBX site will simply pose a different environmental issue.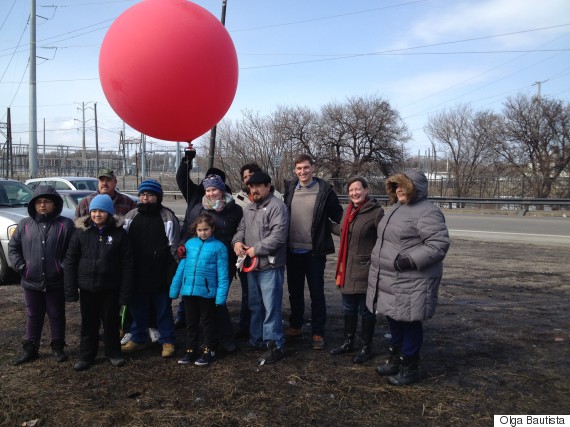 A group of area residents and activists poses with the weather balloon rig they are using to monitor petcoke operations in their neighborhood.
She says she and other activists will continue to collect data on the sites using a balloon mapping technique they learned through a partnership with Public Lab, an organization that works to democratize environmental monitoring and assessments. Using a 5-foot weather balloon with a camera attached to it, as well as an open-source software program called MapKnitter, they can document what is happening at the sites and ensure the company is obeying regulations concerning the height of the petcoke piles (nothing higher than 30 feet is now allowed).
Bautista's group is also working to develop curriculum to teach students at schools in the area how petcoke connects to larger climate change issues.
"We don't know of any community who's been able to successfully kick out the Koch brothers and that's what we're calling for," Bautista said. "We're not going to back down from our original demand to ban the stuff. It's going to be us, moms and dads like me, who hold them accountable. We're not going to stand by and watch these companies make millions and billions of dollars and at the same time they make us sick."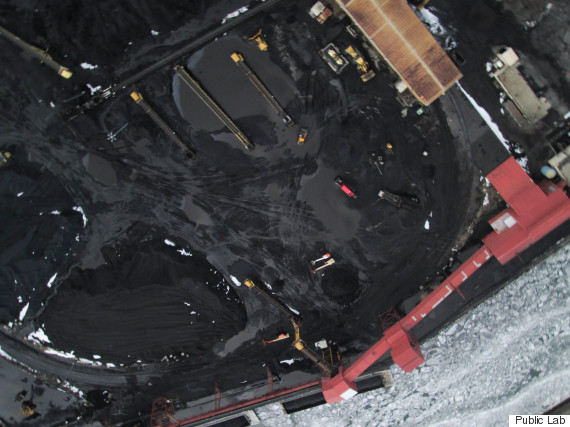 An aerial image of the petcoke piles attained using the balloon mapping technique.
Another lingering question is where BP will send its petcoke now that it's no longer shipping it to Chicago.
"A final decision has not yet been made on where this material will be stored in the future," BP spokesman Scott Dean told HuffPost in a statement.
That answer is not a comfort to activists, like Josh Mogerman, who fear the dangerous material could be heading just across the border to Indiana.
"Just shifting this blight to another community or down the river is good for folks on the southeast side, but not a win," Mogerman, spokesman for the NRDC, said. "They produce a lot of this stuff, and it has to go somewhere."
Support HuffPost
The Stakes Have Never Been Higher
Related
Before You Go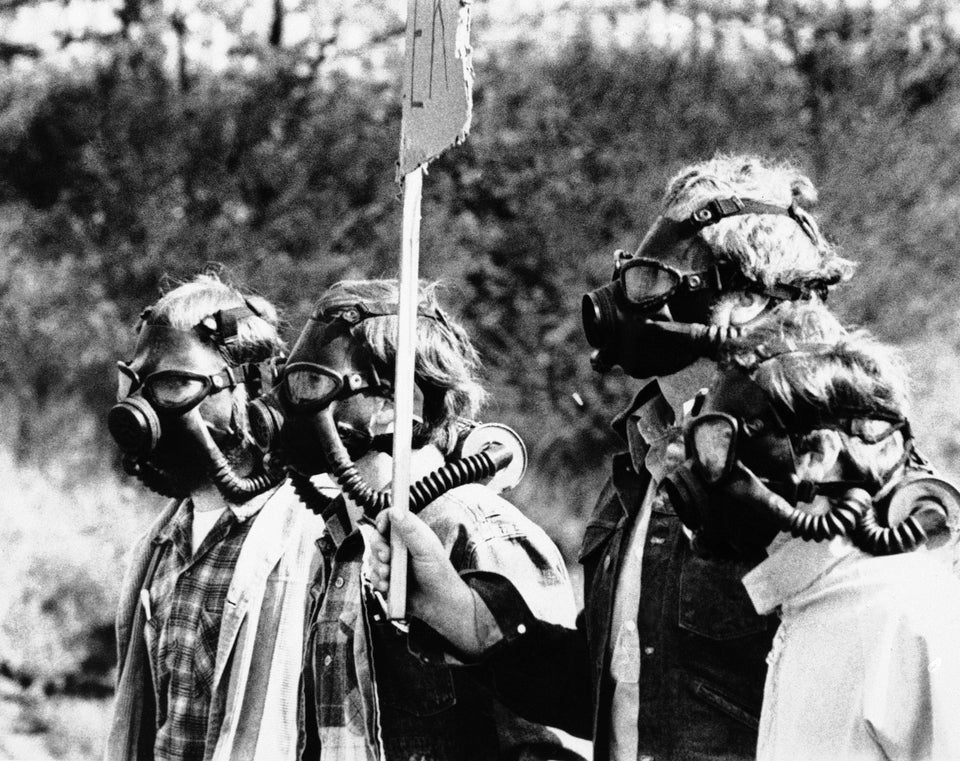 Evolution of Green Activism
Popular in the Community