1. Riverfront Walk
Arguably the best way to see Chicago, is to hop onto the Chicago First Lady Cruise. On this cruise you'll get an overview of the city, its history and architecture. Definitely one of the best ways to take in the grandeur of Chicago's skyline! Another budget friendlier option is to stroll along the water.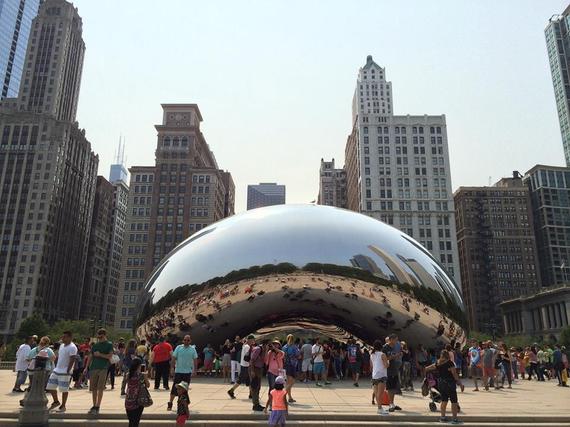 IG: @littlemisshappyfeet
2. Cloud Gate/"The Bean"
Come and take a photo of the fun "fisheye" take on the Chicago's skyline! This stainless steel bean-shaped structure has become synonymous with the city of Chicago.
3. Grant Park
Take a photo of Chicago's skyline together with the Magnificent Fountain of Buckingham. If you happen to visit in the evening, there will be a musical light fountain show to enjoy for free!
Related: 50 Totally Free Things to do in Chicago
4. Chicago Cultural Center (highly recommended by locals!)
A Free exhibition well worth your time, see: Tiffany glass-domes. The view of Michigan Avenue and the Millenium Park across the street from the upper floors of the Center is interesting and educational.

IG:@littlemisshappyfeet
5. Bridges in and around Millennium park
This is a random find, but I'm lovin' this.
6. Michigan Avenue Bridge
Don't forget to check out the view from the Michigan Avenue bridge--great photo opportunities!
7. 360 Chicago Observation Deck (One of the best, recommended by locals)
It is a stone throw away from the Water Tower. If you loved Top of the Rock/ Empire State Building in NYC, don't miss what the Chicago's skyline has to offer! Locals call this place the John Hancock Observatory, and one great thing about it is: You can either buy a ticket for one visit, or for a morning plus night visit to see how the skyline changes!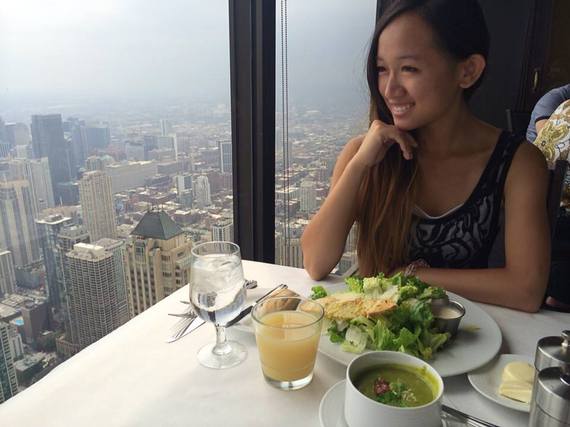 IG: @littlemisshappyfeet
8. Signature Room and Signature Lounge
When I was in the John Hancock tower, it was raining cats and dogs, then "out of nowhere" (just to make it sounds more dramatic), I saw a sign pointing to the Signature room. One floor above the Observatory and I get a fancy lunch with a fair price! What a good find!
9. Skydeck Chicago
Located in the Willis/ Sears Tower, this is another good place to see Chicago's skyline: four sided views from high in the sky and if you are up for some good adrenaline rush, take on the adventurous "Ledge"! Conquer your fear of height by stepping out from the edge, looking straight down to the city through the glass.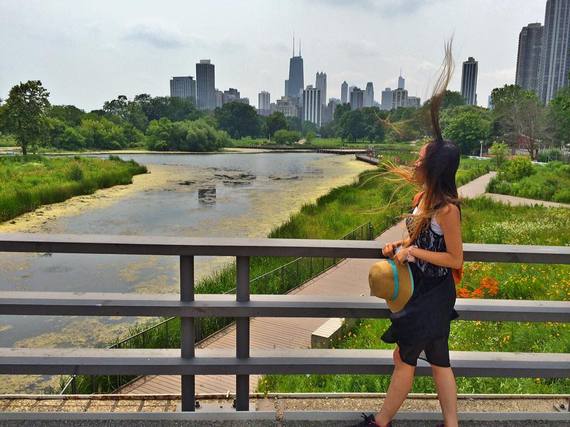 Have you ever seen "skyscraper hair"? Here is one. Why is Chicago called the "Windy City"? IG: @littlemisshappyfeet
10. Lincoln Park Zoo
Easily accessible by the city bus, it is a free attraction and offers a lot of photo opportunities. Bring a picnic lunch and enjoy it under the hive structure.If you have time, check out the Lincoln Park Conservatory.
11. Adler Planetarium
This is a cool place to hang out if you like stars, even if you don't, the view of Chicago's skyline near the planetarium is a W-I-N-N-E-R so do not miss it! Better yet, come on a Saturday evening and stay a little longer to watch the fireworks show from Navvy Pier.
12. Shedd Aquarium
With $8 (general admission), one could easily spend all day exploring the aquarium. If your forehead spells "YOLO", add on a shark feeding session (plan early). Remember to take some amazing photos of the skyline indoor or outdoor!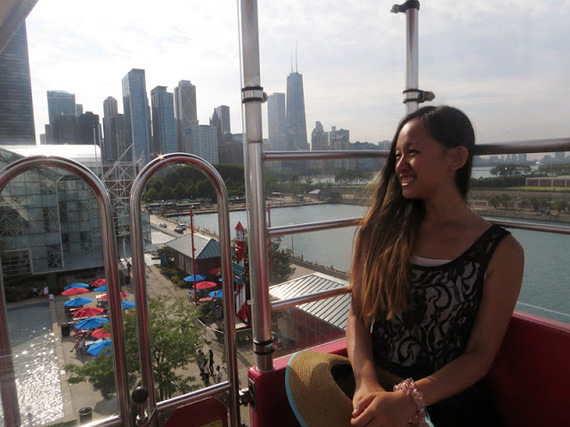 IG: @littlemisshappyfeet
13. Navy Pier
It is definitely a must see for first timers in Chicago. If your budget allows, take the iconic Ferris Wheel ($6) for some great shots over the city. ** currently close for reconstruction, reopen summer 2016.
14. Promontory Point
The views of Downtown over the lake on a sunny day is simply breathtaking!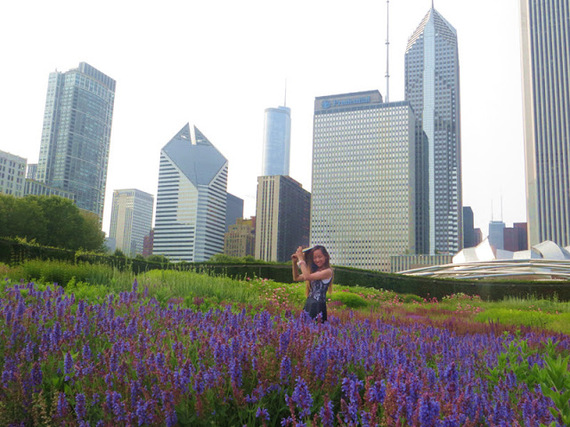 IG: @littlemisshappyfeet
15. Lurie Garden of Millennium Park
Skyline and beautiful flowers is the perfect combination. When I was there, there were 2 couples taking wedding photos in the park.
16. Whole Foods Market
The place to go for groceries! The view is the reason why you should shop here.
17. Other great spots(Restaurants and bars)
Hyatt Regency Chicago, NoMI, Lake Point Tower Restaurant, Vertigo Sky Lounge, The Wit Rooftop, Trump Tower, IIT Tower.