The Chicago police officer who fatally shot black teenager Laquan McDonald intentionally damaged his dashcam and never synced his microphone to it. And he's not the only one.
More than 1,800 police maintenance logs first obtained by DNAinfo Chicago show a disturbing trend of Chicago cops intentionally and routinely tampering with their dashcams and mics in an effort to block audio.
Jason Van Dyke, the officer charged with fatally shooting 17-year-old McDonald in October 2014, caused "intentional damage" to his dashcam at least once, along with other instances of his dashcam breaking, the logs show. The day of the killing, audio wasn't picked up by Van Dyke's car, nor by the squad car next to his.
The vehicle did pick up video, however, which shows Van Dyke shooting McDonald 16 times.
(Warning: Graphic video.)
A month after the killing, police officials said it was "apparent" that Van Dyke had "failed to sync the MICS," according to the records.
In less than a year, from September 2014 to July 2015, there were 90 recorded instances of microphones missing from police cars. On 30 other occasions, audio recording on dashcams had either not been turned on, or had been "intentionally defeated," DNAinfo reported.
For Van Dyke, each time his dashcam was damaged, the department would often wait months before getting it fixed, according to the publication.
The released video has sparked waves of protest from Chicago citizens demanding justice for McDonald.
After McDonald's death, the police narrative initially suggested the teen had only been shot once -- not 16 times -- in the chest. Police described the incident as a "clear-cut case of self defense." But the video, which was released more than a year after the shooting, shows McDonald carrying a small knife and walking away from the officers before Van Dyke unloads his clip into the teen, shooting for as long as 15 seconds.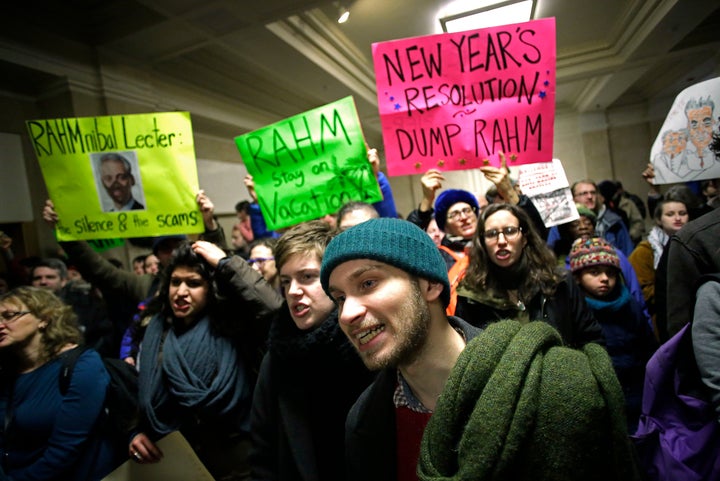 Recently released radio logs also debunk the idea that McDonald was an immediate threat. One officer says over the radio that the teen was "walking away" with the knife. And a dispatcher handling the incident suggested using a Taser -- not a gun -- to handle the teen.
"Anybody have a Taser to help out ...?" a dispatcher asks. "Looking for a Taser, armed offender."
"If you have eight officers -- like in the Laquan McDonald situation -- all calling for a Taser and none of them have it, we have a problem," Chicago Mayor Rahm Emanuel said in December.
After video of the shooting was released without audio, police Superintendent John Escalante said officers who tampered with dashcams and microphones would be punished, according to DNAinfo.
Van Dyke has pleaded not guilty to his first-degree murder charge.
Popular in the Community