Eight Chicago police officers conducted illegal, open-air strip searches without probable cause, a federal lawsuit filed Wednesday claims.
The lawsuit claims police in an unmarked squad car pulled over the three plaintiffs -- two men and one women -- after the officers drove the wrong way down a one-way street, the Sun-Times reports.
The group of three -- 26-year-old Caprice Halley, 20-year-old Tevin Ford and 19-year-old Robert Douglas, who was since killed in a shooting -- were subsequently searched for drugs and one of the men was forced to strip naked in a nearby gangway, the lawsuit claims. The woman, Halley, was allegedly forced to remove her pants and a tampon by the only female officer at the scene while other officers at the scene commented about her body in an incident not seen on the video.
The city nor Chicago Police have yet to comment on the lawsuit.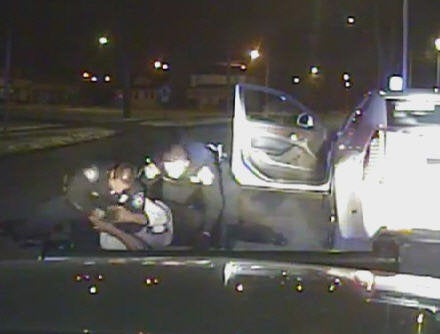 Police Brutality Incidents
Popular in the Community