WASHINGTON -- Justice Department officials hope the broad federal civil rights probe of the Chicago Police Department launched Monday will eventually serve as an example of how other troubled law enforcement agencies can fix problems with investigating and punishing police misconduct.
"There's a lot of places in this country where policing is bad and where intervention is necessary," said Jonathan M. Smith, who until earlier this year ran the small Justice Department unit that investigates civil rights violations by police. But the Civil Rights Division unit didn't -- and doesn't -- have the resources to investigate all the law enforcement agencies with problems. So it tries to pick targets that can serve as examples.
"It's important for the division, with limited resources, to make decisions that are strategic," Smith said. "Reading the tea leaves, my guess is the [Chicago] investigation will very much focus on accountability, which is a huge problem in a lot of jurisdictions."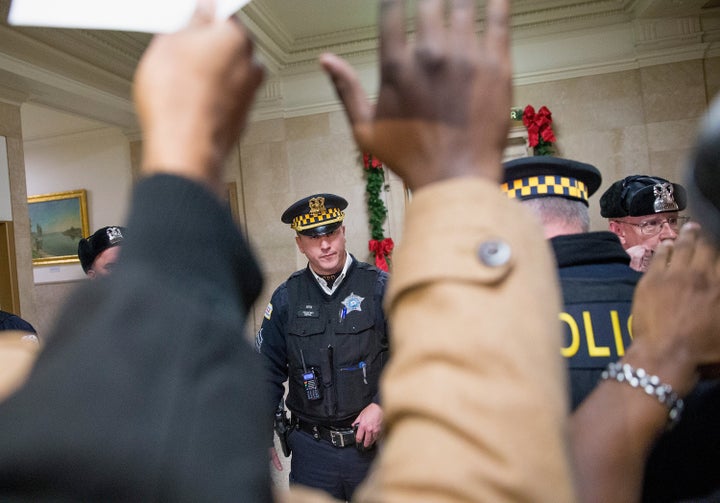 The Chicago investigation follows the November release of a year-old video showing a police officer shooting and killing 17-year-old Laquan McDonald. Cops' initial accounts of the incident conflicted with the evidence of the video. Those differences and the long delay between the October 2014 shooting and the November 2015 charges against Officer Jason Van Dyke -- paired with data showing widespread issues with how Chicago handles citizen complaints against police -- have raised questions about the mechanisms of accountability.
There's a surprising lack of information -- and no national standards -- on how internal affairs offices in law enforcement agencies across the U.S. handle citizen complaints. The Chicago investigation could produce the most comprehensive look at how one of those accountability systems works -- or doesn't.
Previous Justice Department investigations have highlighted problems like discriminatory policing aimed at minority communities, systemic failure to handle rape cases and patterns of troublesome pedestrian encounters. The recent investigation in Ferguson, Missouri, spotlighted profit-driven policing and an abusive municipal court system.
But like many other recent Justice Department investigations, the Ferguson probe also identified accountability failures, finding the city lacked "any meaningful system for holding officers accountable" for violating the law or department policy. In a Cleveland probe, internal investigators admitted that they conducted inquiries with the "goal of casting the accused officer in the most positive light possible," while another federal report found that internal investigators in Newark, New Jersey, "routinely failed to probe officers' accounts or assess officer credibility."
There is little doubt that Chicago's disciplinary process will now come under Justice Department scrutiny. Recent data collected by the Chicago-based Invisible Institute showed that nearly 96 percent of civilian complaints against the city's police force were not sustained, and roughly 99 percent were not sustained when the complainant was black, though race was not identified in many cases. And Illinois Attorney General Lisa Madigan has specifically asked the Justice Department to look at excessive force and "the lack of accountability for such abuse."
At a press conference Monday, U.S. Attorney General Loretta Lynch said that looking at "how a police department not only tracks but resolves and disciplines" for misuse of force is a "key element" in the type of pattern-or-practice investigation that her department is conducting.
There's a lot unknown. "The standards among internal affairs is just so variable that it's hard to get a handle on it," policing expert Geoffrey Alpert told The Huffington Post earlier this year. "There's some really good internal affairs departments around the country; then there's some really bad ones."
Policing expert Samuel Walker had similarly said there's a "terrible void" of information about how internal affairs units work and that internal affairs officers often have no specialized training and have been pushed into a role they didn't choose.
"Most officers don't want that job. They don't want to have to investigate their fellow officers," Walker told HuffPost. "So in some departments, they more or less get drafted. Now having someone there against his or her will is not a path to professionalism."
Accountability systems are "at the core" of understanding what's happening within a police department and fixing problems, said Smith, the former Justice official. The internal affairs process "should identify not just bad apples, but it should identify broken systems," he added.
"You're never going to have a perfect police department -- people are going to make mistakes. You're going to make mistakes in hiring; you're going to make mistakes in training. An officer is going to make a mistake on the street," Smith said. "The hallmark of a well-functioning institution is that those mistakes are identified and that there are measures taken to address whatever the problem was that led to the mistake."
Popular in the Community