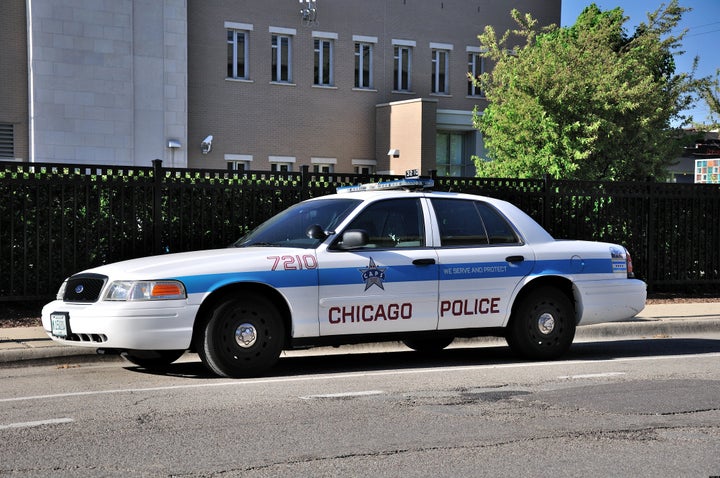 A 22-year-old Rogers Park woman is accusing two on-duty Chicago police officers of sexually assaulting her, prompting an investigation by the Chicago Police Department.
According to a police report, the woman was walking on Broadway near Granville Avenue late Tuesday night. She was crying and upset after having a drunken argument with a man, the Chicago Tribune reports.
Two police officers allegedly approached the woman and asked her if she wanted a ride home. The officers were apparently on duty, and from the Town Hall Police District, two districts south of where they met the woman in question.
CBS reports that a surveillance camera caught the officers purchasing alcohol on their way back to the woman's apartment.
The woman allegedly had sex with one of the officers in the police car, during which time she did not say "no," according to the Chicago Sun-Times. She then brought them both back to her apartment, where the three reportedly played a game of strip poker. This culminated in her allegedly having sex with one of the officers in her bed.
A police source told CBS that the woman began feeling intimidated by the officers, and felt as if she could no longer deny their sexual advances. She allegedly banged on a neighbor's wall asking for help, then ran out of her apartment screaming and banged on his door. That neighbor didn't answer at first, though another fellow tenant saw the commotion and dialed 911.
A source tells WGN that the officers left parts of their uniform and a cell phone in the woman's apartment.
CPD began investigating immediately, the department says, and the officers have been relieved of their police powers. So far, no charges have been filed.
"These allegations are egregious, and taken very seriously by the Chicago Police Department," a police statement reads. "The allegations should not overshadow the tireless dedication of thousands of proud Chicago Police officers who work every day in support of the highest standards of police service."
REAL LIFE. REAL NEWS. REAL VOICES.
Help us tell more of the stories that matter from voices that too often remain unheard.