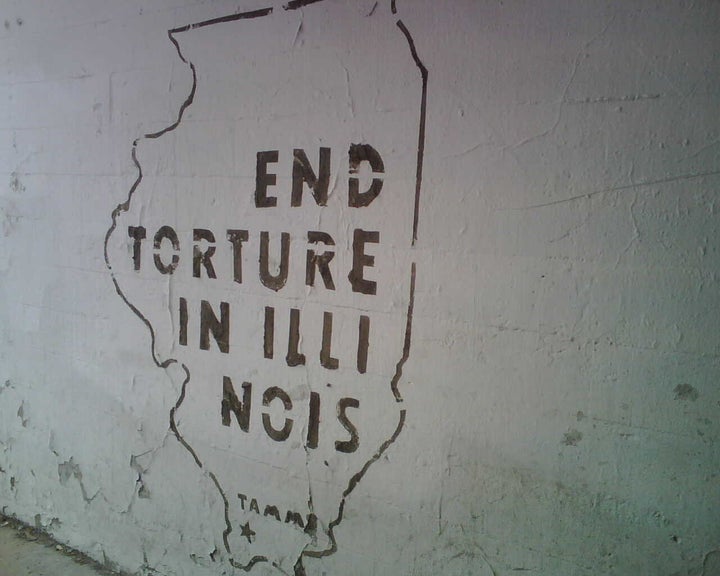 Today lawyers from the People's Law Office (PLO) and the Roderick MacArthur Justice Center filed a ground breaking class action petition seeking new evidentiary hearings for a group of Illinois prisoners who allege that they were tortured by notorious Police Commander Jon Burge and his cabal of Chicago Police officers into giving confessions that provided the basis for their convictions and imprisonment.
This group of prisoners, all of whom have spent more than 20 years behind bars, allege that they were victims of racially motivated torture tactics that included electric shock, suffocation, mock executions, and beatings with flashlights, telephone books, lead pipes, rubber hoses, and batons. The petition asserts that lawyers from the PLO have documented the cases of 117 torture victims, while the Illinois Torture Inquiry and Relief Commission, which was recently refunded by the governor as a result of public pressure, has received more than 100 Burge related torture complaints from Illinois prisoners.

The petition details the torture alleged by class representatives Johnnie Plummer and Vincent Wade. Wade alleges that in 1984 he was forced to confess after Burge's detectives smashed him on the nose with a flash light, kneed him in the groin, punched him in the eye, and beat him on his chest with a baton and phonebook while his arms and legs were pinned down. Plummer, who was a 15-year-old juvenile at the time, alleges that in 1991 he confessed after Burge's henchmen threatened him, repeatedly hit him in his side with a flashlight, struck him in the face, and pulled his hair. Both men sought to have their confessions thrown out because they were the product of torture, but their motions were denied by judges who were unaware of the overwhelming evidence of systemic police torture that has emerged in the decades since their hearings and convictions. This evidence includes numerous court decisions, the report of the Cook County special prosecutor, the findings of former Illinois Governor George Ryan and several internal police investigations, the admissions of Chicago Mayors Richard M. Daley and Rahm Emanuel, and the perjury and obstruction of justice conviction of Jon Burge.
The petition also cites serious but less egregious law enforcement scandals that have arisen in New York, Los Angeles, Philadelphia, West Virginia, Tulia, Texas, and, most recently, in Boston, and contrasts the dismissal of hundreds of criminal cases in each of those locales with the failure of the Cook County Courts and State's Attorneys' Office to take similar action in the face of the undisputed "mountain of evidence" that has come to light since the class of prisoners were convicted. The petition further points out that the prisoners do not seek outright dismissal of their cases, but rather only a full and fair hearing where they can challenge their confessions with all the evidence of systemic police torture that is now in the public record.
A friend of the court brief, signed by former Illinois Governor James Thompson, an impressive group of former judges, politicians, and prosecutors, and numerous well known lawyers, has also been filed today in support of the prisoners. The petition, which will first be heard before the Chief Judge of the Criminal Court of Cook County on October 29, 2012, raises fundamental issues of human and constitutional rights and seeks, decades after the fact, to give the criminal courts of Cook County yet another chance to belatedly enforce the rule of law that has been so blatantly and repeatedly flaunted for the past four decades.
Taylor, a founding partner of the People's Law Office, his law partner, Joey Mogul, and MacArthur Justice Center lawyers Locke Bowman and Alexa Van Brunt are counsel for the class of prisoners who have filed the petition. The People's Law Office is a Chicago civil rights law firm whose attorneys have been fighting for victims of police torture, brutality, wrongful convictions, false arrest and other government abuses for over 40 years. For more information on police torture and other topics, visit peopleslawoffice.com
Related
Popular in the Community