Chicago Public Library System (CPL), a Wonder of the World for Children
I am overwhelmed with admiration and something else which is inexplicable this morning. My visit to Chicago this week where I was privileged to visit the main public library and some other local branches has made me longing this morning. Hard to gather my feelings all up in a blog post, but I will try.
Liz Tertell, a member of the Worldwide Orphans Element of Play curriculum team in Chicago (Laura Forster-Maheshwary and Melissa Wilhelm team members) introduced me to a best kept secret in the world....the Chicago Public Library. I met with Elizabeth McChesney, Director of Children's Services for CPL and Brian Bannon, the Commissioner of CPL, on Wednesday and many of the staff who make this library and its branches so productive and available to the children.
I left feeling as if I wanted to work there and be part of the amazing vision that they have for children all over Chicago. The Thomas Hughes library which is lovely and serviceable is now the beneficiary of Gensler's architectural smarts designing the best space for children of all ages to explore reading and play on their own terms. Liz McChesney shared some of the spatial ideas and then we went to the current space. The new children's library sounds like it will be configured by how children live developmentally.
Stepped out to drop my kids at school this morning and suddenly had this feeling of missing. I kept seeing all the cubicles where industrious and creative staff at the Harold Washington main library are planning programs for kids in libraries all over the city. I met librarians ie Maria at Thomas Hughes, Greg and Yasmin at Hiram Kelly in Englewood in South Chicago and Hector and Daylily at Rudy Lozano in Pilsen. I could have spent days going from branch to branch, but there are 80 and I would need more time....let me see, if I went to 10 each day I could finish in two weeks, but then I might not have enough time to meet and know the librarians. And I want to know them all! The ones I met were awesome.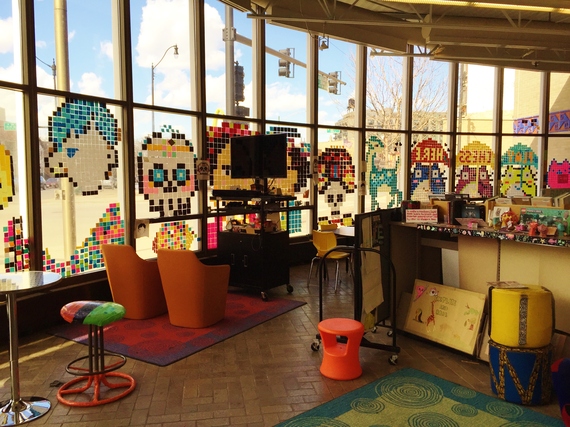 YouthMedia
I still see Liz McChesney's framed first library card in her bookshelves along with Carrots who is a lovely soft sort of white bunny who was there when she arrived at CPL many years ago. Each staff cubicle was adorned with "kid stuff"....decorating their spaces because these are their "homes at work".
I now recall the YouthMedia tour at the CPL and how I felt when I looked at the Apple computers and the stage demarcated on the tile floor where young people can perform music or do poetry slams. There was a white board covered with mathematical formulas clearly from homework done one afternoon. There is a high school a few blocks away and the place is packed when school lets out. I also saw a smaller version of this program at the Rudy Lozano branch in Pilsen. There was emotion in those spaces....the kids created that feeling of home and now they can go there and be expressive.
Then the Maker lab drew me in and the schedule posted on the easel outside was so enticing that I wanted to spend the rest of the day there. I was whisked away to see the 57,000 dog tags hanging over an escalator from soldiers killed in the Vietnam War...that broke my heart, but the installation was brilliant and compelling. The tags move and you can photograph them and then zoom in and read them. I was transfixed. A man approached us at a moment under the tags and announced that he was a carpenter who had built the library in the 80s...he was proud as he should be.
The puppet show in the puppet theater at the main library was dedicated to a librarian, Laura, who passed away; this theater is very popular with the children. A young boy was starting a show and we all just stopped in our tracks; the curtain opened and he had a camel, a cat, and a dog and they were duking it out...he was working out some feelings for sure and we were present and enthralled.
I think that I visited "Library Mecca" this week and I want more. Librarians, are right when they say that they come to this profession to serve and they do just that. I met a few incredibly heroic librarians in Hiram Kelly, Rudy Lozano and the Harold Washington main branch on State Street. The librarians were truly people of service and I felt their eagerness to be kind, supportive, and learned. What a perfect way to shepherd and scaffold at-risk children; take them to the library to learn and explore...and hopefully in the near future, play.
My hope is that Element of Play can be installed in hundreds of libraries in the US and around the world as we create a new work force of Toy Librarians trained and hired from their local community.
Calling all HuffPost superfans!
Sign up for membership to become a founding member and help shape HuffPost's next chapter