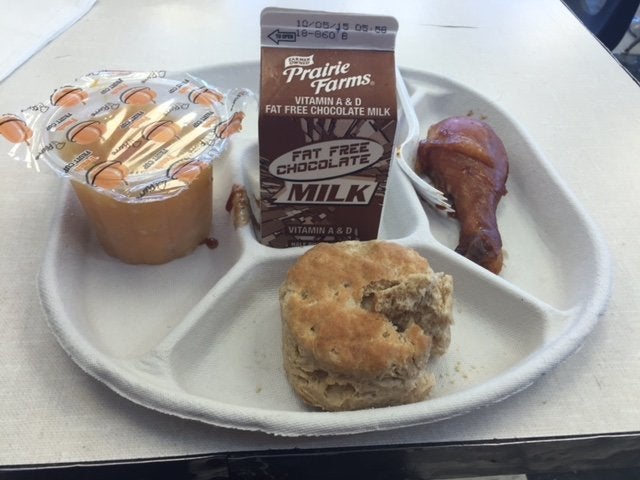 A group of students at a Chicago public high school on the city's northwest side is calling for higher quality, healthier food to be served at their cafeteria -- inspiring real change that could be felt citywide.
"We want our school to be better," Jacquez Conwell, a junior at Roosevelt High School participating in the student protest of the "crap" meals, told HuffPost. "It's not fair for us kids, us teenagers, to go through the day where we're not satisfied. And if we're not satisfied, we're not learning anything and we're not focused."
Conwell is one of many Roosevelt students participating in a campaign that's been titled The School Lunch Project.
Late last month, students debuted their website featuring photos of unappetizing food they've been served at school, including images of still-frozen fruit cups, spoiled produce and questionable meat.
The students also included a list of their proposals for change, including the option to have off-campus lunch, the addition of vending machines in the school and asking for more options beyond milk or water to drink. Students would also like more diverse entrees beyond the heavily processed foods typically available and they claim pizza, a fried chicken patty or a hamburger are their only options most days.
"Lunch time is the time where you eat and enjoy your free time," the students' website reads. "It's supposed to be the place where students get the best healthy lunches like salads, sandwiches, fresh fruits, etc. Instead they give some gross, unhealthy food."
The campaign started as a project in a civics class taught by Tim Meegan and grew from an online initiative first reported by WBEZ's Monica Eng into a student boycott of the lunches served at Roosevelt that has received coverage by dozens of media outlets both local and national.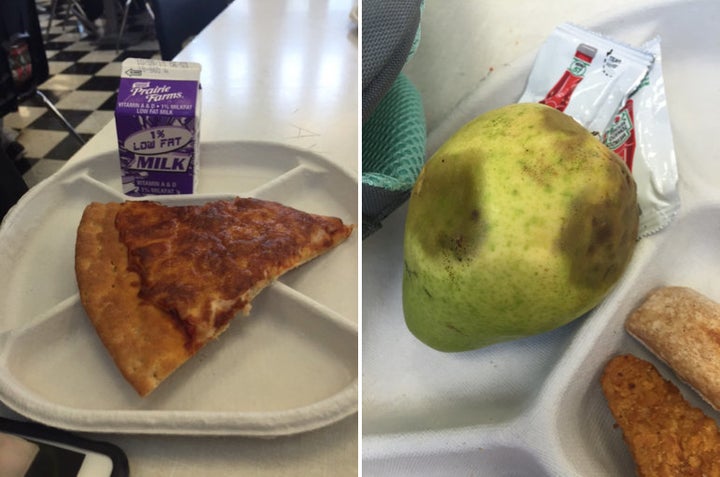 Their message is being heard. On Tuesday, Meegan and a group of students took part in a meeting with officials representing Chicago Public Schools and Aramark.
Philadelphia-headquartered Aramark was awarded the district's $97 million-a-year catering contract in 2013, a deal made under circumstances the CPS inspector general deemed "questionable." The company, which also holds a $260 million contract covering custodial duties for the district, is no stranger to criticism for the services it has provided.
As a result of the meeting, Meegan reported CPS and Aramark officials asked students at Roosevelt to monitor their meals through the year's end and report back on any issues and invited them to choose a group of five students comprising a Student Dining Committee to take part in a taste testing to evaluate new foods to join the school's meal rotation.
Students' reactions to the meeting were "mixed," Meegan admitted, as there was some frustration that it would take up to three months to incorporate new menu items and students felt concerns about their food's quality, rather than how it was prepared, went ignored. Still, he said they are "cautiously optimistic" the food will improve for the better.
Aramark currently provides food services for some 380 school districts nationwide and custodial services for more than 130 districts.
The company also provides food services for correctional facilities, including the Michigan Department of Corrections, which ended its contract with Aramark earlier this year due to issues including employee misconduct and sanitation concerns including maggots being found inside a prison kitchen.
On their website, students allege that some prisons under contract with Aramark are actually being served better food than they are.
David Katz, a nutritionist and instructor in medicine at Yale's School of Public Health, shared Meegan and the students' concerns about the quality of the food at Roosevelt after viewing photos the students had posted to their website.
"I am entirely on the side of the students here. The food does, indeed, look 'nasty' as they say, and doubtless has a taste to match," Katz wrote in an e-mail.
"Better nutrition, and the cultivation of healthy eating, is a very worthwhile investment," Katz added. "We have rampant childhood obesity and diabetes. Better food is the remedy, and schools could be leading the way. Instead, in this case, they are clearly holding us back."
In response to the students' campaign, CPS spokeswoman Emily Bittner said in a statement that the district "is committed to serving healthy and nutritious meals to its students" and added that they are "look[ing] forward to working together to address their needs."
Bittner added that CPS already works with both student and parent advocacy groups to receive feedback on the district's meal planning and is "working to eliminate highly processed, high sodium and high fat foods."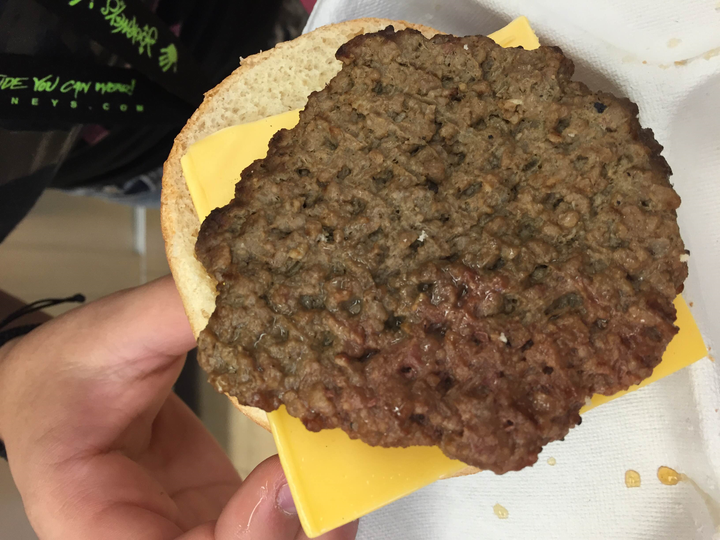 For its part, Aramark spokeswoman Karen Cutler said in a statement that the company "applaud[s] the students' initiative and value[s] their feedback, and will regularly review our operations to make sure we continue to comply with all USDA regulations and meet our high quality standards for the breakfast and lunch meals we serve to 375,000+ CPS students each day across 660 facilities."
Cutler added in a previous statement that the company was "surprised that we never heard any of these complaints from anyone since school opened in September."
Meegan, who earlier this year ran for Chicago's City Council in an unsuccessful challenge of incumbent Alderman Deb Mell in the city's 33rd ward, said he was not surprised that officials were surprised to learn of the students' complaints.
"I think the fact that Aramark and CPS don't get more complaints from parents about the food has to do with the idea that nothing will change more so than the idea that there's nothing wrong," Meegan said.
His students are now looking to expand the campaign to include students at other CPS schools who share similar concerns about their lunches.
Meegan believes the campaign imparts an important lesson to his classes.
"This is a very daunting task," Meegan said. "But this is an important lesson for civics students because they're going to be dealing with bureaucracies for the rest of their lives. The question of how you make change within a large system like this is still a valid one we haven't fully answered yet. The skills and tactics students learn in conducting these projects I hope will serve them well throughout their lives."
Joseph Erbentraut covers promising innovations and challenges in the areas of food and water. In addition, Erbentraut explores the evolving ways Americans are identifying and defining themselves. Tips? Email joseph.erbentraut@huffingtonpost.com.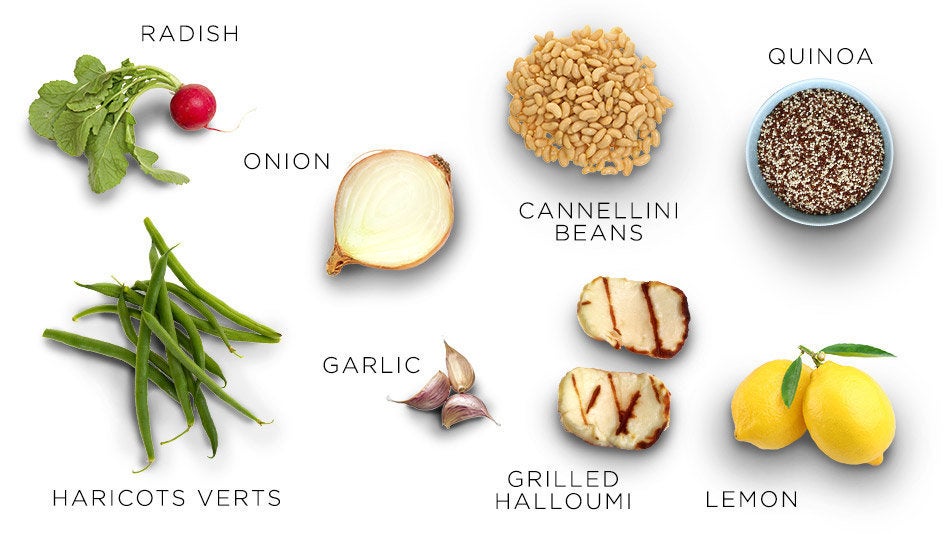 What Nutritionists Eat For Lunch
Related