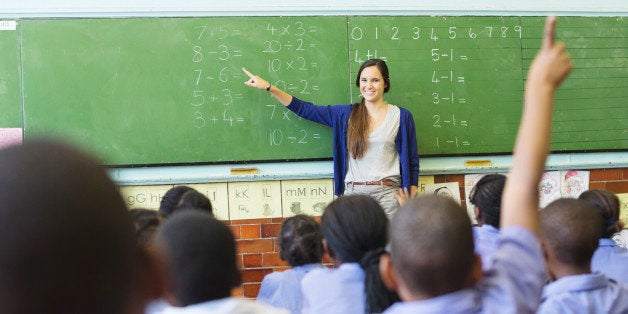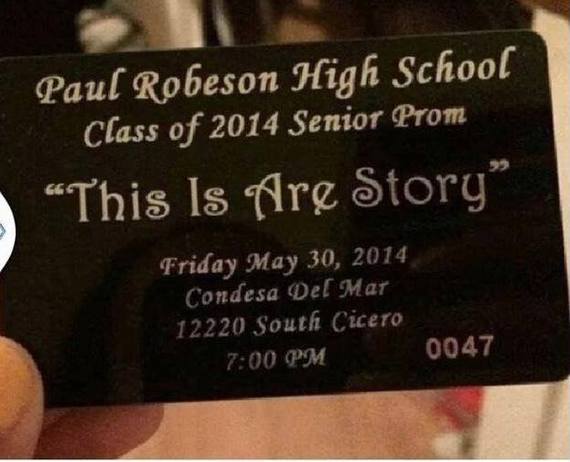 In major cities across America, public school students are entering their adult years far behind the curve.
Philadelphia public schools are in shambles -- there, only 14 percent of fourth graders are deemed proficient or better at reading. The state of New Jersey recently took control of Camden's public schools, after administrators in one of the country's poorest and most dangerous cities ran the system into the ground with a combination of unsustainable spending ($23,709 per student) and incredibly low success rates (fewer than half of students graduated high school in 2012).
But nowhere is the crumbling of a major public school system more evident than in the city of Chicago.
Last week, one school's prom slogan showed in just four words how far Chicago Public Schools has fallen.
This spring, just like high schoolers at schools across America, students at Paul Robeson High School planned their prom festivities. They picked dresses, tuxes, corsages and boutonnieres. But before all of that, they picked a theme:
It's an error, and an obvious one -- but it's no laughing matter.
It's just the latest sign of how badly Chicago's public schools are failing the city's students. Consider this:
• Four out of 10 CPS freshmen don't graduate.
• 91 percent of CPS graduates must take remedial courses in college because they do not know how to do basic math and other schoolwork.
• Only 26 percent of CPS high school students are college-ready, according to results from ACT subject-matter tests.
Education should be the great equalizer; but in Chicago, public education is more of a holding cell than a launch pad.
The prom slogan is especially sad when you consider which school it comes from: Paul Robeson High School is located in the Englewood neighborhood of Chicago -- one of the poorest, most violent neighborhoods in the city. There have been 156 murders in Englewood since 2007. The average per capita income is $12,255, and 23.6 percent of residents are unemployed.
And as things stand, Paul Robeson students have little reason to hope for change.
They are some of the same students who, as underclassmen in September 2012, were used as pawns by the Chicago Teachers Union during a weeklong strike.
During this teacher contract battle, the CTU and its members walked out on about 400,000 students at 675 schools. For that week, students and their families were left scrambling -- for daycare, for meals, for a safe place to spend the days or trying to get off work so students weren't unattended. Not to mention, they weren't learning.
This fight wasn't waged over students; it was a power struggle about how much grown-ups get paid.
Chicago Teachers Union President Karen Lewis and other union leaders waged a war that locked students out of classrooms over pay increases and refusal to implement a more rigorous teacher evaluation processes.
On the financial front, the Chicago Public Schools system needed to make budget cuts -- instead, CTU representatives held out their strike until they could snag 17 percent raises over four years for some teachers.
A reasonable person would say that teachers in one of the most dangerous cities in the country should not be poorly paid. That's reasonable. But Chicago teachers aren't paid chump change; before the 2012 strike, the average salary for a Chicago teacher already was $76,000 annually -- for one of the shortest school days and school years in the country. The district was facing a $1 billion budget hole then, and has since drained its cash reserves to keep up with operating expenses (and the pace of those steep raises snagged in the 2012 contract).
After these tumultuous negotiations concluded and the CTU declared victory, students lost yet again.
Facing an unmanageable financial future, Chicago Mayor Rahm Emanuel announced one of the largest mass school closings in history. At the end of the 2012-2013 school year, CPS shuttered about 50 schools, affecting nearly 46,000 students (not unlike Philadelphia, which recently closed more than 20 schools).
CTU chief Karen Lewis wants the cycle to start all over again in 2014. Lewis has said that she's bracing for another fight, and that the CTU is not likely to extend the three-year contract signed at the end of the 2012 strike.
"I'm not looking to make anybody's election year easy at all, especially someone who doesn't want to make our lives easy," Lewis said after giving a speech at a City Club luncheon, according to the Chicago Tribune.
What Lewis' fighting words boil down to is old hat: labor negotiations, especially when they're education-related, always end up circling back to politics, power and money. Lewis' next tussle will be nothing more than a power struggle aimed at undoing Chicago Mayor Rahm Emanuel as he seeks re-election. (Whether he should be re-elected as mayor can be debated, but kids shouldn't be the pawn in that debate.)
In Chicago and elsewhere, the reason public school students in major cities are suffering so much is because union leaders don't want to focus on making concessions or prioritizing funding for the classroom, at least not if it means they would have to reform their compensation and retirement benefits.
When it comes to school negotiations, arguments among adults have taken precedence over educating kids.
Until districts and school leaders enact drastic changes, and as long as a failing status quo remains intact, students at schools like Paul Robeson will continue to be punished by the greed of the adults charged with providing their education.
Calling all HuffPost superfans!
Sign up for membership to become a founding member and help shape HuffPost's next chapter