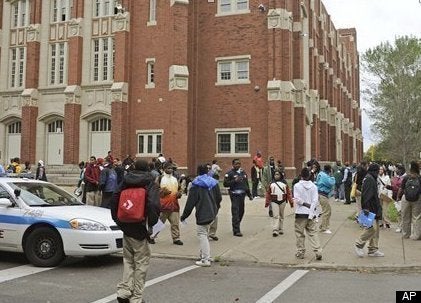 Chicagoans have heard it from Mayor Rahm Emanuel so often, it's become a mantra. By the time they've graduated from high school, students in Houston have had four more years of instructional time than their counterparts in Chicago.
It's a line that Emanuel has used to push for a longer school day and school year for students attending Chicago Public Schools. But the schools budget for next year, announced on Friday, seems to do just the opposite.
CPS was facing a budget shortfall of around $710 million. It has closed that gap through a combination of three measures, the Chicago Tribune reports: raising the property taxes by the maximum amount, generating $150 million; draining $240 million from the system's reserve funds; cutting spending by around $320 million.
The property tax hike, according to the Tribune, will cost the average homeowner $84 a year on a house valued at $250,000. NBC Chicago quotes education policy analyst Rod Estvan on the tax hike, saying, "There are going to be problems for people for this. It's going to cost people some money. But if we're going to educate the students, we have to generate this money."
High schools are expected to give up 140 of a total 200 police officers, receiving $25,000 in cash for every cop they agree to forgo -- a fraction of what CPS now pays for each officer. Thousands of kids could lose after-school clubs in math, science and technology. Seven schools with struggling would-be freshmen are losing funding for extra staff. Even elite college prep high schools will lose money for some positions.

Central office and middle-level management also will take a hit, although CPS officials and a consultant are still in the process of identifying how they will achieve $107 million in planned trims in those areas. ...

Hundreds of layoffs are expected, but CPS had no specifics on Friday. Officials said at least 400 schools can avoid staff or program cuts by using discretionary money they have yet to spend.

After-school programming is another area that will be slashed, according to the Sun-Times. "Community schools," which also provide after-school activities to both students and community members, will see their funding cut in half.
Meanwhile, there's no additional funding for a longer school day or a longer school year.
Coupled with the cuts to after-school programs, that means that for many students, the day will actually be getting shorter for all intents and purposes.
In other words, unless the mayor or schools CEO Jean-Claude Brizard has some surprises up his sleeve, Chicago students won't be catching up with their Houstonian counterparts in the upcoming year.
Related
Popular in the Community