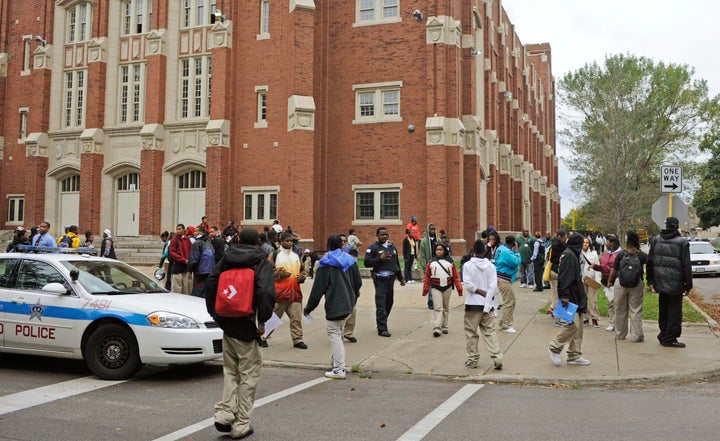 In Chicago public schools, black students receive harsher punishments for in-school infractions than white students, a fact that mirrors a nationwide trend, according to data released by the U.S. Department of Education Tuesday. The report paints a startling picture of racial disparities in how students are disciplined in schools across the country.
Nationally, black students are more than three-and-a-half times more likely than white students to be suspended or expelled, according to the Education Department's Office for Civil Rights' survey, known as the "Civil Rights Data Collection." More than 70 percent of students arrested in school or handed over to law enforcement were black or Hispanic.
In Chicago, white students comprised three percent of suspensions -- and 10 percent of the total student population -- but black students, who had a larger overall representation at 42 percent, comprised 76 percent of the city's school suspensions. The data show that in 2009 to 2010, Chicago suspended the third largest percentage of black students among the country's 20 biggest school districts. The only districts with higher black suspension rates were Philadelphia and Prince George's county, outside of Washington, D.C.
"Some of the worst discrepancies are in my home town of Chicago," U.S. Secretary of Education Arne Duncan, who formerly led the Chicago Public Schools (CPS) system, said on a Monday call with reporters. "We began peer juries where students were responsible for disciplining each other and finding alternative ways to resolve disputes. It is clear that Chicago –- and many other cities -- still have a lot more work to do."
The data comes from the second half of the civil rights office's 2009-2010 survey, which collected self-reported information from 72,000 schools -- or 85 percent of the country's students. The first half of the survey measured opportunities, such as advanced placement courses available or the number of inexperienced teachers. The data set, which will be posted on the Education Department's web site Tuesday, includes more detailed information than the last time it was collected in 2006.
In addition to the discipline gap, Chicago stood out in other areas of the study. Nationally, teachers in high-minority schools made $2,251 less per year than teachers in other schools. As Duncan noted, teachers working in Chicago's high-minority elementary schools make about $1,800 more annually than their peers. But the picture is different in Chicago's high-minority high schools, where teachers earn $5000 less than their counterparts.
Yet, as the Chicago Tribune noted, the news in Chicago isn't all bad: the survey found that 84 percent of its high schools offer Algebra II, and that CPS provides black and Latino students better access to advanced courses in general.
The report came amid a Monday protest outside the Cook County Juvenile Center, which serves Chicago and surrounding areas. At the center, Voices of Youth In Chicago Education urged CPS to relax its disciplinary actions.
VOYCE calculated that CPS students lost a total of 306,731 days of school last year because of out-of-school suspensions, even as punishment for non-violent incidents, the Chicago Sun-Times reports. Such actions, the group argues, negatively impact educational outcomes for largely minority students.
"We need a discipline code that works for all students, not one that sends black and Latino students on a path to prison," Roosevelt High School student Victor Alquicera told CBS Chicago at the rally.
Middle-school suspensions are a top indicator of dropouts, said Dan Losen, who directs the University of California, Los Angeles Center for Civil Rights Remedies. "The answer to every minor misbehavior can't be suspension," Losen told The Huffington Post. "Schoolwide positive behavior interventions, restorative justice, classroom management stuff, all these things do tend to reduce suspension rates."
A CPS spokeswoman told the Sun-Times that the district is improving its discipline rates: expulsions dropped by 43 percent last year. The district is working to amend its disciplinary code and move toward alternatives to out-of-school suspensions.
VOYCE previously lashed out against Noble Street Charter Network, an alternative charter-school program championed by President Obama's former Chief of Staff and current Chicago Mayor Rahm Emanuel. Noble collected nearly $390,000 in disciplinary fines from low-income, largely minority students for minor infractions such as chewing gum, failing to make eye contact with teachers or openly carrying "flaming hot" snacks.
In response to the group's criticism, Noble argued that its public schools are among the highest performing in the city, "in part, due to our culture, which sets high expectations for behavior."
But national civil-rights advocates expect the data, collected during the 2009-10 school year, will provide new ammunition for compliance reviews, advocacy and lawsuits involving educational fairness in America.
Duncan chided school districts Tuesday, calling for accountability.
"This is an absolutely historic release of data," Duncan said. "Look in the mirror, the good the bad and the ugly, figure out what's working and what's not."
Related
Popular in the Community