The Chicago Public Schools district is the biggest school district in Illinois, and as negotiations heat up between the Chicago Teachers Union and Chicago Board of Education over a new contract proposal that would end the seven percent pension contribution pick-up paid by Chicago Public Schools, we thought it would be helpful to see some important facts and statistics.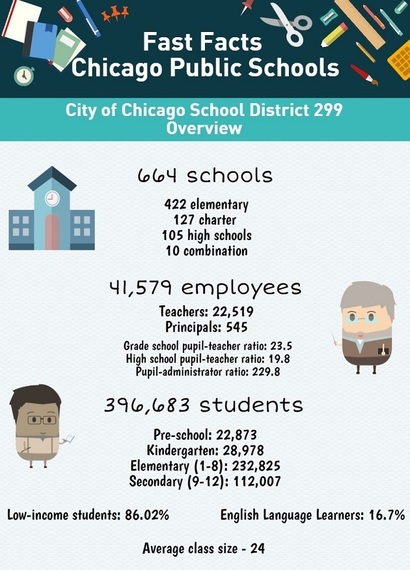 In case you have any issues reading the infographic above, here is a plain-text version below:
Number of schools: 664
Elementary/middle: 422
Charter: 127
High schools: 105
Combination: 10 (schools that serve elementary and high school grade levels)
22,519 teachers
Elementary student-teacher ratio: 23.5
High school student-teacher ratio: 19.8
Students: 396,683 (2014-15 20th day enrollment figures)
Pre-school: 22,873
Kindergarten: 28,978
Elementary (grades 1-8): 232,825
Secondary (grades 9-12): 112,007
Low-income students: 86.02 percent
English Language Learners (ELL): 16.7 percent
Check out Reboot Illinois to learn more about Chicago Public Schools, including the academic performance of the students enrolled there and the district's financial state--pensions, budget and all.
Sign up for our daily email to stay up to date with Illinois politics.