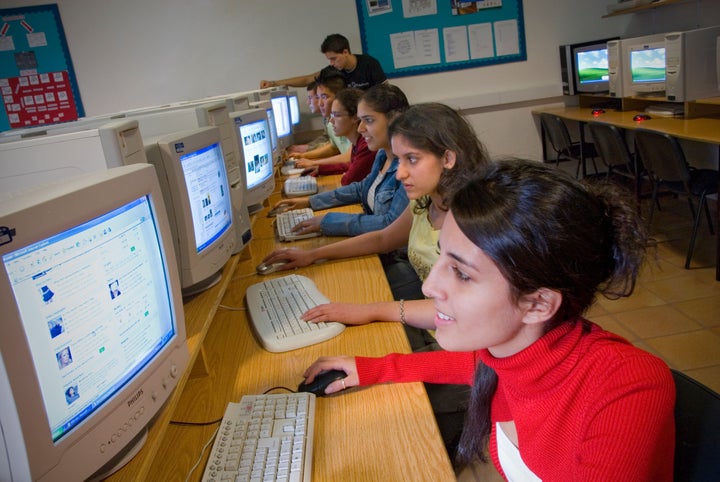 The same week a study revealed record high vacancies in U.S. industries for skilled technical workers, the Chicago Public School system has announced plans to open as many as five experimental, six-year schools that will graduate students with specialized training and even an associate's degree.
Funded by a $400,000 "challenge grant" from IBM, the pilot program slated for the 2012-13 school year reflects the goals Mayor Rahm Emanuel and CPS CEO Jean-Claude Brizard have repeatedly expressed about changing the focus of Chicago's struggling school system, according to the Chicago Tribune. IBM is also offering preference to graduates for entry-level jobs within the company.
"The relevancy element is fundamental," Brizard told HuffPost Chicago. "If the program is a dead end, you're going to have disciplinary issues. But when you have programs kids have made an active choice to be a part of, and they see progress, that 'I could actually get a job out of this, or I could go to college,' you'll find them behaving in a much better way."
Brizard's theory is supported by new research into the skilled labor sector, where workforce research agency ManpowerGroup reports that U.S. employers are facing record-high shortages of skilled workers--52 percent report difficulty filling critical positions within their organizations, up from 14 percent in 2010.
"What we have been saying for quite a while is that even though there is a high unemployment rate, it's very difficult to find skilled people," Jeff Owens, president of ATS, a manufacturing consulting services company, told Reuters.
The Chicago program will be modeled after New York City's Pathways in Technology Early College High School, also an IBM partner, which opened last year and offers high school, college and professional education along with hands-on training in math and science specializations, according to the Tribune.
It's currently unclear whether the five schools in this program will be entirely new, or if additional resources will be added to existing public schools, as with many Career Technical Education or CTE programs offered alongside mainstream programming at about 60 CPS schools. The Tribune reports that IBM is already beginning to identify current CPS teachers who will be trained to teach in the school's extension programs.
Mike Rowe, host of Discovery Channel's "Dirty Jobs," recently testified before Congress about the possible impact of a shrinking skilled labor force on the U.S. economy.
"A few years from now, an hour with a good plumber, if you can find one, is going to cost more than an hour with a good psychiatrist," Rowe said. "At which point we'll probably all be in need of both."
Watch Rowe's Congressional testimony:
Related
Popular in the Community