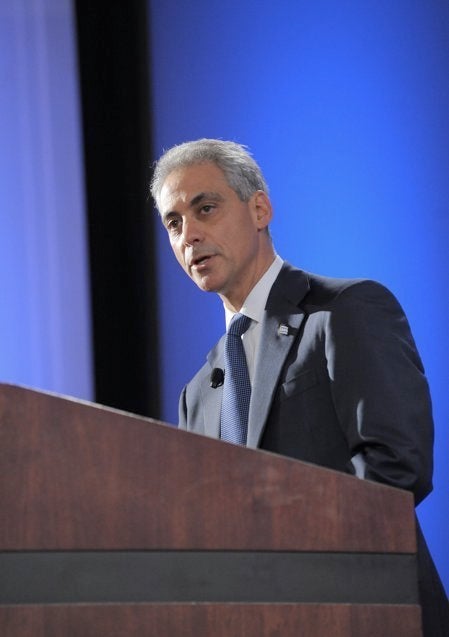 With one governor currently serving time and another on deck, you would think that the Illinois state legislature would at least try to look as if it's in favor of open, transparent, democratic decision making.
Here's one way we can be sure that they're not.
The Illinois General Assembly is about to kill a measure, SB 620, which would have required the Chicago Public Schools to create a 10-year facilities master plan and a 5-year capital improvement plan with significant public input.

Unlike most major school systems, Chicago currently has no such plans. The process the district has used seems to be patterned most closely on Mayor Daley's midnight destruction of Meigs Field -- not too surprising since Daley has run the schools for 16 years.
It's also the reason why so many of the district's decisions about school closings, consolidations, and other changes have seemed arbitrary, causing school communities to rise up in anger.
Public outcry became so loud that some state legislators initiated a series of hearings last year to learn more about the problems and to identify some solutions. Hundreds of people have testified about disruption and corruption in the process.
For example, one teacher talked about what happened when CPS moved a new magnet school into the same building with a school the district was planning to phase out. The area of the school set aside for the magnet school was given new lighting, new floor tile, new window shades, new whiteboards, upgraded bathrooms, and a new library. Asbestos was removed. Students from the "old" school were forced to enter through a back entrance and were not allowed to use the new drinking fountains put in for the magnet school students, none of whom was a student of color. Chicago called this a school Renaissance.
At nearly every Chicago Board of Education meeting, the concerns of parents, teachers, students, local school council members and others about unsafe, inadequate facilities have been rebuffed by staff and Board members who claim there is "no money" to address their students' needs. And yet there always seems to be money for enhancements to charter and turnaround schools.
Perhaps the most famous recent example of community outrage at the unfair manner in which Chicago doles out capital funds was the Whittier Moms' month-long sit-in to protest the school's lack of a library.
For the clout-heavy, money is never a problem. Last year, the cash-strapped Illinois legislature gave the United Neighborhood Organization (UNO) $98 million to build new charter schools in Chicago and to leverage commercial investments for their organization. UNO has been one of Mayor Daley's staunchest allies.
But now our legislators can't seem to find the backbone to face a vote on a fair, open, accountable system of capital planning for the Chicago Public Schools.
Yes, SB 620 is likely to die without even being called for a vote.
The bill doesn't cost a penny. In fact, a more transparent, truly prioritized process for deciding how scarce facilities funds should be used will most likely save a lot of money and offer a better chance that funds go to projects that are needed the most.
That's got to be better for students, but that doesn't seem to be the bottom line for Illinois pols.
We're told that the bill can still be called despite its pending death in committee. But it's up to Speaker Mike Madigan, and if he wants to do a favor for Mayor-elect Emanuel by keeping the public out of public school facilities planning, he'll make sure there's no second chance for SB 620, or for democracy in Chicago school capital planning.
REAL LIFE. REAL NEWS. REAL VOICES.
Help us tell more of the stories that matter from voices that too often remain unheard.