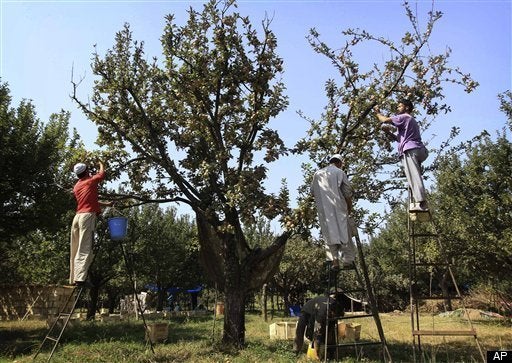 Setting up an urban garden in Chicago is hard enough. Aside from the difficulty of growing crops in a concrete environment that spends much of the year in bitter cold, there's the matter of finding the right space, dealing with city bureaucracy and countless other hurdles.
But the six-person board of Chicago Rarities has a much more ambitious project in mind: an urban orchard, a public space with rare-fruit trees growing for 100 years and providing a natural anchor for a community in transition.
The site the group has in mind for its Orchard Project is a lot in Logan Square that has stood vacant for decades. It's at the corner of Milwaukee Avenue and Logan Boulevard, right across the street from the park where the neighborhood gets its name. The spot is surrounded by such neighborhood staples as Lula Café (around the corner) and New Wave Coffee (across the street), but is currently little more than a pile of rubble.
According to plans developed by the group in concert with the city's Department of Zoning and Land Use, the corner would play host to a pedestrian plaza, and to the rare fruit orchard, a public space to be maintained by Chicago Rarities:
We spoke with Megan Larmer, a founding board member of the Chicago Rarities Orchard Project, about the group's plans, their history, and how to help.
Huffington Post Chicago: So what's your goal with the orchard project?
Megan Larmer: Our mission is to provide a place to grow rare and endangered fruit trees in the city. Once that's established, we're going to get into educational programming, and we'd like to help home fruit enthusiasts to be growing trees in their yards and on public land.
Why rare fruit? Why not just a regular old orchard?
Part of our focus is on finding a way to introduce people to the concept of biodiversity. It isn't something that just happens in forests and prairies. It's something that's integral to our most basic survival.
The party line goes that 100 years ago, there were 15,000 varieties of fruit. Now there's only around 1,500, and of those, only two percent are available in grocery stores. The rest are just grown by enthusiasts like us.
This is a big problem for us as a society, just raising the top 10 varieties of apple. Say a disease comes that affects all those varieties. That's a really insecure food system to be living in. Any kind of monoculture is a really dangerous place to live.
We hope to introduce people to these concepts through somewhere they want to be anyway, get people thinking about diversity in a way that opens up community development as well. When you appreciate diversity in your food supply, maybe you start to appreciate it in the people and the community around you, too.
How did you settle on the Logan Square site?
Trees last a long time -- more than 100 years -- so we needed to find a spot that could be granted in perpetuity. And we needed a place that had good soil quality. We spent over a year biking all over the city, in snow, in rain, in 90-degree weather. We couldn't find a site. Then, some people at the Department of Building and Land Use heard about our project. This particular lot had been slated for greening as part of the Logan Square Greening project, so the city came to us and asked if we wanted to do the project there.
It turns out that of the six board members, five of us live within a mile of that spot. So it was an incredibly convenient find.
This August, we had a community meeting at Logan Square Kitchen. People in Logan Square are really excited and passionate about the neighborhood, about how it's changing. Over 100 people came and gave their feedback on the plan. For the most part, they were really enthusiastic about the project.
So what's next? How soon will I be plucking rare fruits?
Well, there has to be a traffic study done -- part of the proposal involves altering the intersection, so the DOT needs a traffic study done. Then there's another community meeting and then the next step is to go to the City Council. The quickest timeline is, it could be under construction within a year.
The pace can feel very labored for some, but we all feel very optimistic that be doing this beginning work meticulously, that it will be something that can last a century or more.
Tell us about your upcoming fundraiser event.
It's our T-shirt release party. We have a brand new T-shirt design. If you come to Uncommon Ground on Wednesday the 26th, we're gonna have appetizers and hors d'oeuvres that are all samples of local food. Uncommon Ground donated the space and the food. $40 gets you snacks, plus one free beer or cocktail, a cocktail that Uncommon Ground created specifically for our organization. And the ElvisBride will be playing, they're this crazy theatrical rock band that incorporates accordions, ukeleles, the works. So $40 gets you all that, plus it's for a good cause.
How else can people help you all out?
You can join our mailing list and we'll keep you up-to-date about meetings we're having. But the thing that's really helpful to us is helping us spread the word. We're a really tiny organization, and we're trying to make sure that everyone knows what we're up to so that when we build this orchard, no one's surprised. The more people talk about it to each other, the more they spread their word, join us on Facebook, that's the biggest help until we've got some land and we can plant some trees.
Calling all HuffPost superfans!
Sign up for membership to become a founding member and help shape HuffPost's next chapter