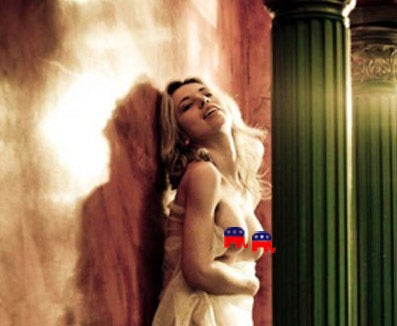 UPDATE: So, It turns out, the Chicago GOP site with the topless woman picture hanging out beneath banner ads for Bill Brady was not hacked after all.
The post is probably more confusing that the photo itself. Boldovici rambles about how John Edwards' mistress Rielle Hunter has "betrayed" him by making money from the media. It also includes a jab at the New York Times for calling her "Ms. Hunter" in a story? The post is also riddled with spelling and grammatical errors, and some are wondering whether the site has been hacked.
This is a free society and by all means I never advocate censorship. But I do believe in the strong virtue and moral fabric of the American public that has the power to say "NO" to this kind of inappropriate and debasing behavior. We are Americans we do not need , nor are we conditioned by the dictum: "Circus & Bread"!

In retrospective , in Ancient Greece women practicing this an art similar to this were called Hetaerae. Their sole and ultimate objective was to please men. I do not know the extent of pleasure that Hunter provided for Edwards. But , it looks that she pleased herself more.

At least now I know why John Edwards' last name ends with an "S"!
The Chicago Sun-Times reports the site, ChicagoGOP.com, is owned by Tom Swiss, an elected Republican committeeman and the political director for the Chicago Republican Party.
The site used to be their official website but last year they started a new one that would be less controversial, Swiss said.

This one is designed to let Republicans "be a little more free to express what they want," Swiss said. "We have about a dozen bloggers. I don't censor it. They just log on and can post what they want."
Well, Republican gubernatorial candidate Bill Brady is not too thrilled about the image of a topless woman beneath a banner ad for his campaign.
"He thinks it's inappropriate," Brady spokeswoman Jaime Elich told the Sun-Times. Many commenters on the site also asked that the photo and post itself be removed.
"We have no oversight or control of that website," Cook County GOP Chairman Lee Roupas told the Sun-Times.
The post remained Friday, but was a little further down on the page.
Calling all HuffPost superfans!
Sign up for membership to become a founding member and help shape HuffPost's next chapter