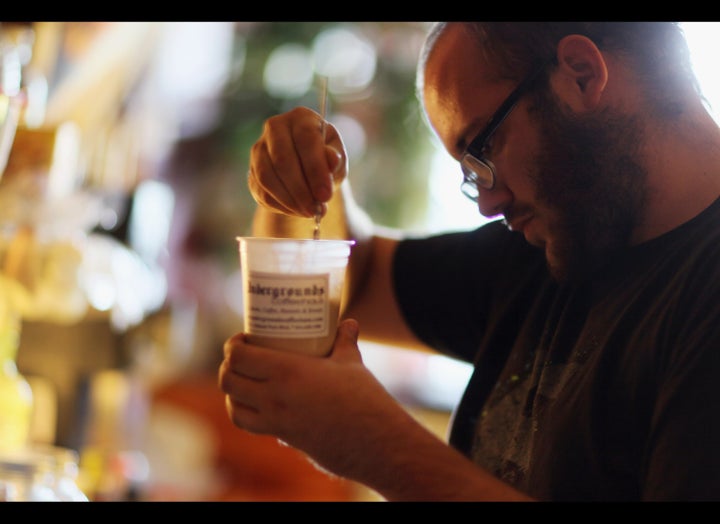 For many, a daily cup or five of coffee is a necessity, but no matter which route one is taking to get their caffeine fix these days, java junkies are increasingly feeling an impact in their wallets due to a spike in coffee bean prices that has impacted everyone from home brewers to specialty shop regulars.
But, even as some customers and smaller shops are feeling the pinch, some Chicago roasters say the upward swing of coffee prices might not be such a bad thing, and may help people think more globally about what's filling up their mugs.
To put the extra dime or two many customers are dishing out in exchange for their triple-shot latte into perspective, the cost of coffee is generally guided by its price on the major commodities exchanges, which currently stands about 90 percent higher than it did a year ago, according to a recent Chicago Tribune story. At the commodity level, the price of coffee has increased at a rate higher than even gasoline over the past year, as the Associated Press reported last month.
That increase appears to be due, at least in part, to market speculation, but a number of other factors have contributed. More people are drinking coffee in Russia, India and China, as well as Brazil, the world's leading coffee producer which has become an emerging market, too, for consumption in recent years. Global climate change, including longer than usual rainy seasons in many key production areas, has contributed to disappointing yields as well as a weakening U.S. dollar.
Rich Park, owner of Ch'ava, an Uptown cafe he opened in 2009 at the corner of Clark and Leland Streets, said the increased commodity price is "not a bad thing," and helps to provide incentive for farmers to producer higher quality coffee, a product he said has been historically undervalued.
"We do want the farmers to make more," Park told HuffPost Chicago. "So we had to raise our prices, but it's always a tough balance for us since we don't want to upset our customers."
Part of that balance, he said, is helping to educate customers about some of the economies of coffee, including what differentiates a cup of coffee brewed by larger chains, like Dunkin Donuts or Starbucks, from the smaller batch, fair trade, organic coffee offered by his shop. Seeking out a higher quality bean comes with a price tag, but is also reflected by a superior end product, he added.
Looking forward, Park is optimistic customers will continue to respond to quality rather than price alone despite the troubling industry indicators.
"If we try to play the [multinational corporations'] game, we won't survive, but this is where smaller shops need to go in order to continue offering world-class, outstanding coffee." 
Mike Pilkington, owner and roast master of Bridgeport Coffee Company, takes the educational process a step further with customers. He said he's started posting commodity graphs in his shop.
"We've had a bit of an education campaign so people understand that there is not much we can do to control price," he said. "[Coffee] was way too cheap before and that caused a lot of problems throughout the world."
But for coffee retailers like him to "weather the storm," education won't be quite enough. Pilkington said the uniquely direct relationship he's developed with his El Salvadorian producers has helped him secure fair deals that benefit both parties. 
He said he passes that kind of wisdom onto the smaller coffee shops who use his product, such as Logan Square's Cafe Mustache. As a relatively new shop, located at 2313 N. Milwaukee Ave., that opened only late last year, they sought to avoid a price increase by working out a deal with their provider. While skimming a bit off his bottom line, Pilkington said it was a worthwhile risk to take as he looks toward his company's future.
"For us, with them, it's the same sort of relationship we have with our producers, we hope they are our retail customers for the next 50 years," he said.
But, he said, educating customers about the price and quality of coffee is key.
"We understand now that we have to get our customers used to a new price point for coffee," Pilkington added. "It's our responsibility to make clear what a great cup of coffee is and why it's worth paying a bit more."
How much of a stretch will that educational component be? HuffPost Chicago reached out to readers to find out whether they had changed their coffee consumption patterns in response to recent price hikes. If their feedback is any indication, many coffee drinkers have already turned to home brews and even instant varieties to curb their costs.
Luring them back into shops appears to be a tall order.
On Facebook, one reader said that she felt as though she was wasting money on 'just OK' coffee from specialty shops. She's made the switch to instant coffee while traveling and brewing whatever brand is on sale from home.
"Room for cream? No thank you, fill my cup to the rim," she wrote. "Coffee is not a life priority, so it was easy to adjust. I also feel empowered and not caught up in the 'java hype.'"
On Twitter, though, several readers said they remain loyal to higher quality brews. One reader gets his daily fix (at $2.25 for a 16 ounce cup) at Peet's. Another reader, self-proclaimed "coffee junkie" @freshandfoodie, relies on a true Chicago original for her fix.
"Good coffee is absolutely worth the price," she said. "Intelligentsia is my pick -- I appreciate the process and the handcraftedness."
REAL LIFE. REAL NEWS. REAL VOICES.
Help us tell more of the stories that matter from voices that too often remain unheard.