Citing budget concerns and falling enrollment, Chicago Public Schools officials announced Thursday they plan to close 54 schools next year and shut down 61 school buildings -- the largest single wave of school closures in U.S. history.
For months, looming closures seemed inevitable. After a teachers union strike last fall concluded with an expensive contract, observers were left without a doubt that the only way the cash-strapped district could afford it was to shut down schools and fire the teachers who worked there.
Since the September strike, Chicago hired a new CEO for its schools, Barbara Byrd-Bennett, a veteran of closures in cities like Detroit. The district held hearings with parents about the fates of their children. Rumors flew about how many and which schools would be axed, with some predicting as many as 129 could close.
On Thursday, news of the final closure list began to trickle out. The day had come, a week before the district's April 1 deadline. Byrd-Bennett announced on local television that CPS would close 54 elementary schools, name six for "turnarounds" and send 11 schools to share buildings with others.
As the news dribbled in through aldermen and school officials themselves earlier Thursday, many angry Chicagoans were searching for Mayor Rahm Emanuel, Barack Obama's former chief of staff, who waged his mayoral campaign on promises of education reform. DNAInfo Chicago reported Emanuel was on vacation with his family.
Chicago Teacher's Union President Karen Lewis blasted Emanuel's absence.
"Our mayor, who is away on a ski trip, drops this information a week before spring break," Lewis said during a Thursday afternoon press conference outside Mahalia Jackson Elementary School in the city's Auburn-Gresham neighborhood. "What's their spring break going to look like?"
Lewis went on to call the mayor's actions "cowardly" and likened them to bullying. "He should be ashamed of himself," she said, drawing a chorus of "amens" and whoops from students in the crowd.
In a phone interview, CTU Vice President Jesse Sharkey told The Huffington Post to expect a tumultuous spring from the teachers union. "We're going to do any and all nonviolent forms of protest we have at our disposal including legislative and legal," to protest the school closures, he said. "Also direct actions like sit-ins to try to stop this disastrous policy."
While districts across the country have faced waves of closures, those in Chicago hit doubly close to home for the Obama administration; in addition to the Emanuel connection, U.S. Secretary of Education Arne Duncan formerly served as CEO of the district.
"When, where, why and how to close schools are local questions that are never easy. No educator ever wakes up in the morning wanting to close a school," Duncan said in a Thursday statement provided to HuffPost. "On the local level, real considerations about budgets, resources, and declining enrollment have to be balanced against real impacts on the community. Closing a school is a difficult but sometimes necessary decision, and districts and local leaders should strive for a transparent process that listens to community input and offers better educational options for affected families."
Chicago district officials have argued that dwindling population in some predominantly black neighborhoods has created an "underutilization crisis" where schools are operating way below their capacity. Keeping these buildings open, they said, is waste of resources. CPS says the closures could save $500,000 to $800,000 per school.
To soften the blow for students at closing schools, the district said it is adding 13 new special science programs, five International Baccalaureate programs, air conditioning and fine arts classes in 19 of the schools where these students will be sent.
CPS parents reacted with outrage at the news, even those whose children's schools were saved from the chopping block.
Jennie Biggs, who has three children at Mark Sheridan Math & Science Academy in Bridgeport, called the district's decision "unbelievable."
"School is their second home," said Biggs, 40. "It's where they feel most comfortable. To lose that sense of belonging and that sense of community must be a traumatic event for a child."
Biggs attended three of the volatile community engagement meetings held by the district earlier this year, where she said parents worried students assigned to new schools will be forced to cross into unfamiliar territory.
"Parent after parent after parent talked about safety concerns," Biggs said. "For me, that's my number one concern: How do we keep the kids safe?"
To simulate the effects a school change would have, one parent walked from Libby Elementary to Sherman Elementary in the Back of the Yards neighborhood, Biggs said, passing seven abandoned buildings along the way. The trek took 27 minutes.
"That's what will be the daily experience for kids who are displaced," said Biggs. She added the district will likely see a spike in truancy numbers as parents struggle to get their kids to a new school.
Before You Go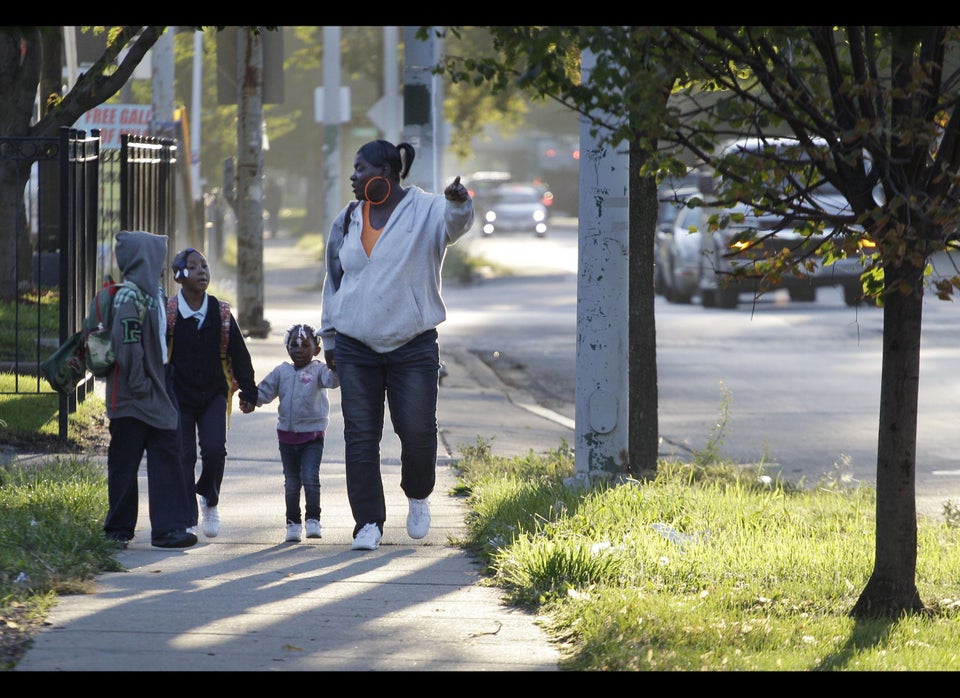 Chicago Teachers Strike
Popular in the Community