 CHICAGO, March 26 (Reuters) - Nanette Fouch does not understand why her granddaughter may have to transfer from a Chicago elementary school earmarked to close partly because of poor academics to one where students scored even lower on a recent standardized test.
"If you send them to a school that's not up to the standards of the school they came from, it'll start affecting their education," said Fouch, 49, who has a granddaughter and a nephew at Marcus Garvey Elementary School on Chicago's far South Side.
Marcus Garvey is one of 53 elementary schools, and one high school, that Chicago Public Schools said last week it intends to close by late August. In all, 61 buildings are to be closed, representing 10 percent of all elementary school buildings. If the plan, which requires approval by the school board in May, is carried out, it will be the biggest mass closing by a school district in U.S. history.
Students from Marcus Garvey will go to rival Mount Vernon Elementary School, which is less than a mile away.
The 54 schools that will close are primarily in poor African-American and Hispanic neighborhoods. Marcus Garvey and Mount Vernon are 99 percent black, and 94 percent of students at both are classified as low-income.
Chicago Public Schools, which has a projected deficit of $1 billion, says it needs to close underutilized schools to save money. The school district says consolidation will cost an estimated $233 million, but it expects to save $43 million annually in operating costs starting next year and more than $560 million in capital costs over 10 years.
The decision has left many parents confused, with some questioning the criteria used by the nation's third-largest school district. A protest rally is planned for Wednesday in downtown Chicago.
The fate of Marcus Garvey and Mount Vernon also illustrates the huge challenges poor, urban school districts across the country are facing in trying to downsize, and improve education at the same time.
Kaya Henderson, chancellor of the Washington, D.C., school district, said that despite the public outcry, closing schools is often vital to save money and redirect resources.
"It's super easy to just say that closing schools is bad," Henderson said. In 2008 the D.C. school district shut down 23 schools, and it plans to shutter an additional 15 over the next two years.

Chicago Mayor Rahm Emanuel and school administrators say enrollment in Chicago's public schools has fallen 20 percent in the past decade. The school district has said it can accommodate 511,000 students, but only about 403,000 are enrolled. Almost 140 of its schools are more than half empty, it said.
One of them is Marcus Garvey, which the school district said is only 59 percent utilized and would require a $6.3 million investment to maintain and upgrade. Enrollment there has fallen 51 percent over the past decade to 315 students, according to district records.
But parents expressed concern that merging the two schools would mean increased class sizes at Mount Vernon.
"The classes are already over-packed," said Lacey Little, 35, who has a 6-year-old at Mount Vernon Elementary School. "It's already one teacher to 35 kids with one assistant, and that's just impossible."
Another major question is safety in an urban area where gangs are a major problem.
Parents and school activists in the city have said school closings endanger students because children are exposed to greater gang violence when they cross neighborhood boundaries.
"I'm afraid, actually, because of the gang lines over there," said Denise Stowers-Fultz, 51, an alumna of Marcus Garvey whose 12-year-old son has attended the school since kindergarten. "Just the thought of him going there makes me sick."
While the area around Marcus Garvey and Mount Vernon is not one of the high-crime neighborhoods of Chicago's South Side, there have been two murders and 14 shooting incidents there so far this year.

When it comes to academics, students at Marcus Garvey and Mount Vernon perform below average, according to the school district. Determining which school is better depends on the measure used.
Chicago Public Schools gave Marcus Garvey its lowest rating, and the school has been on probation. Fewer than 50 percent of students performed at or above the national average for reading and math on the Scantron standardized test last year.
Mount Vernon is classified by the district as in good standing, a higher level than Marcus Garvey. But its student performance was further below average than Marcus Garvey's, with fewer than 40 percent of students at or above the national Scantron average, according to reports on the district website.
This is what has confused and concerned adults such as Fouch, who worries about her granddaughter moving to a poorer-performing school.
A key factor in the decision to close Marcus Garvey appeared to be a measure of the progress students were making at Mount Vernon. The district said more than 60 percent of students at Mount Vernon made expected improvements on the Scantron test last year.
According to Illinois law, all school closings must result in children being transferred to a higher-performing school, and the school district will have to demonstrate this. The final decision on closing schools will not be made until a May 22 school board meeting, the district said.
As part of the consolidation, remaining schools will receive funds to upgrade their facilities. Becky Carroll, spokeswoman for the Chicago district, said students at Mount Vernon would have access to a pre-kindergarten program, air conditioning in every classroom and an upgraded computer lab. The school recently received $7.5 million for facility improvements, she said.
This appealed to one parent, Sharday Martin, 25, who has a second-grader at Mount Vernon.
"There aren't that many kids in either school, and if they put them all in one, that's more money and resources in one school," said Martin. (Reporting by Renita D. Young; Additional reporting by Mary Wisniewski and Stephanie Simon; Editing by Greg McCune and Douglas Royalty)

Before You Go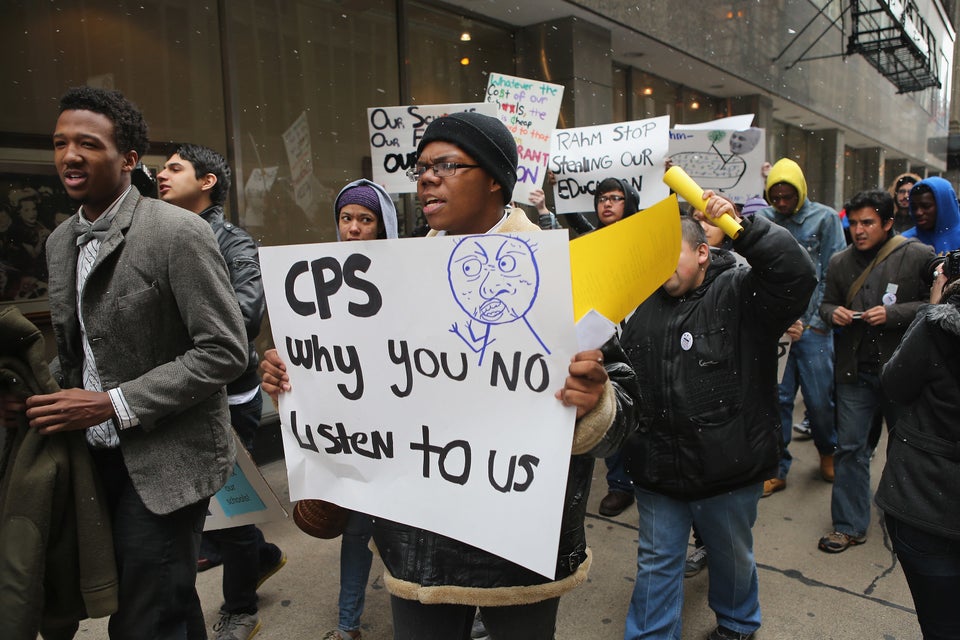 Chicago School Closings
Popular in the Community