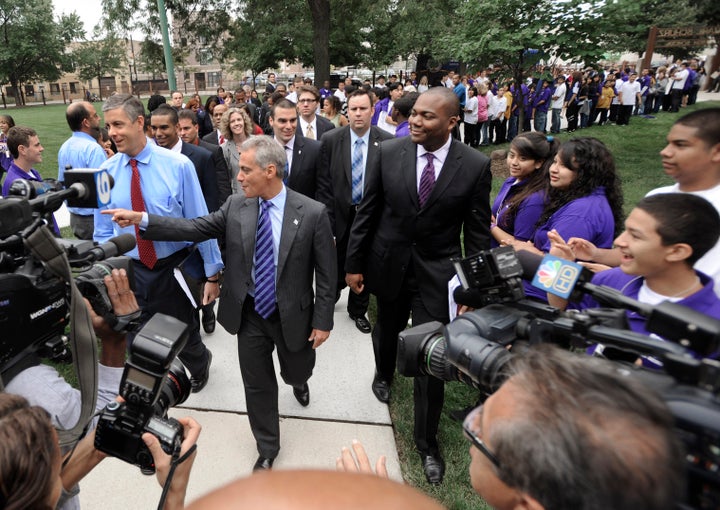 Overshadowed by the loud controversy surrounding the Chicago Board of Education's vote to take drastic action against 17 failing schools was the quiet comment by Schools CEO Jean-Claude Brizard, who said the district now has to heal the breach with communities.
"I have been a part of the process of turnarounds, reconstitutions and closings before. It is never easy," Brizard said during the seven-hour meeting that preceded the vote. "It will take a lot of healing. I am full of respect for the community. We have conducted an unprecedented number of hearings and done an unprecedented amount of engagement. We have listened and heard concerns."
It's not just the community that feels as though CPS ran roughshod over them.
Some state lawmakers are upset, too. A legislative task force, accusing the district of ignoring a state law that dictates a certain process for school facilities decisions, now wants a moratorium on closings (a similar previous effort failed). Other lawmakers have filed bills to rein in CPS on class sizes and even its budget process.
Chicago Public Schools may feel that officials made an unprecedented effort this year to reach out to communities regarding closings and turnarounds. And while Mayor Emanuel has a point when he says the protests are "noise associated with change," that's not the whole story. The angst runs deeper than that, as communities and parents see long-standing institutions shut down, trusted teachers sent packing and an outside group (the non-profit Academy for Urban School Leadership) brought in to take over.
So now, it's the district's job to go above-and-beyond to mend fences. After all, the district, backed by City Hall, has all the power. But even a hand-picked board is a public entity.
But reaching out in a meaningful way must entail more than visiting churches after the fact -- which Brizard did when he spoke at one of the city's largest African-American churches. A different strategy -- not just more hearings once a hit list is drawn up -- is needed.
As one parent said to me not long ago, "It's not what they're doing. It's the way they're doing it."
To that end, here's one suggestion: Ask parents and the community which schools, among those that are eligible, should be closed or turned around. Brizard has said that parents have asked the district for turnarounds at their school, so why not put that mindset to the test and turn around schools where parents have actively lobbied for it?
In any case, if the district feels strongly that a school is too dysfunctional to ever get better, officials should explain why, straight out, to parents before a hit list is drawn up. That kind of frank give-and-take could have happened this year if officials had talked seriously with the community action councils that were already in place around the city. These councils had created their own vision for what education should look like in their communities, but those plans never went anywhere with CPS.
For their part, parents and the community can be grateful for one thing: Brizard and Mayor Rahm Emanuel are, at last, telling the sad truth about low achievement in CPS. No more spin machine revving into high gear when state test scores inch up a notch. Brizard has also paid more attention to Chicago's national scores, which are still abysmal. And Emanuel has also shifted attention to another long-ignored problem: the failures of the city's seven community colleges, where many CPS graduates end up.
Mending fences isn't easy. Neither is fixing a bad school -- turnarounds aren't magic, nor are charters or local school councils. But the decisions the board makes about closings and turnarounds will affect communities for decades to come. For students' sakes, fences must be mended.
REAL LIFE. REAL NEWS. REAL VOICES.
Help us tell more of the stories that matter from voices that too often remain unheard.