* 350,000 public school students return to classes
* Labor pact piles more debt on deficit-ridden district
* Emanuel deflects questions about closing more schools
CHICAGO, Sept 19 (Reuters) - Hundreds of thousands of Chicago students returned to school on Wednesday after a teachers' strike ended, thrilling parents who had struggled with child care but shifting the debate to hard questions about budget deficits, school closures and teacher layoffs.
At the doorstep of John H. Vanderpoel Elementary Magnet School on the city's south side, children lined up on a sunny and chilly morning to wait for doors to open for the first time in nine days.
"Mommy, I've got to go to school," yelled Kimberly Watson's kindergartner as she pulled her mother toward the door.
"She was excited to get back," said Watson after dropping her daughter off.
"At first I was concerned that it would drag on, but I was confident that the teachers were going to hold out and that (the school board) was going to try to work with them and get them what they needed," she said.
"I think it's going to take a while to get the resources that they were promised," said Sherolyn Shaw, another mother who was dropping off her two children at the school.
Representatives of the 29,000 striking Chicago public school teachers and support staff voted on Tuesday to suspend their first strike in 25 years and accept a compromise three-year contract with Mayor Rahm Emanuel.
Some 350,000 kindergarten, elementary and high school students returned to classes after missing seven school days in the third-largest U.S. school district after New York and Los Angeles.
"All our members are glad to back with their kids," Karen Lewis, the former high school chemistry teacher who heads the union, said after Tuesday's vote. Lewis led the teachers out of the classroom over Emanuel's demand for sweeping education reforms that the union believed were misguided.
Emanuel, speaking to reporters on Wednesday after visiting three schools to welcome back students, called it an exciting day. "Most exciting because our kids our back and you can see it in their eyes," he said.
But Emanuel deflected questions about how the deficit-ridden school system will finance the new contract, which he says will add $75 million to the $665 million deficit for the current year.
"We have a lot of work left to do," Emanuel said.

BUDGET CRUNCH, LAYOFFS AHEAD?
The end of the strike eased political pressure on Emanuel, a former top aide to U.S. President Barack Obama, and for Democrats worried that the fight might reduce union support for Obama in the November elections.
Lewis said that the full membership of the union will vote in the next two weeks to formally ratify the agreement, which gives teachers an average 17.6-percent pay raise over four years and creates a new teacher evaluation system based in part on their students' standardized test results.
But many issues that triggered the strike remain. Most Chicago public schools are struggling academically, with poverty and gang violence plaguing many neighborhoods.
The high school graduation rate is substantially lower than the national average, and more than 80 percent of public school students qualify for free meals because of low family incomes.
The teacher evaluation system was one of Emanuel's key demands, along with a longer school day. The union won partial guarantees of job security and fought off Emanuel's attempt to link pay to merit.
But Emanuel won changes that will partially base evaluations of teachers on student test results for the first time in 40 years. Those evaluations will be used in determining which teachers get rehired after layoffs.
A court hearing on Wednesday to consider Emanuel's request to have the strike ruled illegal was canceled, a spokesman for the school district said. But an accompanying complaint against the union remains pending.
The union filed an unfair labor practice charge against the school district during the dispute, and litigation may continue on that grievance before a state agency.
Teachers said they fear now that the strike has ended, Emanuel will move to close dozens of schools to help pay for the cost of the agreement with teachers.
Like many large cities, Chicago has seen enrollment in public schools fall in recent years as its population declined and people moved to the suburbs.
The district says it needs to close schools to reduce overcapacity. The union says that the district is closing neighborhood public schools and replacing them with "charter" schools, which are mostly non-union.
"You're going to have to reduce the number of overall teachers in the system and shrink the number of schools," said Laurence Msall, president of the Civic Federation, a private group. "Some teachers will get more money. But there will have to be a lot less teachers in the system."

Before You Go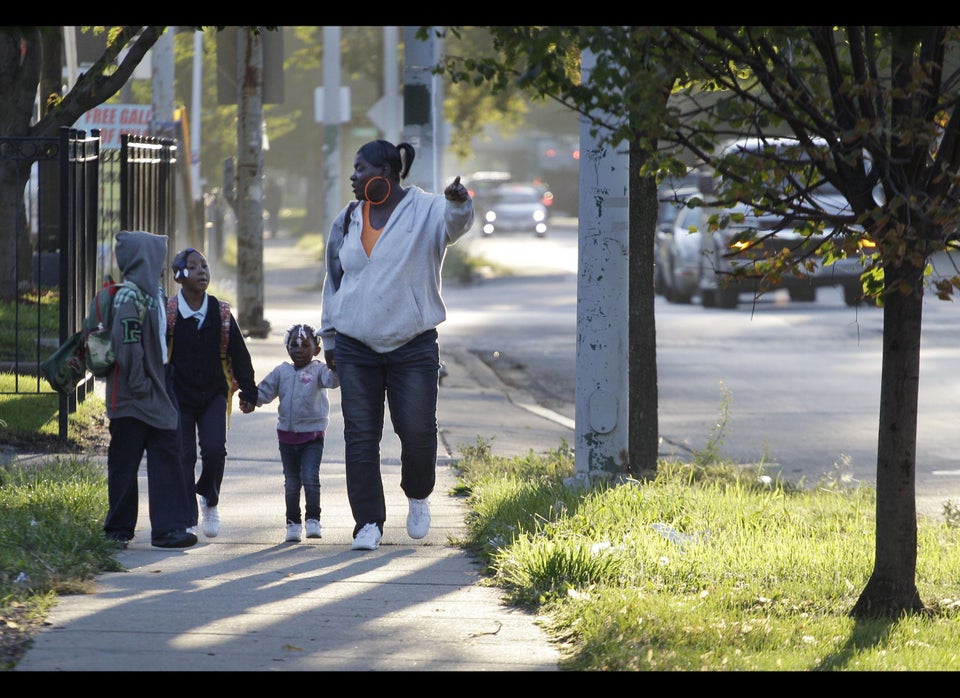 Chicago Teachers Strike
Popular in the Community