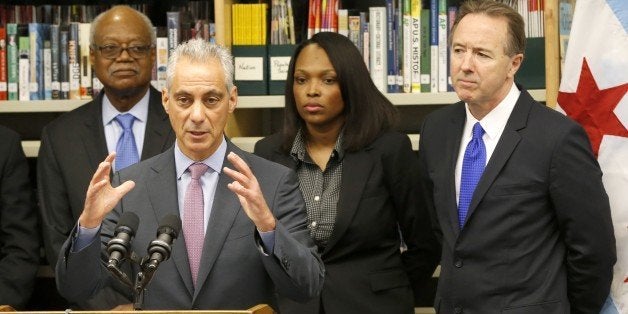 CHICAGO, July 20 (Reuters) - Chicago Public Schools on Monday proposed selling up to $1.16 billion of bonds despite the district's falling credit ratings, big budget deficit and lack of an approved plan to ease escalating pension costs.
The board of education for the nation's third-largest public school system will vote on the general obligation bonds at its meeting on Wednesday.
Proceeds would be used to improve school facilities, refund outstanding bonds, and pay banks to terminate swaps used to hedge interest-rate risk on variable-rate debt, according to documents posted on the CPS website.
CPS representatives did not immediately respond to questions about the swaps and other details about the proposed bonds.
Downgrades by Moody's Investors Service and Fitch Ratings in March triggered about $228 million in termination payments by CPS to bank swap counterparties. Moody's cut the district's rating to junk in May. Earlier this month, Standard & Poor's dropped its rating two notches to BBB, while warning another downgrade could come without a "credible" fiscal 2016 budget.
School officials have not yet unveiled a complete budget, announcing last week the spending plan will rely on $500 million in pension savings that have yet to be enacted by the Illinois Legislature and will incorporate a $106 million cut in state funding.
CPS has projected a $1.1 billion deficit in its fiscal 2016 budget, largely because of an approximately $675 million pension payment.
The school system made its $634 million fiscal 2015 pension payment to the Chicago teachers' retirement system on June 30 by tapping borrowed money, including $200 million of tax anticipation notes and spending cuts.
The school board last month approved those notes, as well as up to $935 million of notes in anticipation of the district's 2015 property tax revenue. Debt sales by the district in March and May resulted in hefty yields.
(Reporting by Karen Pierog; Editing by Richard Chang)
CORRECTION: An earlier headline on this story incorrectly said it was $1.16 million in bonds. It is $1.16 billion.
Calling all HuffPost superfans!
Sign up for membership to become a founding member and help shape HuffPost's next chapter