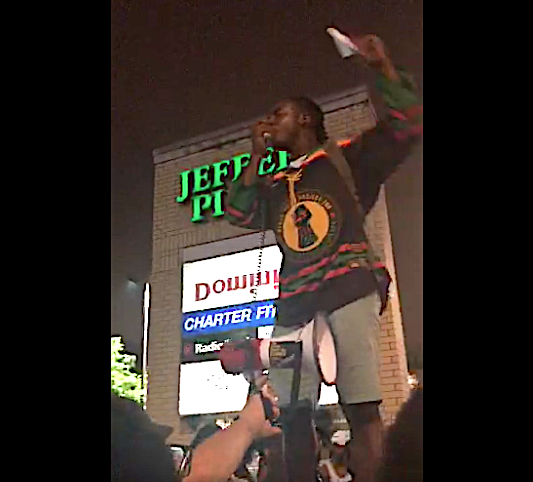 An intense protest broke out in Chicago on Saturday evening after a police officer fatally shot a man whom officers said appeared to be armed.
Chicago police officers on foot said they observed a man "exhibiting characteristics of an armed person," Anthony Guglielmi, the Chicago Police Department's chief communications officer, said in a statement shared on Twitter. 
The officers reported they "saw a subject that they thought might have been armed around his waistband," Police Chief Fred Waller said at a press conference late Saturday. Officers approached the man, who became combative and tried to push the officers' hands away. The man began "flailing and swinging" at the officers, Waller said, and as he tried to escape, he appeared to reach for his weapon, which prompted the officer to shoot. Waller described it as a "semi-automatic weapon" and said he had "magazines" on him.
While police have not publicly identified the man who was shot, Black Youth Project 100, an activist organization based in Chicago, said he was Harith "Snoop" Augustus, an African-American barber and father. Black Youth Project interviewed one of Augustus' friends at the barbershop, who said he was a quiet and good man. The Chicago Sun-Times also identified the man as a barber known as Snoop.
The shooting took place in the predominantly African-American South Shore neighborhood on Chicago's South Side, fire department spokesman Larry Merritt told The Associated Press.
Witnesses told the Chicago Sun-Times that a female officer had opened fire on the man and then "was immediately put in a squad car and taken away from the scene." The officer has not been identified.
Chicago's Civilian Office of Police Accountability is investigating the shooting to see whether use of deadly force was justified, according to Fox 32 Chicago. Four officers have been placed on administrative duty, per police protocol.
Merritt told AP that the man who was shot was pronounced dead at Jackson Park Hospital. No officers were injured during the shooting.
People quickly gathered around the scene of the shooting, yelling and questioning police officers, as seen in Facebook Live videos filmed by demonstrators. Some protesters chanted "murderers" as police watched.
There were about 150 people protesting the shooting on Saturday night, the Chicago Tribune reported. At least 80 law enforcement officers responded to the protest, according to Chicago Sun-Times reporter Nader Issa. 
Tensions worsened as police officers with batons and protesters fought each other. Issa reported that the fighting started after police officers moved their defense line forward.
"An argument started and officers hit protesters with batons, and protesters returned punches," Issa tweeted. "I haven't seen a police shooting scene this intense since the [Laquan] McDonald video release."
As protesters gathered earlier, one protester used a megaphone to yell out the names of other people who had been fatally shot by Chicago police, including 17-year-old Laquan McDonald.
The protest continued until about 11 p.m. local time Saturday, police said in a tweet announcing that they had cleared the shooting scene. A livestream of the protest ended about that time also.
Police had pushed protesters back into a parking lot of a strip mall. Issa reported that two officers shoved him to the ground and smacked his cellphone out of his hand. 
In the video below, police officers can be seen arresting more than one person; Issa said he saw "at least a dozen arrests." At 1:58 in the video, one police officer blocks Issa's camera view and yells at him to back up before shoving Issa and knocking his phone to the floor.
Four protesters were arrested Saturday, while three or four officers sustained minor injuries during the protests, according to officials.
"There were some members of the community who were upset,'' Guglielmi told the newspaper. "This is a tragic situation, where an individual lost his life.''
He added that many in the crowd had "a false sense of what occurred. … There was a lot of bad information out there."
Saturday's shooting and subsequent civil unrest come days after a Chicago police officer was filmed telling two young men, "I kill motherf**kers" and threatening to arrest them for walking in the street.
This article has been updated with a Chicago activist group and local newspaper identifying the victim.
Calling all HuffPost superfans!
Sign up for membership to become a founding member and help shape HuffPost's next chapter