Members of a Chicago community are coming together in support of a nanny who was targeted in a racist letter.
Their plan: a mass play date designed to "Stand Up to Hate."
A week ago, an unstamped, unsigned letter to Heather DeJonker was found in her mailbox.
The letter refers to Pickett by a racial slur, and one part of the brutally racist letter reads:
We do not need an infestation in our community. There are plenty educated Caucasian nannies available if you are willing to pay them accordingly…
Pickett hasn't read the entire letter herself. Although she has experienced racism before, she admits being shocked to be the subject of such a letter.
"This is my first experience of racism on the job and in this neighborhood," she told HuffPost. "It's a quiet, diverse neighborhood. It's always been welcoming, and I get along with all the moms."
After receiving the letter, DeJonker was shocked, but not as much as her mother, who was the first one to read it.
"She was horrified. She called me at work and told me about it," DeJonker told DNAInfo.com. "When I read the letter, it felt like a punch in the stomach. I was nauseous, and I was praying to God that Ferrai didn't have to see it."
DeJonker and Maria Ippolito, who also employs Pickett as a nanny, filed a police report, notified local politicians and installed security cameras.
Pickett, who has a degree in early childhood education, said she and the two moms also reflected on the best way to combat the hatred in their neighborhood.
"All of us are in education, and it felt like we could use this to teach the kids," she told HuffPost. "We didn't want this person to be the voice of the neighborhood."
Step one was posting an open letter directed at the anonymous writer and stating clearly: "Hate has no place in our home, community, or world and we won't tolerate it."
To that end, DeJonker, Ippolito and Pickett have also organized a "Stand Up to Hate" play date on Thursday at their local park.
"We want to show this person this is not how our moms think," Pickett said. "This is our way of fighting back."
Obviously, having kids of different backgrounds playing together is one way to demonstrate, but Pickett said the kids will also help make heart-shaped paper links that will be hung up around the playground as a symbol of unity against hatred.
Based on the kids she's seen on the playground, she thinks it's possible to counteract the forces of racism.
"In our country today, there seems to be a steady stream of bad news. There is so much negativity, but these kids know nothing other than they are friends and they love each other. These kids give me hope and help me keep the faith that change and unity is possible," Pickett told DNAInfo.com.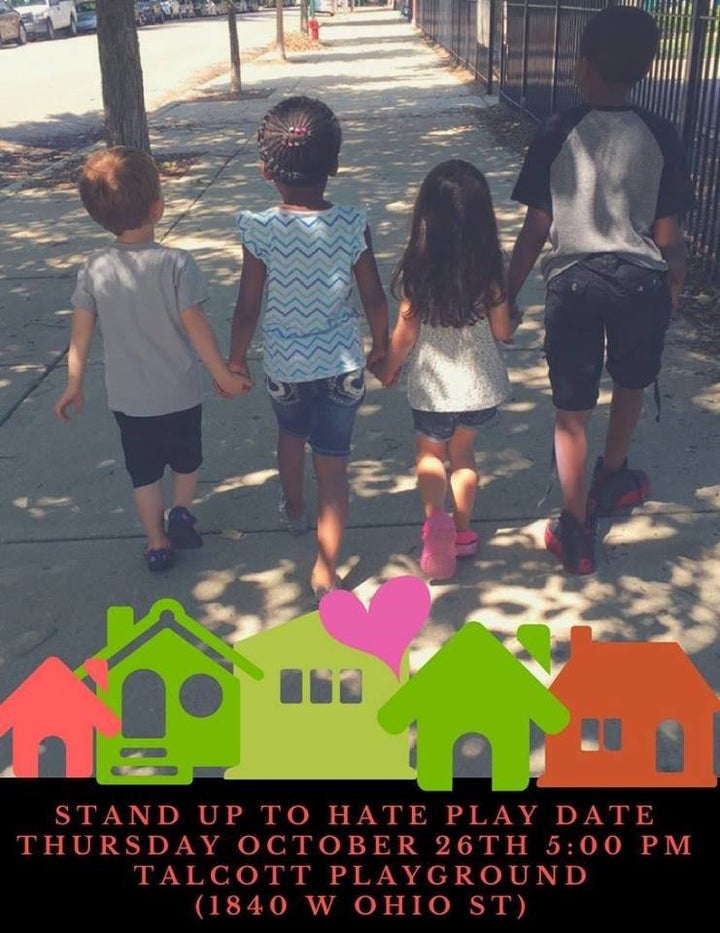 Calling all HuffPost superfans!
Sign up for membership to become a founding member and help shape HuffPost's next chapter
BEFORE YOU GO
PHOTO GALLERY
Celebrity Parents With Black Children Respond To Shootings