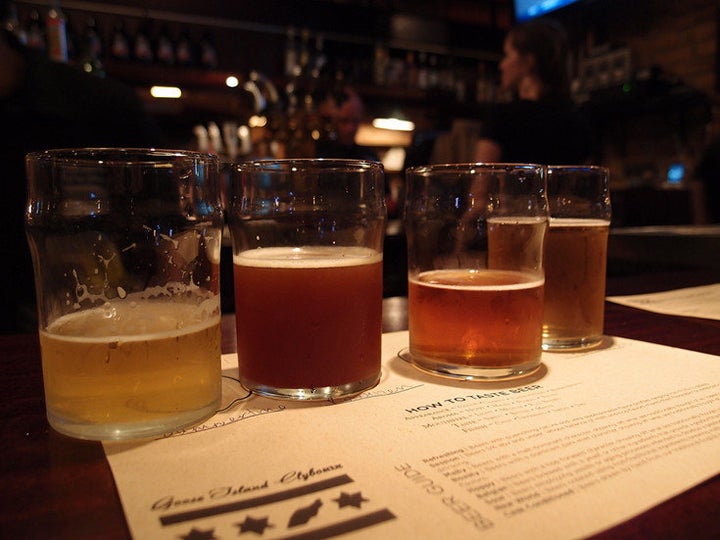 If the rainy, cold Chicago "spring" has made you thirsty for booze, you are in luck. Temperatures are supposed to climb in the next few days, and the city's breweries and brew pubs are offering up seasonal beer that will make you forget all about the Blizzard of 2011.
Revolution Brewing: To welcome in the rising temperatures, try Revolution's Bottom Up Wit, a refreshing Belgian-style wheat beer spiced with coriander and orange peel, and made with organic malt. Slightly reminiscent of a Summer Shandy, this hazy brew will remind you why you keep coming back for more. Also, stick around for a second pint and try the Coup d' Etat, a dry, spicy French-style saison with German hops. It gets brewed in the cold months, and served in the warm ones. 2323 N. Milwaukee Ave.; 773-227-2739
Haymarket Pub & Brewery: On your next visit to Haymarket, go for The White Chapel Wit, a wheat-based beer, with hints of banana and mango on the nose. With a bit of a hop characteristic, it's a great beer to sip on during a steamy day. If you've got time for a second, try The Living Wage American Belgo Pale Ale. This light-bodied, complex ale is hopped and dry-hopped with Amarillo, with aromas of citrus and spice and everything nice. It's a bit lower in alcohol, so you may be able to squeeze in another. Keep your eye on new beers that may be tapped before summer. Co-owner Pete Crowley (Rock Bottom) has always got something new brewing. 737 W. Randolph; 312-638-0700
Goose Island: The big question remains, now that Bud has bought the famed Goose Island, will the Goose be cooked? Well, at least for now, no. We can make some recommendations that will hopefully put a nice buzz back into your summer. For instance, you can't go wrong with Goose Island Summertime. This German-style Kolsch, with its bright yellow color, brings a bit of sunshine to a rainy Chicago day. It's light lemon aroma and mild fruitiness whisper summer. Also, try the Rotweizen, a German-style Wheat Ale. It's ruby color, banana and clove notes and slight banana bread taste make this a winner for the Goose. 1800 N. Clybourn; 312-915-0071 and 3535 N. Clark St.; 773-832-9040
Half Acre Beer Company: If you missed out on Ambrosia, that's OK. No need to drown your sorrows in someone else's beer. There's some new brews coming from former advertising director Gabriel Magliaro and his partners at Half Acre Beer Company. While we love some Gossamer Golden Ale (a bit softer than the Daily Cutter Pale Ale), be on the lookout for Meat Wave, an "English-bent" India Pale Ale that will make its debut during Craft Beer Week. Also, rumor has it that a new beer titled Small Animal Big Machine (a collaboration with Pipeworks and De Struise) will be appearing soon. 4257 N. Lincoln Ave; 773-248-4038
Two Brothers Brewing Company: If you can still find Two Brothers Brewing Company's Monarch White, which was released mid-March, then snatch it up. But, if you can't seem to locate it (good luck trying), then go for Dog Days. You'll find this golden-colored, Dortmunder-style lager spicy and crisp, with a light body. It's perfect for the beach... if alcohol was allowed. 30W315 Calumet Ave., Warrenville; 630-393-2337
Metropolitan Brewing: You can't go wrong with Metropolitan's Krankshaft Kölsch, even when the humidity kicks into overdrive. It's a bit crisp, with mellow fruit characters and pairs well with fruit salad, hummus and even canoeing. But, we live in Chicago. So, when the temperature dips below 65 degrees, reach for another Metropolitan Brewing gem, Iron Works Alt. It's a bit dry and malty, but it will subtly kiss your lips with a hint of sweetness. You'll dig its complexity. 5121 N. Ravenswood Ave.
Publican: We all love the beer that Publican serves, but did you know that this summer they're attempting to brew their own? Lagunitas Brewing Company has teamed up with The Publican and Big Star to make a collaboration brew called Zephyr. The beer was conceived by Michael MvAvena (beer director at Publican) and Ben Fasman and Laurent Lebwec (from Big Star) in conjunction with Lagunitas. It's scheduled to make its debut in early June. 837 W Fulton Market; 312-733-9555
Flossmoor Station Brewing: Housed in the historic old Flossmoor Train Station, Flossmoor Station Brewing is just a short ride from the city (well, depending on traffic). Once inside, order the freshly tapped Impromptu Pale Ale to take a load off. But don't leave before trying the Saison and Garfunkel (aside from it being recommended for warm-weather drinking, we dig the name). Look for a lighter Belgian Wit, Le Chein Blanc, brewed with unmalted wheat and spices, to hit the tap in June. 1035 Sterling Ave., Flossmoor; 708-957-8646
Three Floyds Brewing Co.: If you're looking for something in addition to your beloved Gumball Head by Three Floyds Brewing Co., (http://www.3floyds.com/) drink up Blackheart when you can get your hands on it. Released last Friday in Indiana, it should be hitting the local stores within days. Also, be on the lookout for Evil Power, an Imperial Pilsner that makes a perfect summertime pour, which could be showing up shortly after. 9750 Indiana Pkwy., Munster, Indiana; 219-922-3565
Calling all HuffPost superfans!
Sign up for membership to become a founding member and help shape HuffPost's next chapter