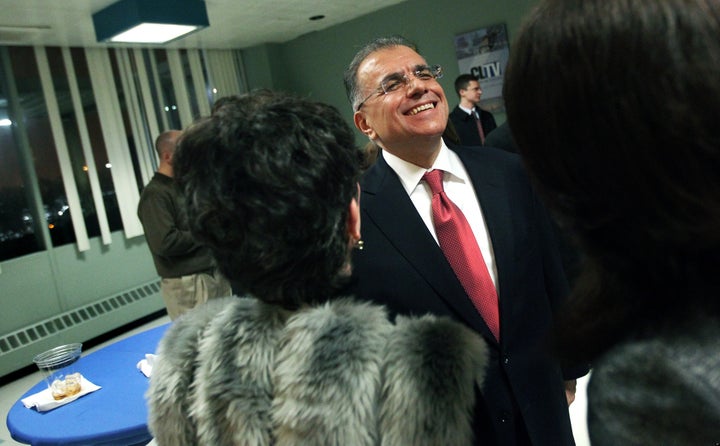 The last Republican to serve as Mayor of Chicago was the deeply corrupt William "Big Bill" Thompson, who ended his term in 1931. Since then, the city has been run by what many call the "Democratic machine," and once again, there are no Republican mayoral candidates on the ballot.
Though conservative politicians may not thrive in the city, there are still conservative voters. Earlier this month, the Chicago Tea Party Patriots endorsed Democrat Gery Chico for mayor--and now, one of his opponents is using their support against him.
"Personally, this is an endorsement that I would never accept," candidate Miguel del Valle said during a Sunday press conference in Chicago's Humboldt Park neighborhood. "The Tea Party's positions on everything from immigration reform to health care reform are not aligned with the needs and wants of the people of Chicago."
Catherina Wojtowicz, the often volatile leader of the Chicago Tea Party Patriots, explained the choice on the organization's website:
Gery Chico's opponent is Rahm Emanuel. We need to stand up to Barack Obama and the ObamaNation and say, "Not in my backyard!"

...

Chico, who is endorsed by the Chicago Police and Chicago Fire emergency personnel service members, know too well the issues that we, the taxpaying residents face. Chico has long endorsed turning a decades-long mandate that prohibits members from living outside of city limits. Presently, police and fire officers are forced to live within the city limits. Many of our tea party members, rank-and-file of the our city's finest and bravest have long wanted to have freedom to live and raise their families where they wish. Gery Chico is a friend to Chicago's police and fire officers!
Chico hasn't actually pledged to changing the city's residency requirement, he (along with Rahm Emanuel) has just said that he was open to discussing it further and potentially making changes to the policy. His progressive positions on gay rights, immigration, clean energy and abortion also clash with the Tea Party's positions.
"Gery has a record of building coalitions across racial, ethnic and party lines to achieve common goals," Chico's Press Secretary Brooke Anderson told HuffPost Chicago. "We welcome their support in addition to the broad range of support we have received from a diverse range of organizations, elected officials and residents as we fight to take Chicago in a new direction."
In responding to del Valle's comment, Anderson said Chico has fought for immigration reform throughout his life. On Sunday afternoon, Chico was actually at a rally with U.S. Rep. Luis Gutierrez, slamming Rahm Emanuel for "his failure to advocate for working families and immigration reform," according to a statement from his campaign.
In the endorsement of Chico, Wojtowicz wrote that "Chico is running to the right of Rahm Emanuel," but did not provide any examples of that being the case. She did praise Chico's fiscal policies and said that he is a "friend to businesses and taxpayers." The group is also seeking donations to "fight Rahm Emanuel."
During Sunday's press conference, del Valle said the Tea Party's endorsement of Chico signals "the need for a true progressive alternative" to "the Emanuel agenda."
REAL LIFE. REAL NEWS. REAL VOICES.
Help us tell more of the stories that matter from voices that too often remain unheard.