 CHICAGO -- Every Sunday, CEO of Chicago Public Schools Jean-Claude Brizard takes his 2-year-old son to breakfast. It's a "sacred" ritual, Brizard emphasizes, because "he doesn't get much daddy time." But one Sunday in the beginning of September, he felt too sick to his stomach to take his son out.
A few months earlier, members of the Chicago Teachers Union (CTU) had voted to give union leadership the authority to call a strike. Under Brizard and Mayor Rahm Emanuel (D), teachers said they felt alienated, a circumstance triggered by Emanuel yanking their scheduled raise and aggravated by his ballbusting rhetoric -- once remarking, for example, that teachers' raises meant students "got the shaft." That Sunday, Sept. 9, marked the final deadline CTU had set for announcing a potential walkout. So instead of going out, Brizard cooked for his son and passed time playing cards. By midday, he was in his office in downtown Chicago, figuring out what would happen if 350,000 public school kids suddenly had no schools to go to.
Meanwhile, in a crowded room in the union's Chinatown headquarters, teams from both sides huddled, trying to come to a last-ditch consensus on the teacher contract. CTU's president Karen Lewis presided, with vice president Jesse Sharkey there to hammer out the details. Across the table was Team Rahm: David Vitale, president of Chicago's school board; Beth Swanson, Emanuel's deputy and Barbara Byrd-Bennett, the newly arrived chief academic officer of Chicago Public Schools (CPS).
They went back and forth over several points of education policy that define the teaching profession in the nation's third-largest city -- among them, how teachers should be evaluated, how much weight to give students' standardized test scores, whether laid off teachers should get first dibs on new job openings, class size and how much money teachers should make. Every hour, Byrd-Bennett would call Brizard with details of the negotiations.
By mid-afternoon, Lewis and her team disappeared, and the negotiating team wasn't sure why.
What happened next set off a chain of events that cast doubt on the Obama administration's education agenda, and had 26,000 teachers swarming the city's streets with signs and megaphones. Interviews with the negotiators provide an inside view of what occurred in the moments leading up to the strike, as Emanuel anxiously paced around City Hall. And even though the strike ended nine days later, and a new contract in which the city gave up concessions on evaluations has since been signed, few of the core disputed issues have been entirely resolved: Chicago's education scene remains a powder keg, ready to erupt at the smallest provocation.
An examination of the contract shows that some of the most controversial issues at stake in the strike have yet to be completely decided, with some issues relegated to committees. Partially because of teachers' new raises, the contract will cost the cash-strapped district $295 million over four years, a reality many believe will cause layoffs. Factions of teachers' unions in other cities inspired by the strike are seeking to fan the flames. Already, teachers in nearby Lake Forest and Evergreen Park have walked out.
These fights represent a broader question the American populace is still grappling with: who owns our public schools?
POVERTY OR POOR TEACHERS?
When Rahm Emanuel ran to become Chicago's mayor, he campaigned on the idea that only he had the gall to shake up the ailing school system. The union's power, he contended, prevented the bureaucracy from advancing. What the city needed, he argued, was a more businesslike operation that determined teachers' merits by their students' test scores and a system that presented parents with more choices. The idea was that if kids are stuck in a bad school, they should be able to attend an alternative -- a charter school that employs non-unionized teachers. And if a school is bad, the district should be able to close it down, fire its staff and put a better, non-unionized school in its place. The kids also need more time in school, he said, since they spend fewer hours in class than most of their peers, in part because of the agrarian calendar and a deal former Mayor Richard Daley struck with the union a decade ago that shortened the school year by seven days.
Emanuel's vision for overhauling Chicago's public schools relied on a set of ideas gaining ground nationally, embraced by cities from New York to Los Angeles -- and by the Obama administration. That school of thought became known as "education reform." It questioned the value of unions in schools, and a set of polarizing, free-market Democrats such as former Washington, D.C. schools chief Michelle Rhee and former New York City schools chancellor Joel Klein implemented its policies. The Obama administration made teacher evaluations a centerpiece of its Race to the Top competition, an initiative the White House now credits for inspiring over 100 new state laws that encouraged the creation of charter schools and mandated teacher evaluations that relied on test scores -- but now, implementation is stalled in many places. Many have called this approach a more severe extension of former President George W. Bush's No Child Left Behind policy, which for the first time, held schools accountable for their students' performance on standardized tests.
Once Emanuel became Chicago mayor, he said he wanted to institute merit pay, tying teacher salary to evaluations instead of their seniority. He also wanted to count students' standardized test scores as a full 45 percent of teachers' evaluations, and for student surveys to factor in as well. Teachers drive the quality of education, he said, and informal ratings where principals tend to portray their teachers as high-performing by default did little to sort good teachers from bad ones.
A few years earlier, Karen Lewis, an outspoken chemistry teacher and former standup comedian, rose in prominence within the Chicago Teachers Union. While unions across the country were figuring out whether and how to adopt the reform agenda, she became active because she thought the union top brass keeled to the city too easily. So she joined others to create the Caucus of Rank and File Educators, a faction that opposed reform and its emphasis on standardized test scores, and took over the union's leadership in an election in 2010.
In Lewis' eyes, and in the eyes of many education scholars, the low test scores of Chicago's students is a reflection of their poverty -- not of poor teaching quality. Eighty-seven percent of students live below the poverty line, and countless studies have shown the emergence of an across-the-board gap between rich kids and poor kids. Students' standardized test scores, vice president Sharkey said, should not drive teachers' evaluations because they reflect factors that have little to do with a teacher's abilities -- poor health care, gang violence and absentee parents. As Sharkey put it, it's unfair to expect high test scores of a student "who gets shot a week before the test." The union also said schools were not adequately funded, and didn't have enough social workers or functioning air conditioning.
If it were up to CTU, tests would not factor into evaluations at all -- but a 2010 law Illinois passed in the hopes of winning Race to the Top money mandated that testing count for a minimum of 30 percent. CTU released no evaluation model of its own, insisting only that a high emphasis on test scores is "unfair." The union characterizes the push to formalize evaluations as an assault from a business community that considers "unions to be an obstacle to their profit-making" and therefore seeks "to weaken or eliminate them."
Shortly after Emanuel's election, Illinois passed "Senate Bill 7," a law that tied teacher layoffs to evaluations instead of seniority. After months of negotiating with legislators and a wealthy Emanuel-supported group Stand for Children, CTU pulled its support for the law when it realized the legislation made it harder for them to call a strike vote.
Lewis and Emanuel have sparred over just about everything in the last two years. When Emanuel proposed a scheme to specifically pay teachers in accordance with their evaluations, she forced him to back down. And after Lewis balked at a merit pay deal that cost the district $34 million in June, Chicago Public Schools sent out a statement blasting her. Shortly after, Lewis called the strike vote, and the union's democratic body, the House of Delegates, decided that if the two parties could not reach an agreement up until about 45 days after an arbitrator's report -- expected sometime in July -- all the public school teachers in the union would walk out.
When Lewis disappeared from the negotiations on Sunday, Sept. 9, school board president Vitale and school district officials didn't know what to think. Vitale sat around for two hours, still hopeful that a bargain would be struck, but he couldn't reach Lewis. He thought they could still get together later.
Lewis had other ideas. "It was just like nobody was hearing me," she said. To Lewis, little had changed in the previous month. In mid-July, the arbitrator had produced a "fact-finding report" intended to forge a compromise between the two parties. The report called the relationship between CPS and CTU "toxic," blaming the school district for rolling out a longer school day it could not afford. The arbitrator proposed a 35 percent raise for teachers over four years, a sum Emanuel rejected. So the parties had gone back to the negotiating table, and on Thursday Sept. 6, three days before the final deadline, the district gave CTU its latest proposal. Vitale asked Lewis what it would take to settle the contract. In response, she turned over two pages of handwritten notes.
"I just remember thinking, wow, this is not going to happen," Lewis said. "They kept asking for a couple more days. But how long have you known about this deadline for? That was one of the things that confused us, too."
Lewis had spent the last few weeks on the phone with Randi Weingarten, president of the American Federation of Teachers, CTU's parent union. Weingarten had assigned a staffer to Chicago, and had to balance the aggression of anti-reform group CORE with the AFT's more reform-friendly politics. In the weeks leading up to the strike, Weingarten pushed Lewis about the necessity of walking out. "I always ask a lot of questions," Weingarten said. "We tried to go through the what ifs."
As the moments ticked by on Sunday, Lewis became convinced of something: CPS didn't take the strike vote seriously. She thought that CPS assumed if they didn't agree on a new contract by the deadline, Lewis would simply convene the delegates and say, "okay, we're just going to get a couple more days."
In his office, Brizard saw CTU tweeting pictures of signs they'd prepared for a rally. At around 6 p.m. on Sept. 9, Brizard walked a few blocks south to Emanuel's office on the fifth floor of City Hall. He walked passed a guard desk, and entered a scene of chaos, with communications chief Sarah Hamilton and Emanuel's political aide Matt Hynes monitoring the situation. Emanuel himself took in the news, getting constant feedback from the negotiation team. The mayor was always on the phone, and from his body language, he seemed anxious, Brizard said. He bounced between the different rooms in his office suite, asking his deputies things like "What's going on now?"
Brizard was shaken by what he viewed as Emanuel's nervousness. "This is a man who knows what he wants and he's very confident about where he wants to go," Brizard thought. "I saw a leader who was holding on."
Vitale, still in the union hall, tried to reach Lewis three times, he said. It became clear that CTU was working quickly to publicize their stand, he described, as sounds of a growing crowd came from another part of the union building. Vitale said that a judgement call was made to make the details of the last deal that had been offered by CPS known as well.
About an hour later, it became official. Lewis strode out of the building wearing a red jacket, surrounded by a phalanx of news cameras and microphones. She told the assembled crowd that a strike would begin Monday. "In the morning, no CTU members will be inside our schools," Lewis said.
At 10 p.m., Emanuel followed suit, facing a crowd as his hand shook, hardly containing his anger. "This is avoidable, and our kids do not deserve this," he said. And so it began.
While the negotiating teams argued, parents worried about what the week would bring. The district prepared alternative school sites, where kids could be fed and watched, but they were only open for half a day. Despite these hardships, a majority of parents rooted for the teachers. According to a poll conducted by We Ask America, 66 percent of public school parents supported the strike.
Mercedes Pittman, 27, sat glued to her television in a violent neighborhood in the South Side of Chicago known as "terror town." She was thinking about her five kids -- three of her own, two stepchildren. "We were saying, oh lord," she recalled, "it's about to go crazy here." Her kids were happy to be free, but she was worried they'd lose ground in their studies. So she spent time each day of the strike drilling her kids on what they learned in school. They would play math games, compete in spelling contests and redo old homework assignments. Meanwhile, thousands of teachers marched around downtown Chicago, demanding a fair contract, while more cordial negotiations continued between the city's representatives and the union's team.
If any parent would be expected to support the Emanuel administration, it would be Pittman: her kids benefited from transferring to a school created by the district's controversial school turnaround program. But she identified with the teachers. "I support the teacher strike," she said. "My kids are losing out, but … their schools don't have enough resources. The mayor is trying to bust up the wrong things."
Wendy Katten, founder of Raise Your Hand Illinois, a parent group that advocates for equitable school funding, said her members were also supportive. But a week after CTU declared the strike, the union's House of Delegates -- a group of involved CTU members who vote on the union's decisions -- voted that they needed more time to read over the contract -- even after Lewis called it a good deal.
The union delegates, apparently, didn't think it was good enough. So the strike continued. "That's when I started getting some very upset parents," Katten said. Negotiators say the week felt like a blur of activity, and after a few days, urgency to reach a deal increased as parents and teachers felt the costs of the strike.
On Monday, Sept. 17, Emanuel sought to shut down the strike with an injunction, but a judge cancelled a court appointment. The strike ended two days later, and in early October, the union's membership voted to ratify the new contract that gave them a significant raise after a year of frozen wages.
But the underlying issues are still festering -- and the contract did little to close those holes. A slate of school closures looms, the resolution didn't touch on the issue of recruiting better teachers and the contract unloaded decisions such as merit pay and the inclusion of student surveys in teacher evaluations to far-off committees. "We're not interested in merit pay," Lewis said. "If they want a committee, we'll have a committee," she added, flippantly.
The union and the district won on different points, but overall, CTU made sure Emanuel has to contemplate the possibility of yet another strike before putting education policy into play: it got a three-year contract, ensuring that the deal has to be renegotiated in the middle of Emanuel's reelection in 2015. The union won a three percent raise in the contract's first year, and two percent raises in years two and three. The contract also nixes the language that allowed Emanuel to deny the teachers raises last year for fiscal reasons.
The union won significant concessions on the evaluation issue, slowing down the implementation of the most prominent point of the Obama administration's education agenda. Evaluations will have no influence in their first year for tenured teachers. Test scores will only make up 30 percent of evaluations, the minimum allowed under state law, and the rest will initially rely on classroom observations. The agreed-upon system makes it very hard for teachers to fall into the bottom of four categories -- the category that leads to termination, and the Emanuel dream of sorting out bad teachers.
But the resolution of teacher evaluations isn't tied up neatly -- much depends on the implementation of the new appeals process. Unlike anywhere else, Chicago will now let teachers appeal their ratings based on substance in addition to appealing based on any violations made to the set evaluation process. "They're going to have to implement this very carefully, and there's danger that a large number will be appealed and overturned," said Tim Daly, a national expert on teacher evaluations who is also president of The New Teacher Project. "If that happens, administrators could be demoralized."
The contract also changes the rules governing layoffs: when a school cuts teachers, teachers in the bottom evaluation category will be the first to go, followed by new teachers who have not yet been rated. According to the new contract, laid off teachers who score "proficient" or higher will be placed on a hiring list. The district must staff half of all open positions with laid-off teachers, a change that for the first time imposes hiring limits on principals.
There is also no resolution on class size -- the contract mandates the creation of a joint committee charged with addressing overcrowding. District policy says that most classes cannot exceed 28 to 31 students, but the union says few schools abide by these caps.
Many big urban districts have had to close schools in recent years, and Chicago is no exception, having closed 86 schools in the last 10 years. CPS has 600,000 seats for only 450,000 students, so the district is widely expected to close even more. The union argues that closures uproot communities, but administrators say that with dwindling enrollment, some schools just cost too much to keep open.
"If they don't find another way of saving money aside from closures, they're going to have a big problem, because community groups are organizing," Katten said.
Brizard said CPS is still solidifying its closure plans, and that he aims to change the process for closures: schools will get more intensive support before being shuttered. But for now, he's recovering from the strike. He said he sees the contract as an "honest compromise," and the ordeal led him to reflect on mistakes he made during his tenure.
"We didn't understand the relationship that existed" between the teachers and the administration, he said. "The distrust among teachers goes back several school chiefs."
When Brizard first started talking to teachers, he said they were surprised that a CEO would lend them his ear.
"Teachers in some ways feel marginalized by the system," he said. During the strike, as false rumors swirled about his resignation, he visited teachers on the picket line. He hopes that will make a difference, that continuing to talk directly to teachers will alleviate some of that distrust.
Before You Go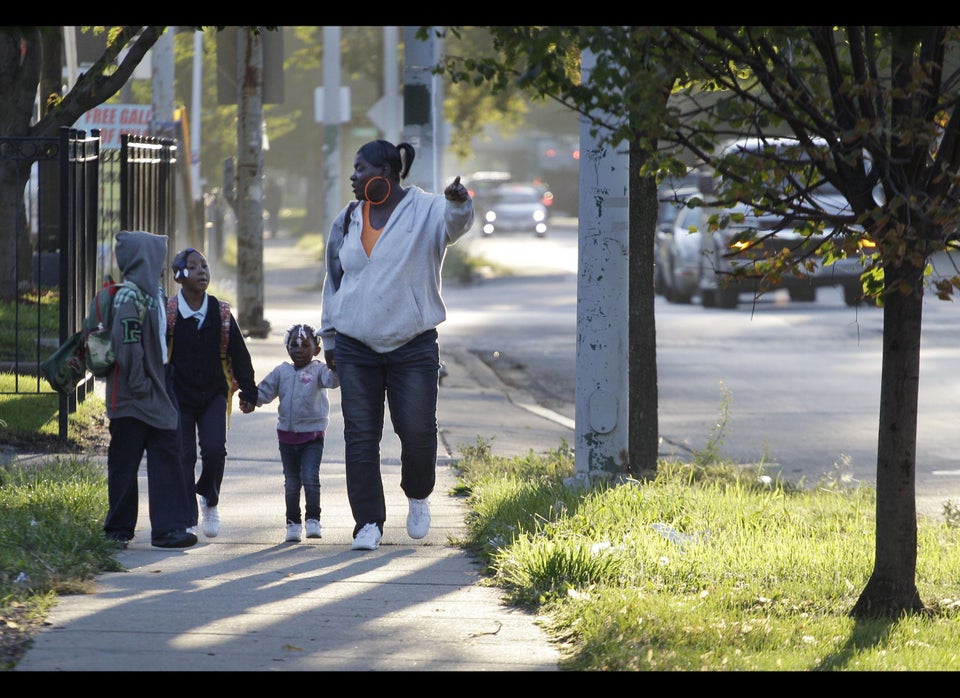 Chicago Teachers Strike
Popular in the Community