Rahm Emanuel is giving away the farm.
A deal is on the table Saturday night to end a nearly weeklong Chicago teachers strike, though classes could still be canceled Monday as the union's House of Delegates reviews the proposal.
If a press release from the Chicago Teachers Union is accurate, Emanuel has given away some of his most prized education reforms to the union to quell the strike. Mitt Romney has tried to paint the strike as a civil war among Democrats, and ending the strike now would quell the fervor before U.S. Secretary of Education Arne Duncan -- former CEO of Chicago's schools -- heads into midcountry organized labor territory on his bus tour Monday.
The deal features major concessions from Emanuel, who campaigned to become Chicago's mayor with a promise to shake up the Windy City's schools. The contract would count teachers' students' standardized test scores toward their evaluations for the minimum percentage allowed by law. The contract would last three years, not four -- as of Thursday night, CTU was asking for two but willing to compromise on three, and CPS was not budging on the issue.
For the last week, Emanuel has stressed repeatedly that principals should have the right to choose the teachers they hire. "It's essential that the local principal who we hold accountable for producing the educational results not be told by the CPS bureaucracy ... and not be told by the union leadership who to hire," Emanuel said last week.
But under the contract, that's not how things would work. According to CTU, the agreed upon contract would require principals to choose from a pool composed of an equal ratio of new teachers and laid off teachers. According to a source close to the situation, the contract does not specify in which order they must be called back. There was no word from CPS early Sunday morning.
And even as CTU attorney Robert Bloch pledges an "ambitious" schedule to finalize the deal, CTU Vice President Jesse Sharkey warns that "the devil's in the details in contracts," and the union seeks agreeable language in writing.
After Emanuel withdrew CTU's 4 percent raise last summer, the contract will include a 3 percent raise in the first year followed by 2 percent in both the second and third years.
The House of Delegates is scheduled to meet at 3 p.m. Sunday to go over the agreement drafted by union negotiators, solicit input from educators and determine whether to end the first Chicago teachers strike in a quarter century. The panel could request at least 24 hours to come to a conclusion, according to a union statement.
"We are a democratic body and therefore we want to ensure all of our members have had the chance to weigh-in on what we were able to win," CTU President Karen Lewis said in a statement Saturday. "We believe this is a good contract, however, no contract will solve all of the inequities in our District. Our fair contract fight has always been about returning dignity and respect to our members and ensuring resources and a quality school day for our students and their families."
The negotiations were reportedly tough, but some speculate that CPS's admission that it planned to close schools deemed to be "underutilized" -- of which there are now 145, Catalyst Chicago found -- forced the city's hands in the meetings, giving CTU leverage to argue about the relevance of things like recall rights.
But even as the strike nears a deal, the district faces a dire financial state. The Chicago Tribune reports that net assets for Chicago Public Schools have taken a nosedive in the last decade, falling 200 percent from $1.2 billion to negative $1.2 billion.
The district's acute budgetary climate points toward school closures, layoffs, property tax hikes and a more prominent reliance on charter schools -- an oft-touted Emanuel reform measure to improve public education and a key issue in this week's strike.
But even in this climate, CTU says CPS has promised to guarantee all students textbooks on the first day of classes, which apparently is not the norm in the district.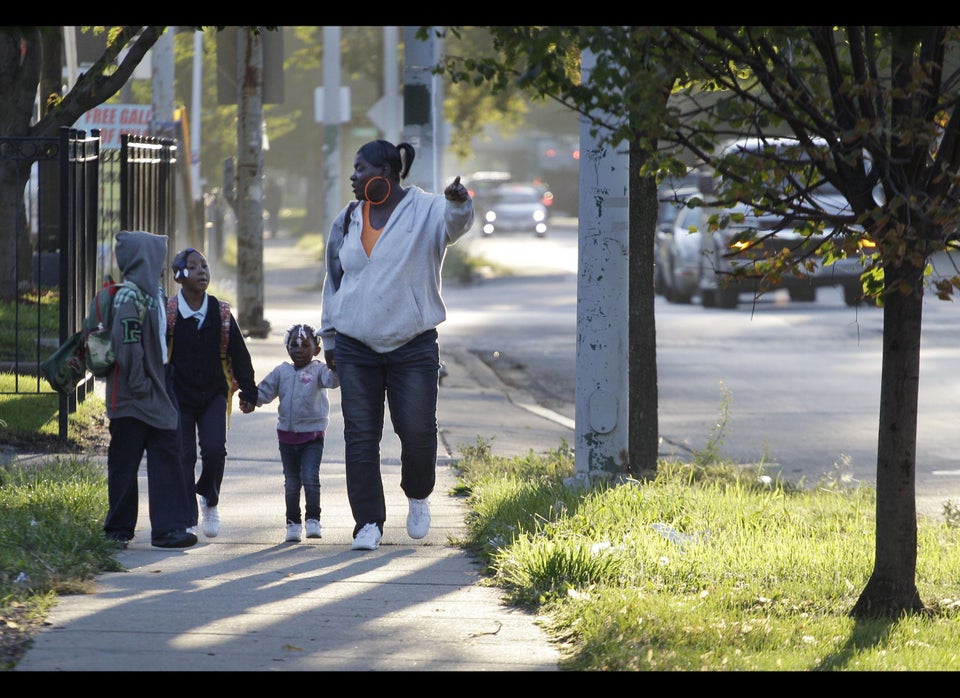 Chicago Teachers Strike
Related
Popular in the Community